Drs. Sophia Tolliver, MD, Jamie Robinson, MD and Eric Questel, DO: Moshi, Tanzania – February 2018
In February 2018, Drs. Sophia Tolliver, Jamie Robinson, and Eric Questel chose the underserved location of Moshi, Tanzania for their PGY-3 International Rotation experience. HIV/AIDS is the #1 cause of death in this East African country, which boasts a population of approximately 53 million people, accounting for 17% of deaths annually.
During their time in Tanzania, they were able to work with a local hospital called St. Joseph's, which specializes in inpatient and outpatient care. Days were spent taking care of patients in the general adult medicine wards, pediatric ward, and walk in clinic. They were also able to spend time in a local HIV/AIDS outreach center called Kiwakkuki, learning about the local services and screening opportunities that were provided. Additionally, their team was able to go into the community and visit affected individuals in their homes.
Practicing medicine in a resource poor area of the world challenged traditional Western medical thoughts and entrenched a new perspective and respect for the practice of medicine globally. All of the physicians are grateful to the Department of Family and Community Medicine for helping to fund this educational experience. Drs. Tolliver, Robinson, and Questel were able to share their experiences and findings at the OSUWMC Global Health Symposium where they were selected to provide an oral presentation.
---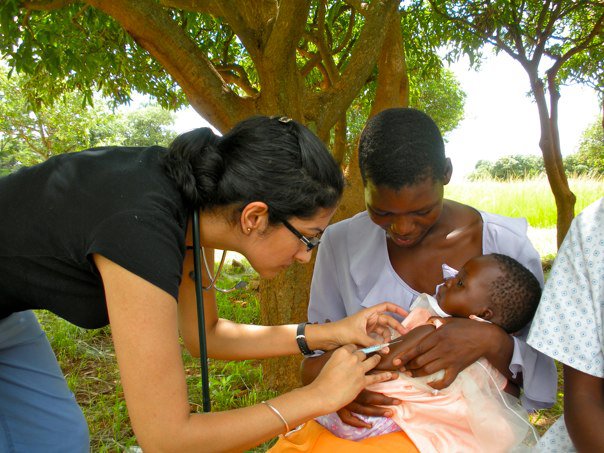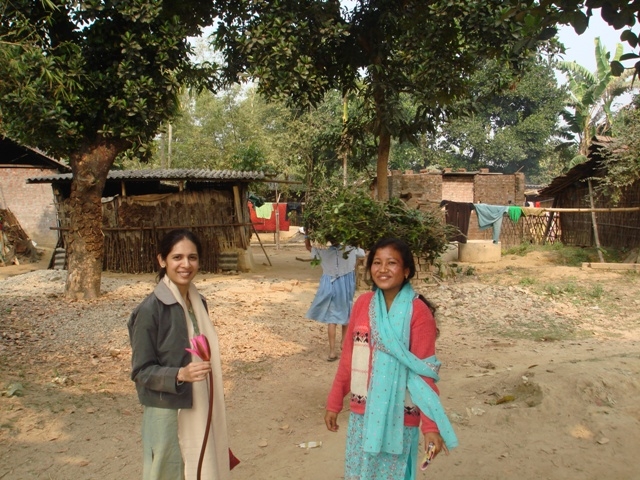 Camille Moreno, DO: El Progreso, Honduras – May 2017
The Partnership for Ongoing Development and Education and Medical Outreach Solutions (PODEMOS) is a student-led organization at The Ohio State University that offers a service-learning experience in Honduras. The organization supports two trips per year: a summer trip (May-June) and a winter trip (December-January). The group visits the same locations/villages in El Progreso, Honduras to allow for continuity of care especially for the chronic care patients.
Dr. Moreno's trip with PODEMOS was a life-changing medical brigade. No words can describe how grateful she is to serve 750+ Honduran patients alongside the most hardworking and self-motivated team of medical students, pharmacy students, pharmacists, nurses, nurse practitioners, physicians and most importantly, interpreters.
We came together as a group to serve those in need, shared memories and became a family with the people whom we are serving. We ended up receiving and learning so much more from the people. They taught us true joy and how to love. Their impact will stay with us for the rest of our lives. Dr. Moreno cannot wait for the trip in December.
---
Avery Nolen, MD: Accra, Ghana – March 2016
Dr. Avery Nolen spent March 2016 in Accra, Ghana, Africa working at the Margo Clinic. Although located in a beautiful location, along the coast of the Gulf of Guinea, the public healthcare system is one of the worst in the world. Malaria and HIV are the two top diseases that Dr. Nolen saw during his stay. Dr. Nolen survived this adventure and shared his outstanding experience with the faulty and residents.
---
Jacqueline Nguyen, MD: Saigon, Vietnam – May 2014

In May 2014, third-year chief resident, Dr. Jacqueline Nguyen traveled to Saigon, Vietnam to work alongside World Wide Orphans at the Linh Xuan Orphanage. This orphanage houses about 150 HIV positive children who have been abandoned with ages ranging from newborns to 18 years of age. Dr. Nguyen worked with the medical team in providing care as well as developing learning modules about contraception, sexually transmitted diseases, drugs, building self-esteem for the older children and dental hygiene, hand washing and health and fitness for the younger kids, which has been implemented into the future curriculum. Looking back on the experience, Dr. Nguyen is grateful and appreciative to The Ohio State University Department of Family and Community Medicine's Urban Track for this eye opening international experience which has helped to shaped the way she practices medicine today.
---
Belmund Catague, MD: Quito, Ecuador – February 2013
In February 2013, Dr. Catague spent four weeks completing a reproductive health rotation in Quito, Ecuador. Dr. Catague participated in patient care in a multitude of settings including a very busy public maternity hospital, a family medicine clinic and a hematology and oncology inpatient service. He was able to practice his Spanish language skills as well as broaden his viewpoint on medicine in another cultural and institutional settings.
Looking back, Dr. Catague said that despite not being fluent in Spanish, he was pleasantly surprised how easy communicating with peers and preceptors was due to the similarities in concepts of medicine, patient care and the language of medicine. Dr. Catague considers himself very lucky to have been able to give back to the community of Quito in such a memorable and enriching educational experience and encourages future residents to take advantage of this excellent opportunity.
---
Lindsey Konor, MD: Kfar Saba, Israel – May 2012
In May of 2012, third-year resident Dr. Lindsey Konor was able to explore the medical system of Israel. This trip was an introduction to the national healthcare plan of Israel. The physicians on the trip were able to explore the hospital and discuss medical issues with physicians at a hospital in Kfar Saba.
---
Ryan-Niko Hickman, MD and Gregory Ladele, DO: Zimbabwe – January-February 2012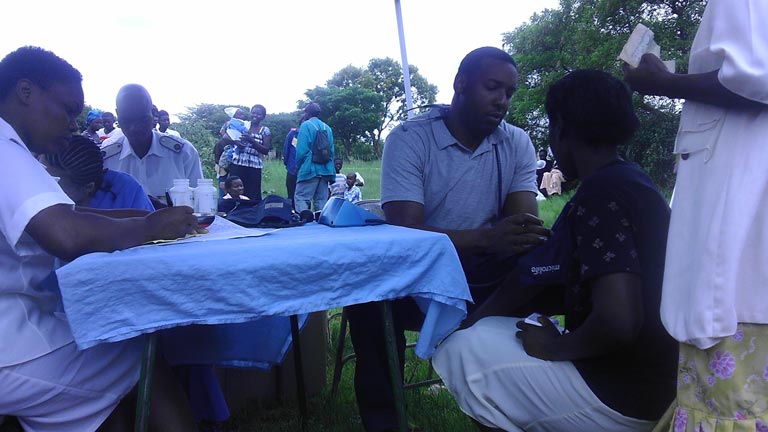 In early 2012, third-year resident, Dr. Ryan Hickman and second-year resident, Dr. Gregory Ladele, travelled to Zimbabwe for a month-long international rotation. As a part of our Urban Track, Drs. Hickman and Ladele are committed to providing medical care to the impoverished and underserved. They were able to see firsthand the medical system of Zimbabwe while providing critical care to those in great need. Both Dr. Hickman and Dr. Ladele are extremely grateful for this unique experience.
---
Rebecca Grant, MD: Lesotho, Africa – February 2011
In February 2012, Dr. Rebecca Grant travelled to Lesotho, Africa to spend a month in a large hospital located in an underserved area of the country. Dr. Grant was able provide both routine care as well as critical procedures on patients of all ages. Dr. Grant is glad she had the opportunity to add this enriching experience to her training.
---
Lindsey Konor, MD, Shivonne Suttles, MD and Simarpreet Vidwan, MD: Zimbabwe – February 2011
In February 2011, Drs. Lindsey Konor, Shivonne Suttles and Simarpreet Vidwan were given the opportunity to spend a month at Chidamoyo Christian Hospital, approximately four hours from the capital city of Harare, Zimbabwe. The hospital is in a rural location and many people travel hours, even days, to receive their medical care. The hospital operates on a barter system. Patients will exchange peanuts, chickens, turkeys, etc. for their medical care. In exchange, these goods are then fed to the patients.
Drs. Konor, Suttles and Vidwan learned the hardships of practicing within the confines of both low supplies and government restrictions. This was an amazing opportunity for them to learn about the country, culture and prevalent disease. HIV and TB were very common, and they were able to learn about pathology not often seen in the United States.
---
Tate de Leon, MD: Roatan, Honduras – February 2010
Dr. Tate de Leon had the opportunity to visit the Central American country of Honduras. During his month, Dr. de Leon provided healthcare to the indigent populations of Roatan and Le Ceibe. Being one of the poorest countries in the world, Honduras provides a vast experience in the healthcare obstacles seen in impoverished nations. Because of issues like infectious diseases and malnutrition, Honduras offers residents the ability to improve their physical exam skills, exposure to common field procedures and most importantly, advocate for the underserved. Moreover, the international month supports the altruistic mission that is family medicine at The Ohio State University. When asked about his experience, Dr. de Leon stated "We are very fortunate living in the United States. As a family physician, we have an obligation to help those in need. My month in Honduras was too short from that standpoint."
---
Andre de Leon, MD: Lesotho, Africa – February 2009
The Ohio State University Family Medicine Residency is a very exciting and flexible program that allows you to practice medicine in various environments. One such setting that is atypical for most medical residencies is its rotation in Lesotho, Africa. During this rotation, you are able to deliver medicine to a traditionally underserved area of sub-Saharan Africa. There you find yourself at the frontline of international medicine, dealing with issues that are unique to that geographic location, as well as dealing with issues that are prevalent throughout the world. Ultimately, this rotation allows you to broaden your medical base and better prepare you for practice after residency.
---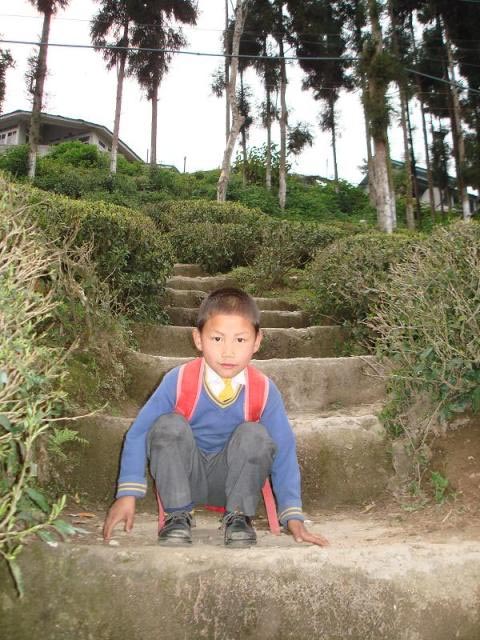 Shweta Rao, MD: Darjeeling, India

–

January 2008
Dr. Rao chose to do a rotation in Darjeeling, India, as it provides healthcare challenges in the truest sense. She taught basic health care to young tribal girls just out of high school, managed TB patients and treated and prevented malnutrition. She learned that poverty often forces these tribes to resort to practices such as brewing illicit liquor, which consequently increases morbidity. Community medicine workers from Navjeevan Hospital helped form self-help groups to generate income through means such as sericulture, pisciculture and horticulture, thus improving the tribes' health and financial conditions. She also had an opportunity to briefly study a form of herbal treatment called Tibetan medicine, which is a practice aimed at the well being of both mind and body. She feels that she learned a lot during this rotation and would like to return one day.
---
Paul Nanda, MD: Peru – February 2008
Dr. NandaIn February 2008, Dr. Nanda had the opportunity to spend a month in a small shanty-town called Manchay, approximately one and a half hours south of Lima, Peru. Manchay is a town of about 55,000 people who live without running water or good sanitation. Paul spent time in an acute care clinic in Manchay caring for children and adults. He also had the opportunity to conduct many home visits in the area and practice his medical Spanish.
---
Ruslana Kurpita, MD: Ukraine – May 2007
Dr. Kurpita's first international rotation was to her home country Ukraine. She spent the majority of her time in an orphanage where she slept, ate and played with the children. She also participated in their healthcare and in the development of a nutrition plan since a vast majority of them were malnourished. She also had a chance to go on a mission trip to a remote area in the mountains, providing basic medical care in the poorest area of Ukraine. When asked about her experience, Dr. Kurpita said, "It was very satisfying to give back to the land where I came from."