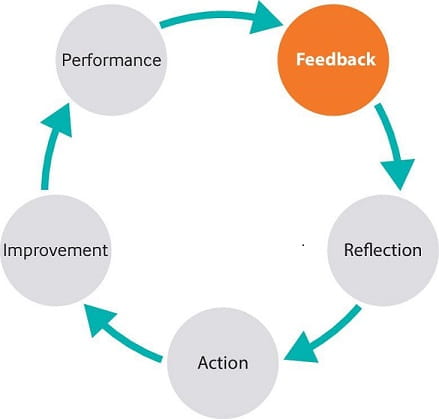 Medical students crave information and feedback! As medical educators you are tasked with helping students and residents reach the next level and achieve competency in their skills. Hopefully you give frequent oral feedback already. We would like to enhance the quality of the feedback given to students in written format. This feedback is used to help the student achieve goals, make changes, highlight the students in the MSPE or letters of reference and, in a few cases, identify when there are learning concerns. Please take the time with every evaluation to comment on the student's strengths and areas for improvement. Be specific and if there are direct instances where a student did something noteworthy, mention it. Read a few examples of excellent written feedback that paint a clear picture of a student.

This student was one of the most outstanding M3s we have had rotate with us this academic year. She was consistently engaged and displayed rare emotional intelligence in both her interactions with patients and with the physicians she worked with. She was noted to exceed expectations for an M3 in all areas of evaluation. She showcased thorough history and physical exams, mature plans and differential diagnoses, and outstanding medical knowledge. She excelled in the inpatient setting, operating at least on the level of a sub-intern. She will be an outstanding resident in whichever field she chooses. The student was given feedback on fine-tuning her medical plans to incorporate pertinent positives and ROS based on chief complaint and tying her DDx into her history, and she did a nice job with this.

Student was upbeat, pleasant to work with and the patients seemed to enjoy his presence. His foundational skills seemed sound — although at times I was surprised by some seeming gaps in his knowledge base, but that might have been a reflection of particular topics we discussed. He was able to structure his time with the patients — and often covered a significant amount of territory in the time he had. He was articulate in his presentations. He was able to write his patient histories in ways that conveyed his clinical problem-solving skills. The student should do a few things to improve. Engage more with the clinical material — dive in — choose areas that interest him and read more and ask more questions. Demonstrate behaviorally the intellectual curiosity and self-directed learning that I am certain he possesses. Use each patient as an opportunity to actually practice exam skills. Seek help in crafting a take-home message from each clinical encounter or event that can then be generalized and applied to the next patient — and then ask him to demonstrate this learning by applying to another patient seen. Use similarities and contrasts to further his learning.

Here's an article to further expand your knowledge.
Written by Allison Macerollo, MD, director of medical student education in the Department of Family and Community Medicine