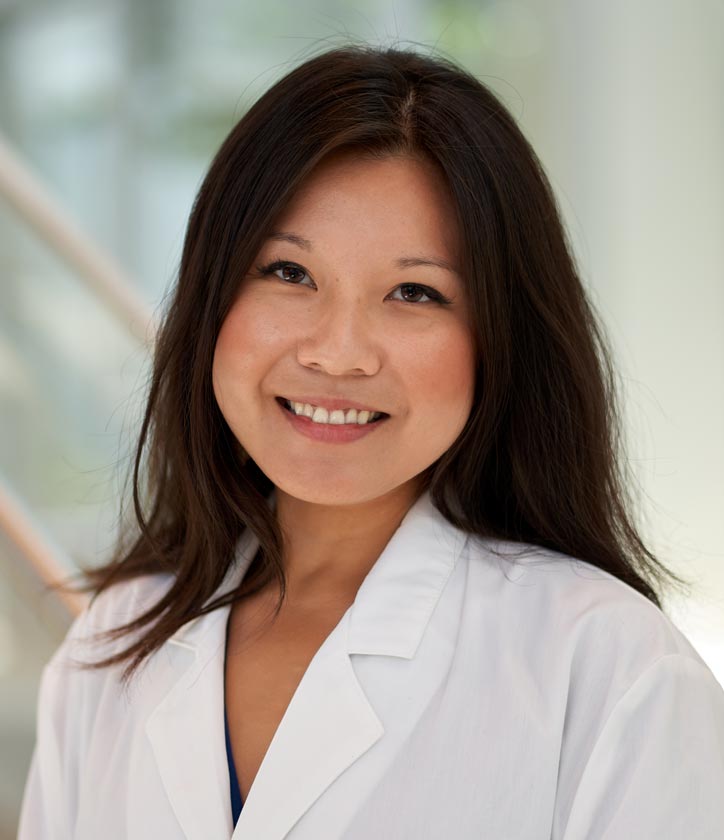 Hui-Zi.Chen@osumc.edu
I was born and raised in China until the age of ten, when I moved with my family to Lund, Sweden, where my father was completing his graduate studies in the Department of Medicine at the University of Lund. After two years, the family uprooted again, this time across the Atlantic Ocean to Shreveport, Louisiana USA, where I cultivated a love for Creole cooking and Southern hospitality. After another two years, my family finally settled in Columbus, Ohio.
I went on to receive my B.A. in molecular and cellular biology in the College of Arts and Sciences at the Cornell University in Ithaca, NY, where I performed research with Dr. Robert Weiss studying the role of Hus1 protein in cell cycle arrest in response to DNA damage. I made the decision to come back to OSU and began my training as a physician scientist in 2005. I performed my graduate studies from 2007 - 2011 under the mentorship of Dr. Gustavo Leone in the Comprehensive Cancer Center. I defended my PhD thesis in August 2011 entitled "Atypical E2Fs link mammalian endocycle control to cancer." Subsequent to graduating from The Ohio State University College of Medicine in May 2013, I was thrilled to have matched with the Internal Medicine Physician Scientist Training Program Residency at OSU.
I am looking forward to continuing the next stages of my training as a clinician scientist with the talented and innovative faculty at the James Cancer Hospital. As a Physician Scientist Training Program trainee, I completed my residency in internal medicine and am currently in the process of completing a fellowship in medical oncology. My research interests include identifying molecular mechanisms of tumorigenesis and the generation of targeted therapies in the context of personalized medicine.
Education
MD, The Ohio State University, 2013
PhD, Cancer genetics, The Ohio State University, 2011
Internal medicine resident (ABIM Research Track), The Ohio State University, board certified in 2016
Hematology and Oncology fellow (ABIM Research Track) The Ohio State University, plan to board certify in medical oncology.
BA: Molecular and cell biology, Cornell University, 2005
Honors
Pelotonia Postdoctoral Research Fellowship, 2017 - 2018
Pelotonia Graduate Research Fellowship, 2010 - 2011
Summer Undergraduate Research fellow, American Heart Association, Ohio Valley Affiliate, 2004
Summer Undergraduate Research fellow, American Heart Association, Ohio Valley Affiliate, 2003
Pauline and Irving Tanner Dean's Scholar for Academic Excellence, 2001 - 2005
National Merit Achievement Scholar, 2001
Professional activities
American Society of Clinical Oncology, 2015 - present
American Association of Cancer Research, 2015 - present
American College of Physicians, 2013 - 2015
American Physician Scientist Association (APSA), 2011 - 2013
President, OSU Medical Scientist Student Organization, 2009 - 2010
Treasurer, OSU Medical Scientist Student Organization, 2008 - 2009
OSU Medical Scientist Student Organization, 2005 - 2013
Columbus and Asian Free Clinics, 2005 - 2007
Publications

Posters and Oral Presentations

Meetings Attended

Undergraduate Research and Work Experience