Columbus is the largest city in Ohio, the 14th largest in the United States, and the fastest growing city in the northeast quadrant. Columbus has a population of more than 800,000 residents and a metropolitan area of more than 1.5 million people. It is within 550 miles of more than one half of the nation's population, meaning Columbus is less than one day's drive for many U.S. residents. Columbus is a financially prosperous community. Of the nation's 25 largest cities, only Columbus and Dallas, Texas, have achieved a AAA rating from both Moody's and Standard and Poor's.
Columbus is home to countless cultural and sporting events. The Columbus Symphony Orchestra, BalletMet, the Columbus Association of Performing Arts and COSI, the Center for Science and Industry are just a few of the cultural organizations which thrive in Central Ohio. Columbus also hosts three major league sports franchises, the Columbus Crew of Major League Soccer, the Columbus Blue Jackets of the National Hockey League, and The Columbus Clippers, AAA Affiliate of the Cleveland Indians. Columbus is proud to host the Memorial Golf Tournament at Muirfield Village and the New Albany Classic LPGA tournament. Then of course, there are the Ohio State Buckeyes, who excel in all NCAA Division I sports. Go Bucks!
Columbus is one of the largest commercial centers in the Midwest and is home to many Fortune 500 companies, including:
Abercrombie & Fitch
AirNet Express
American Electric Power
Bath & Body Works
Battelle Memorial Institute
Big Lots
Bob Evans Restaurants
Cameron Mitchell Restaurants
Cardinal Health
Cardinal Industries, Inc.
Charleys Philly Steaks
Chemical Abstracts Service
CoverMyMeds
Donatos Pizza
Grange Insurance
Huntington Bancshares
Jeni's Splendid Ice Creams
L Brands
Lane Bryant
Limited Too
Max & Erma's
Mettler Toledo
Micro Center
Nationwide Mutual Insurance Company
NetJets
Piada Italian Street Food
Pink (Victoria's Secret)
Red Roof Inn
Rogue Fitness
Safe Auto Insurance Company
Safelite
Sbarro
Schottenstein Stores
T. Marzetti Company
The Limited
Victoria's Secret
Wendy's
White Castle (restaurant)
Worthington Industries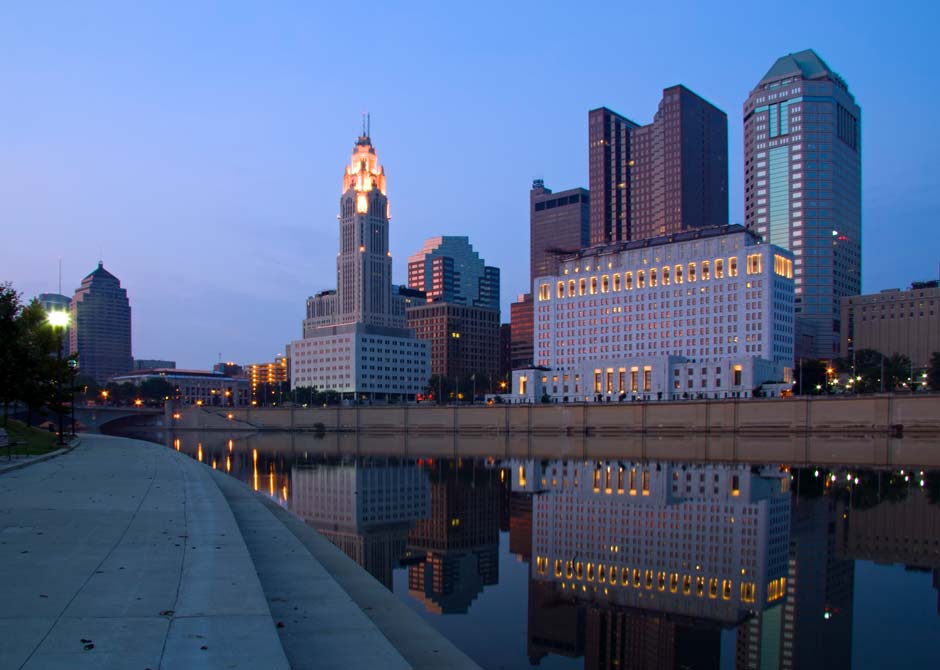 Columbus is a foodie city with a vibrant dining and craft beer scene.