Unique Program Provides Hands-on Surgical Training to Otolaryngology Residents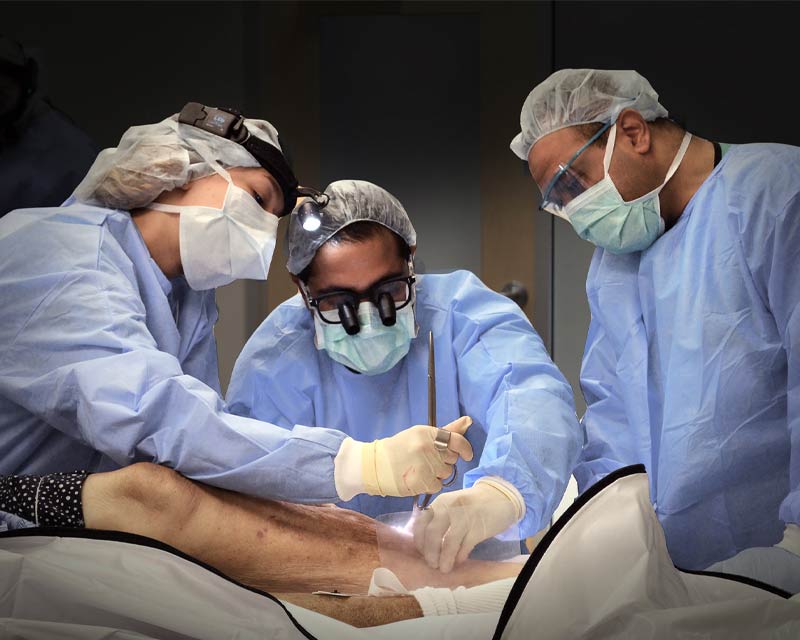 A team-based learning initiative launched at the request of chairman James Rocco, MD, PhD, is strengthening surgical preparedness among otolaryngology residents.
Now in its second year, the Clinical and Operative Anatomy Skills Training (COAST) program helps residents improve their understanding of head and neck anatomy and practice common surgical procedures before starting their head and neck oncologic surgery rotations. It also improves resident interaction, teamwork and shared knowledge – which helps ensure head and neck cancer patients are well-cared for during and after surgery.
COAST Relies on Collaboration – and Cadavers
The 10-week head and neck oncologic surgery rotation is not only the busiest rotation for Ohio State's otolaryngology residents, but it also requires familiarity with complex anatomy and procedures. The COAST program, which takes place the weekend before this rotation starts, brings together junior and senior residents, subspecialty fellows and faculty members to provide comprehensive assessment and training.
Together, participants review key head and neck blood vessels, muscles, tissues and other landmarks surgeons look for during surgery. And the availability of cadavers means residents can practice procedures including neck dissection, parotidectomy, thyroidectomy and laryngectomy.
"We use fresh cadavers from the anatomy lab, which provides a high-quality training experience," says COAST founder Stephen Kang, MD, an assistant professor in the Department of Otolaryngology – Head and Neck Surgery and director of the Head and Neck Oncologic Surgery Fellowship Program. "This is a great opportunity for residents to stretch their skill set in a safe and supportive environment."
Making a Measurable Impact
Second-year resident Hannah Kuhar, MD, who coined the COAST acronym, aims to help the department understand how this type of team-based skills training benefits trainees. She created and implemented a survey process to evaluate residents' baseline knowledge – and to measure gains achieved after completing COAST.
"We give participants a pre-instructional survey to assess their knowledge of anatomy, their comfort with certain head and neck surgical procedures and their perceptions of team-based learning models," explains Dr. Kuhar. "Following the day-long training, we administer the same survey to see how their responses change."
Dr. Kuhar is in the midst of the IRB submission process to study COAST participants' experiences and outcomes.
Early, Advanced Training Makes a Difference
Even though the COAST program began as a pilot, it's quickly become a popular – and permanent – component of the otolaryngology residency program's didactic schedule.
"Surgical training has changed over the years; we're under pressure to do more surgeries in less time," says Dr. Kang. "Subsequently, more physicians are seeking additional, advanced training through fellowships. The COAST program provides valuable training to residents early in their careers. And even though we embrace technology and simulation training, there is something so simple yet effective about giving our residents hands-on training with cadavers."
While Dr. Kuhar has been active in assessing the impact of the COAST program on resident surgical education, she's also benefitted as a trainee.
"I first participated in COAST as a surgical intern, and it was a great way for me to get to know the other residents and to learn about the expectations within the operating room," she says. "We're harnessing the benefits of team-based learning to improve our knowledge and skills and to become better teachers. I'm grateful to Ohio State for giving residents like me the autonomy to design hands-on training programs that enhance our skills."