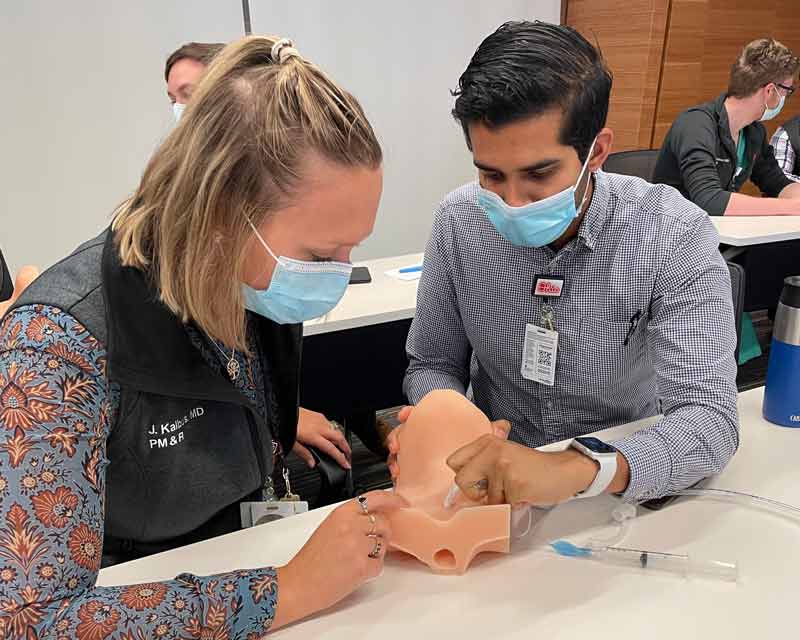 An innovative, hands-on class developed by otolaryngologists at The Ohio State University Wexner Medical Center is filling a gap in medical student education – and providing future physicians the skills they need to manage potentially life-threatening issues in patients with altered airways.
In early 2021, the new Altered Airway Anatomy course was added to the otolaryngology rotation for all third-year medical students from The Ohio State University College of Medicine. Participants learn how tracheostomy stomas and total laryngectomy surgeries alter normal airway anatomy. And, using innovative 3D-printed airway models created at Ohio State, they learn how to place, remove and troubleshoot tracheostomy tubes.
Addressing a lack of education and exposure
The Altered Airway Anatomy course was the brainchild of fourth-year otolaryngology resident and former Ohio State medical student Rishi Sethia, MD. During his on-call experiences, Sethia noticed many hospital providers who paged him for help felt uncomfortable caring for patients with altered airways.
"As airway experts, otolaryngologists are always happy to troubleshoot a problem or help stabilize a patient. But in certain situations, waiting for help to arrive can lead to poor outcomes," Sethia says. "If a tracheostomy tube falls out or isn't properly connected to a ventilator, a patient can suffer permanent neurological injury within minutes."
Only a handful of specialties, like otolaryngology and emergency medicine, provide comprehensive airway management training. But patients with altered airways may come into contact with providers from many disciplines, especially in the inpatient setting.
"All medical students, regardless of their intended specialty, should be exposed to the fundamentals of airway management, especially in patients with altered anatomy," Sethia says. "There's a misconception that it's difficult to manage tracheostomy tubes, which makes people nervous. I thought, if we can show students how simple it is to secure an airway when complications arise, they can someday save lives."
A pioneering use of 3D printing
Sethia shared his idea with his faculty mentor, head and neck oncologic surgeon Nolan Seim, MD, FACS. And as the director of Medical Student Education for Ohio State's Department of Otolaryngology – Head and Neck Surgery, Seim recognized how valuable a hands-on educational experience could be for students.
Together the pair approached their colleague, skull-base surgeon Kyle VanKoevering, MD, about creating anatomical models of the neck. Not only does VanKoevering have a degree in biomedical engineering, but he also runs a translational research lab at The Ohio State University Comprehensive Cancer Center – Arthur G. James Cancer Hospital and Richard J. Solove Research Institute.
"Our new Altered Airway Anatomy course is a great example of how we can enhance medical education with 3D printing," VanKoevering says. "There are some airway simulators available for purchase, but they're expensive and not the best representations of altered anatomy. Over the course of a few weeks, we created 10 of our own airway models using 3D printing and silicone molding. They're durable and reusable, and contain multiple, realistic anatomical parts."
A high-quality, hands-on experience
These 3D models help students recognize the anatomical differences in patients who have a tracheostomy tube or had a total laryngectomy. They also allow students to practice inserting and removing a tracheostomy tube.
"We're able to teach students the key items that matter in just 30 minutes," Seim says, who, along with Sethia and VanKoevering, is one of the course instructors. "These items include the differences between a tracheostomy tube and an endotracheal tube, how to place the tube in the trachea and how to connect the tube to a ventilator. We also run through basic airway algorithms that should be applied during a code situation."
In addition to creating the curriculum, Sethia secured IRB approval to gather data on the program's efficacy. Participant surveys show students feel more confident, comfortable and knowledgeable about altered airway management after completing the course.
"Having the ability to practice with a simulated neck and receive feedback from instructors is invaluable," VanKoevering says. "This is the next best thing to working with a live patient who has a tracheostomy."
Reaching out to more providers across more disciplines
Less than a year into their launch, the team received requests to provide the Altered Airway Anatomy course to other medical center providers, including residents, nurses and physician faculty. And their efforts may soon expand beyond Ohio State.
"We recently offered this course to clinicians in the Department of Physical Medicine and Rehabilitation. This is another group of specialists who aren't typically trained on tracheostomy procedures, yet they're responsible for caring for trach patients in the rehab setting," Sethia says. "In fact, the course has been so well received we've started discussions with other organizations to develop a multi-institutional course. I'm excited to see just how many professionals we can train by collaborating with others."