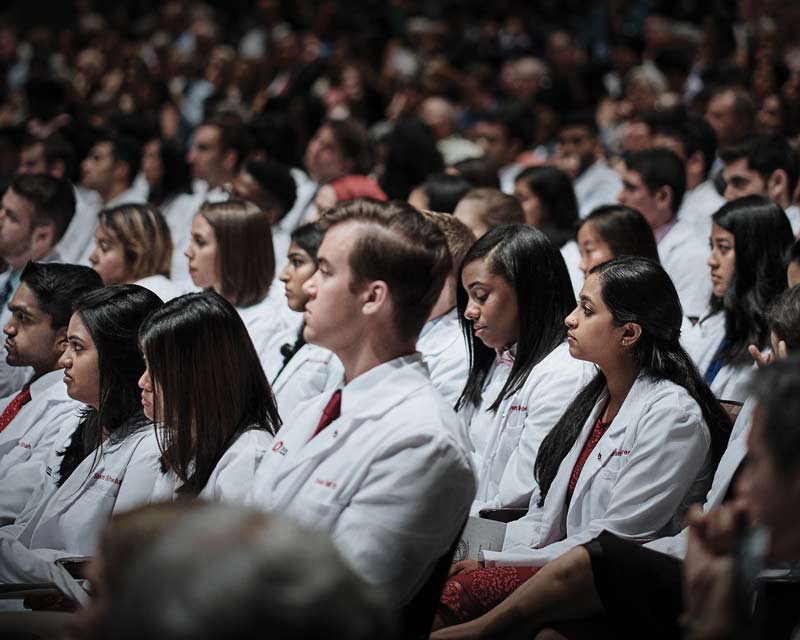 A new scholarship program offered by the Department of Otolaryngology – Head and Neck Surgery at The Ohio State University College of Medicine aims to help medical students who are underrepresented in medicine (URiM) participate in the department's visiting sub-internship rotation.
Through the new initiative, three $1,500 scholarships are available annually for visiting URiM medical students. These scholarships help cover associated away-rotation costs, including transportation and housing, providing equal opportunities to all students who want to pursue otolaryngology training at Ohio State.
Providing equal access to high-quality education
For fourth-year medical students considering careers in otolaryngology, Ohio State's away rotation offers valuable insights and experiences.
"Every summer and fall, we host around 15 to 20 students from other medical schools who spend four weeks rotating through our department," says head and neck oncology surgeon Nolan Seim, MD, FACS, director of Medical Student Education for the Department of Otolaryngology. "It's an important experience because it gives participants an idea of what it's like to be a resident at Ohio State. That being said, we realized this experience may not be within reach for every student; we thought that a scholarship would at least help relieve some financial pressures."
Seim and his colleague, Brad deSilva, MD, director of the Otolaryngology Residency Program and the department's vice chair of Education, worked to establish the new scholarship program. They want to ensure applicants (and subsequent participants) from underrepresented backgrounds have increased access to the department's sub-internship training. This includes all students from underrepresented racial and ethnic backgrounds, as well as from socioeconomically disadvantaged communities.
Attracting diverse talent
A key step in improving diversity among visiting medical students is making sure those who consider applying for an away rotation are aware of these new scholarships. Minka Schofield, MD, MPH, FACS, director of the Division of General Otolaryngology and the department's vice chair of Diversity, Equity and Inclusion, is helping with this effort.
"We're advertising on websites and social media platforms for various professional societies, including the American Academy of Otolaryngology–Head and Neck Surgery," Schofield says. "We're also running an advertising campaign that's connected us with groups such as the Harry Barnes Medical Society, the Association of American Medical Colleges and the Latino Medical Student Association."
The team ultimately hopes that promising medical student careers will be kick-started by the scholarships, benefiting the field of otolaryngology in the long run.
"We're not just attracting students who are interested in Ohio State; we're also attracting students with a genuine interest in otolaryngology," Schofield says. "We know diversity in medicine is linked to better patient outcomes. By improving inclusivity within the field, we'll be better equipped to care for the diverse patient populations who turn to us for ENT care."