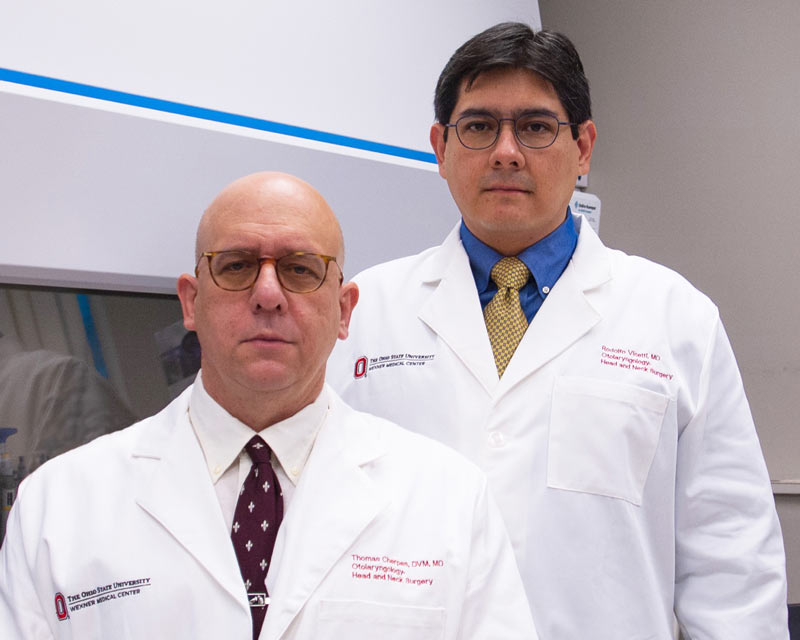 Otolaryngology researchers Thomas Cherpes, MD, DVM, and Rodolfo Vicetti Miguel, MD, recently joined The Ohio State University's College of Medicine – again.
From 2013 to 2016, the pair worked together in the Ohio State Department of Microbial Infection and Immunity, where they developed a cellular-based vaccine for HPV-associated cancers. Together they left for Stanford University School of Medicine to further their vaccine research.
Cherpes and Vicetti Miguel recently returned to Ohio State and The Ohio State University Comprehensive Cancer Center – Arthur G. James Cancer Hospital and Richard J. Solove Research Institute as an associate professor and research assistant professor, respectively, within the Department of Otolaryngology – Head and Neck Surgery.
"We came back because of the established relationship between the department, The James and the Drug Development Institute (DDI)," Cherpes says. "It's a good fit because it allows immediate opportunities for collaboration with our colleagues."
Cherpes and Vicetti Miguel's vaccine elicits a large CD8+ T cell response that targets tumor cells anywhere in the body, including the mucosa, where many head and neck tumors begin.
"We show that a single dose of our vaccine, if it's able to induce a large enough CD8+ T cell response, is able to destroy the tumor – either in a mucosal location or in another site in the body," Vicetti Miguel says.
Getting this groundbreaking work to patients quickly, safely and efficiently relies on closely collaborating with clinicians to develop a phase I clinical trial for HPV-associated head and neck cancers.
"We like to move from the bench to bedside," Cherpes says. "The best and easiest way to do that is to be housed in a clinical department. That allows us to go faster than if we were in a basic science department and always needing to identify collaborators."
"The chance to translate a therapeutic vaccine into a clinical trial within a department is rare, but we see the synergy between clinicians and basic research being important for learning from each other and being able to accomplish our goals," Vicetti Miguel says.
The future: Translating research to results
In addition to their focus on HPV-associated cancers, Cherpes and Vicetti Miguel are exploring the development of small peptides that boost epithelial barrier function and prevent infections in the genital tract. They see a direct translation from that work to the work in head and neck surgery, as do their colleagues.
"When we presented our peptide work, there was an immediate interest among the surgeons to test it in wound healing," says Vicetti Miguel. "There's also a chance we can take our peptides to other areas to help repair tissue after surgery or revitalize other tissues affected from disease or therapies."
"Being exposed to our clinical colleagues' day-to-day work keeps us thinking about how we can apply what we do into meaningful clinical therapies. We're excited about what the future holds," Cherpes says.

Read more featured stories