For staff working in health care, anxiety levels can be intense at times. The aim of the Buckeye Paws program is to help take staff to a more stable state after high-stress situations. Buckeye Paws is a therapy dog program for faculty, staff and students, within the medical center's Stress, Trauma And Resilience (STAR) Program. The dogs of Buckeye Paws are certified through the Alliance of Therapy Dogs (ATD), and the program follows ATD's guidelines.
Meet the Team
Brienne
Brienne is a Yellow Labrador Retriever named after Brienne of Tarth, a Game of Thrones character. Brienne was born January 21, 2017. Her best friend is her fur brother, Henry, and her favorite treat is pineapple. Brienne's handler is Beth Steinberg.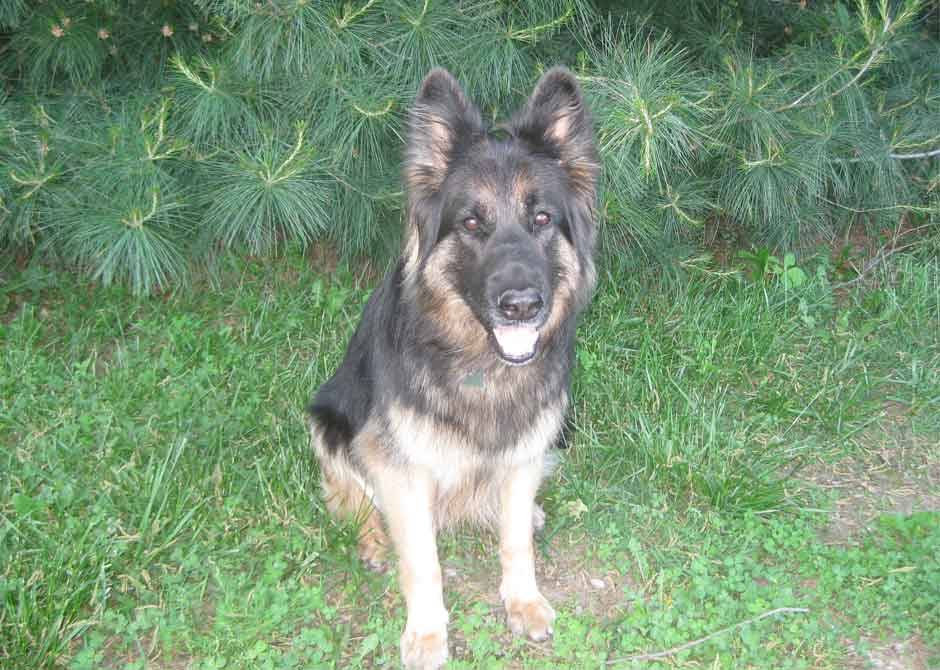 Ellie
Ellie is a German Shepherd. She was born April 20, 2013. Ellie's hobbies include playing ball and swimming in the creek with her fur family Tucker, Cassie and Jewellz. Ellie was a gift from Guide Dogs of America to handler, Emily Lewis, to aid in her recovery after being diagnosed with breast cancer in 2013. Ellie's therapy dog career technically began at 8 weeks old!
Radar
Radar is a Labrador Retriever. He was born on July 23, 2014. Radar's hobbies include camping, taking long walks and spending time with his family. Radar's favorite toys are deer antlers and his best friend is Mattis K9 from the Franklin County Sheriff's Office. Radar's handler is ReNea Owens.
Shiloh
Shiloh is an English Cream Golden Retriever. He was born September 3, 2017. Shiloh's best friends are his fur brother, Grady, and cat, Izzy. Although he isn't sure Izzy likes him. Shiloh's favorite toy is his Billie bear and his special talent is that he can do an Elvis impersonation! Shiloh's handler is Mary Justice.
Crockett
Crockett is an English Setter. His "gotcha day" is September 16, 2017. Crockett's backstory is tough, he was picked up malnourished by animal control in South Carolina. "He is a real Cinderella story of resilience and also overcoming a rough past to bring help and healing to others, which personifies what OSUMC strives to do," says handler, Susan England. Crockie's favorite toy is blue dog, he loves to snuggle and he loves to chase and bark at squirrels with his three English Setter siblings.
Ellie
Ellie is a Border Collie mixed breed. She was born on February 19, 2015. Ellie was adopted at 8 weeks old from Sierra's Haven for New and Used Pets in Portsmouth, OH. She was one of 14 puppies in her litter. She will retrieve her Kong or catch a Frisbee all day long. She loves running along the beach and chasing birds. At the end of the day, her favorite thing to do is be next to her humans. Ellie's handler is Judy Lima.
Ashby
Ashby is a sweet and gentle Golden Retriever. He was born on August 3, 2016 in California and moved to Columbus, Ohio when he was 3 months old. He was named after Ashby Lake in Ontario, Canada, where he enjoys going to vacation at his family's cottage - he loves to swim and play fetch in the water! His favorite toy is his green snake. He absolutely loves all humans and dogs and is in heaven when he gets to cuddle and be petted. Ashby's handler is Sharon Clark.
Charmin
Charmin is a Great Pyrenees/Shepherd mix. She was born on February 6, 2020. Charmin was rescued from a high-kill shelter in southern Ohio in March of 2020 and at the start of the pandemic (hence the name Charmin!). She and three other littermates were dropped off at just 7 weeks old and were luckily brought to Columbus by Colony Cats & Dogs rescue. Charmin now lives with two fur sisters and enjoys trying to get them to play with her non-stop. She truly loves everybody and everything – except maybe baths! Charmin's handler is Beth Becker.
Rocky
Rocky is a Boxer. Rocky had a difficult upbringing in an abusive home. He was rescued by Canine Castaways in Indiana and was adopted by his handler, Jeannette, on March 13, 2019. Rocky loves his squeaky balls, running with his mom and snuggling with his sister, Raven. Rocky's handler is Jeannette Elum.
Hudson
Hudson Hetzel-Hausmann is a Golden Retriever. He was born on November 9, 2018. Hudson's favorite activity is fetch, he can retrieve his ball all day long! He would do anything for a puppuccino from Starbucks. Whether it's flying to Miami Beach to dig in the sand or burying himself in piles of Ohio snow, Hudson is always down for an adventure! Hudson's handler is Gabby Hetzel.
Annie
Annie (Golden Dancing Annie of Sunbury) is a Havanese. She was born on February 3, 2015. Annie has a laid back personality. She loves people and seems to have a sixth sense about them. She will do a turnaround dance if there are treats involved! Annie's handler is Mary McRury.
Ziggy
Ziggy is a Goldendoodle. He was born on June 19, 2016. Ziggy loves to play ball, go for walks and run with any dog that is able to keep up with him. He also likes to steal flip flops and take them into the backyard so that someone will chase him! Ziggy's handler is Mandy Richards.
Sign up for a visit from the Buckeye Paws program
The Wexner Medical Center launched Buckeye Paws, an innovative animal-assisted therapy program, on March 6, 2020. Targeted specifically to help improve staff, faculty and student resilience, certified therapy dogs visit to provide comfort and emotional support.
Visits may be requested and scheduled by emailing BuckeyePaws@osumc.edu. There's no charge for the visit and the dogs will come to your department.
Buckeye Paws are not able to visit Peri-op, Procedural and Oncology (James) units 11, 14, 15 and 16.
We understand that people may have personal, cultural and medical reasons for avoiding or disliking dogs or pets. We're cognizant of these issues and will avoid these interactions.
Be part of the program
Thank you for your interest in joining the Buckeye Paws team. At this time, we are currently holding on all recruitment.
There is just something about a dog's presence that calms people, brightens their mood, and allows them time to decompress, even if only for a quick moment. When I get a surprise visit from Shiloh or Brienne it is the best part of my day! Thank you BUCKEYE PAWS! Kristina Layton MS, RN Director of Nursing – Medical-Surgical Department
On a long, stressful day in the ICU, when these dogs come in, people's moods change in an instant. They bring so much joy and make us all so happy. They give us a burst of energy. Caitlin Eilbacher Nurse, ICU