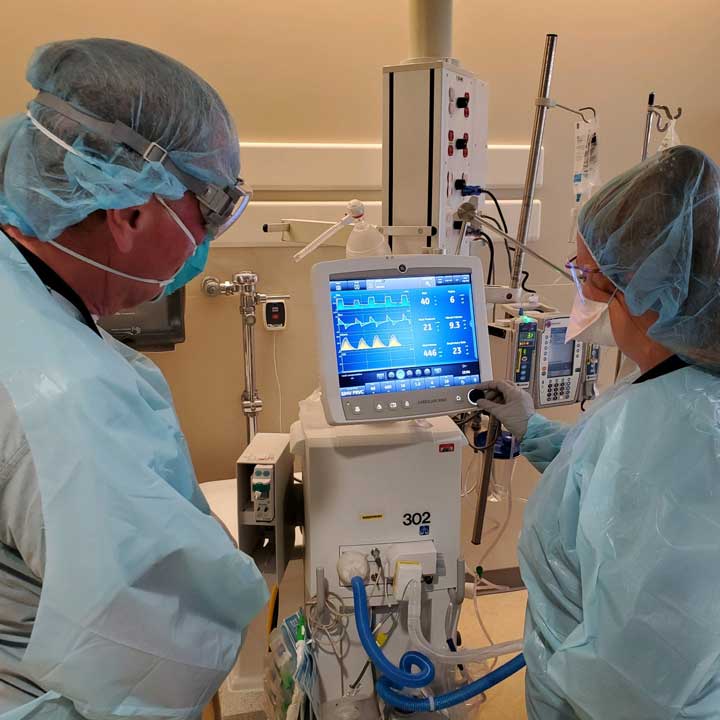 Even as other surgical divisions had to decrease or stop services to reduce or eliminate potential points of exposure, the TCCB division maintained a 24/7 presence, providing acute surgery, trauma and critical care to patients – many of whom had COVID-19.
Throughout the initial months of the pandemic, TCCB division director, Carrie Sims, MD, met twice weekly with Ohio State Wexner Medical Center leadership to coordinate all activities with the hospital command center. The TCCB division also developed a short curriculum on the basics of ICU management that included several interactive video lectures and a primer.
In addition, surgical faculty volunteered to see all patients who were COVID-19-positive or considered potentially positive in order to protect our residents from any unnecessary exposure. The Division of General and Gastrointestinal Surgery also identified a pool of surgeons to be on stand-by if more ICU capacity was required or numerous surgeons fell ill – a circumstance which fortunately never developed.
One Ohio State surgeon, Heena Santry, MD, shared her personal experiences during the pandemic through her blog. In April, Santry shared the impact on patient interactions in "Behind the Mask – The (Socially) Distant Acute Care Surgeon," and in "A Stranger's Hug in the Midst of a Pandemic," she lays bare the emotions that surface during such a challenging time.
Although Ohio State has transitioned to a less-restrictive phase of COVID-19 management – non-elective procedures have resumed, and hospital patients are allowed one visitor over age 18 each day – the initial protocols we developed and the insights gained remain critical to our long-term virus control and treatment procedures.