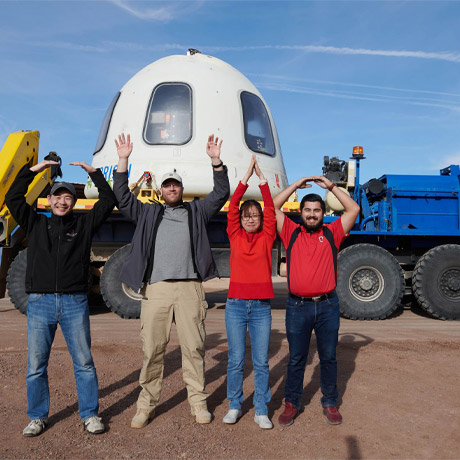 Peter Lee, MD, PhD, assistant professor of Surgery of the Division of Cardiac Surgery, watched two of his experiments launch on Blue Origin's reusable spacecraft and return to Earth in rural Texas in mid-December. The New Shepard made a record sixth suborbital trip, carrying a number of science experiments along with student artwork and postcards.
Dr. Lee's work focuses on the effects of microgravity. One project is examining if and how tissue-engineered skeletal muscle cells from mice can sense they're in microgravity. The other is a student-designed experiment created by Space Academy students from Eli Pinney Elementary School in Dublin. With Dr. Lee's help, they designed an experiment to examine how microgravity affects the motility behavior of jellyfish.
With funding from the National Institutes of Health and NASA, Dr. Lee's team has another experiment scheduled to travel for one month in the spring to the International Space Station. He's also preparing research looking at cardiac biomarkers and function in space-flown mice that will spend one month aboard a Russian bio satellite in late 2020 or early 2021.
Dr. Lee said he's been interested in space flight since he was a child, and has been involved in space medicine research for more than 20 years.
Photo L-R: Dr. Peter Lee; Frank Benesch-Lee, engineering consultant; Weina Zhong, research assistant; Wilson Flores, former student.