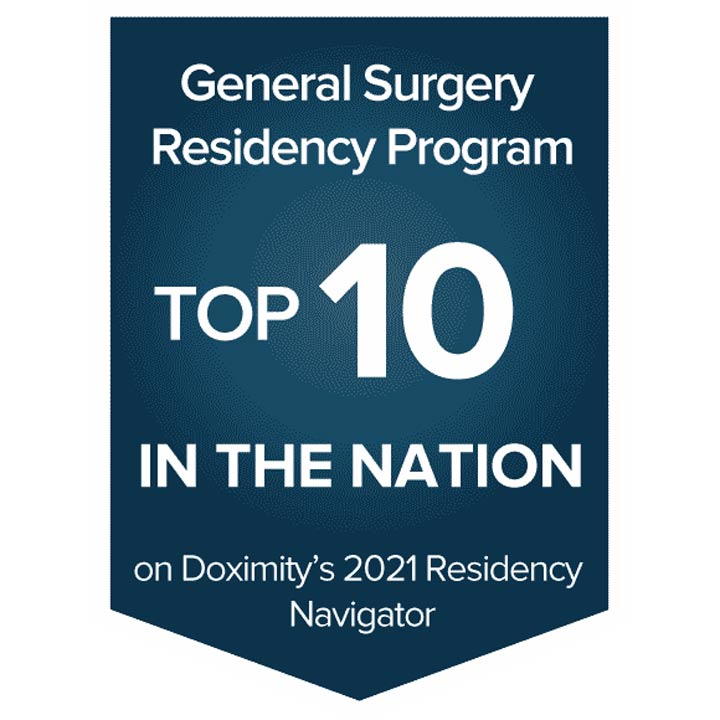 Some of the differentiators contributing to our high ranking include:
Global Surgery Rotation – This popular elective rotation allows interested trainees the opportunity to learn in either a high-, middle- or low-income health care setting.
OR Coaching – Now a core resident training tool with three new senior surgeon coaches added this year, this program provides procedure-specific feedback within three days of a surgery. The 12 procedures reviewed are three each for lap chole, inguinal hernia, ventral hernia and lap colectomy.
LEAD (Lead. Engage. Accelerate. Drive.) in Surgery – This elective helps PGY2–5 residents develop important leadership skills for a successful surgical career.
Residency wellness program – This newly expanded initiative is designed to establish trainee unity and create a supportive environment that allows us to "take care of the caregivers."
Professional Development and Research Training Program – This program prepares surgical trainees for careers in academic surgery through personalized research education, mentorship and career development; focusing on enhancing critical thinking skills and developing clinical and translational research competencies.