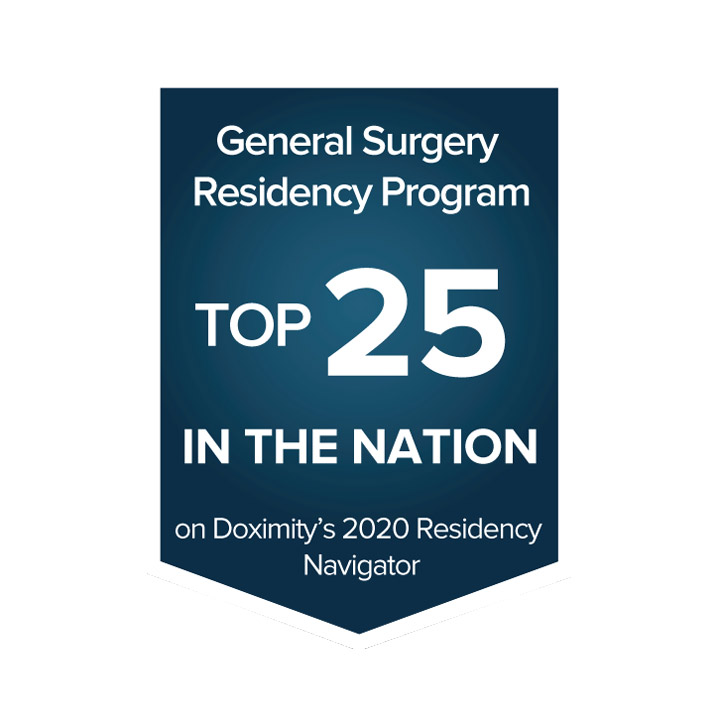 The General Surgery Residency reputation ranking is based on votes received from eligible Doximity voters who are asked to identify up to five residency programs that provide the best clinical training in their own specialty.
Factors contributing to our improved ranking include our:
Global Surgery Program
PGY4 students can benefit from international training in varied international settings. In the high-income country rotations, residents are exposed to complex surgical care for diseases that are often similar to those in the U.S., but within a health system that can be quite different. In low- to middle-income country rotations, residents learn to carefully utilize scarce resources while still providing effective surgical care. They also frequently gain experience with diseases and treatment approaches not often seen in the U.S.

Both options are purposefully located in teaching institutions, so residents participate in peer teaching and implement scholarly projects in collaboration with on-site residents and faculty. Residents also develop international professional relationships that can lead to valuable mentoring throughout their careers.



OR Coaching
Now a core element of our resident training program, OR Coaching utilizes dedicated observers to provide more immediate feedback on specific surgical skills. This helps residents gain new habits and develop techniques that will speed their readiness for independent surgeries.


LEAD (Lead. Engage. Accelerate. Drive.) in Surgery
This elective for PGY2–5 residents helps them develop leadership abilities. We believe this is an important skill set to cultivate for all future surgeons interested in advancing their careers and the field of medicine.


Expanded research opportunities
Our entire education team has been instrumental in creating even more opportunities that challenge and engage our students within a supportive, yet competitive environment.
It's an honor for our clinical training to be recognized by general surgeons all over the country as a top program. We are genuinely proud of this important recognition for the quality of general surgery education available at Ohio State.