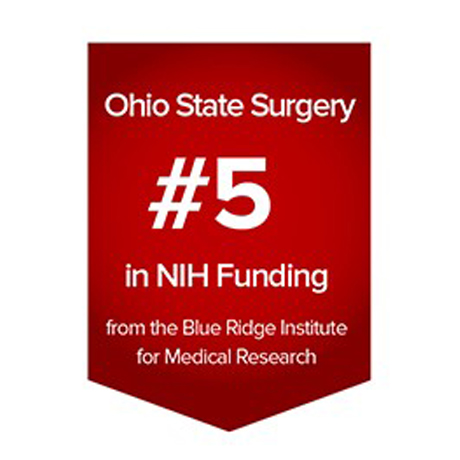 Ohio State's No. 5 ranking represents total NIH funding granted from Oct. 1, 2018, through Sept. 30, 2019, during which time we received more than $15.5 million. Garnering NIH funding requires diligence, and we benefited from five newly funded researchers this year. Jianjie Ma, PhD, vice chair of Basic and Translational Research, and Heena Santry, MD, MS, vice chair of Health Services Research, led the team's efforts, and Judy Opalek, PhD, administrative director of the Center for Surgical Health Assessment, Research and Policy, also played a pivotal role in the process.
Ohio State also boasts three of the Top 50 funded surgical faculty of all NIH awardees. This includes:
No. 5 – Raphael Pollack, MD (8 P30 – Cancer Center Support)
No. 27 – Jianjie Ma, PhD (5 R01s)
No. 42 – Bill Carson, MD (T32)
Ohio State's ranking was also improved by:
Sylvester Black, MD – R01
Ginny Bumgardner, MD, PhD – R01 and T32
Lianwang Guo, PhD – 4 R01s
Renzi Han, PhD – R01
Peter Lee, MD, PhD, MPH – K08
Prabha Negareddy, PhD – R01
Allan Tsung, MD – 2 R01s
Bryan Whitson, MD, PhD – R01
Hua Zhu, PhD – 2 R01s
The Blue Ridge Institute began compiling and ranking NIH funding for U.S. medical schools in 2006. Read the full 2019 Blue Ridge Institute for Medical Research NIH rankings here.