Molecular Biology Core (MBC) provides comprehensive and professional services for gene manipulation and in vitro site-directed mutagenesis to investigators in the research community at the Ohio State University Wexner Medical Center and extramural researchers. The MBC is a part of the Department of Surgery and managed by the Division of Cardiac Surgery.
Based on innovative gene synthesis and PCR technology transplanted from Mutagenex, a leading research service biotech company in the molecular biology field, we offer all services at reasonable prices with minimum turnaround time.
Our service portfolio includes in vitro site-directed mutagenesis, chimeragenesis, gene synthesis, subcloning, customized vector construction and directed evolution.
Our Goals
Provide a reliable, affordable and fast service for gene manipulation and site-directed mutagenesis to study gene function and to engineer gene/protein property
Provide consultant and technical assistance in experimental design and implementation in gene subcloning, vector construction, primer design, DNA/protein sequence analysis and directed evolution experiment.
Provide education and training for basic and clinical investigators in DNA manipulation and application of gene constructs for their studies
Provide high-quality and high-diversity of mutant library essential for a directed evolution study to develop a novel gene product (mutant protein) and provide advanced methods for high-throughput selection/screening procedure
Services
Services
In vitro mutagenesis

Gene manipulation

Construction of vectors for gene silencing and gene editing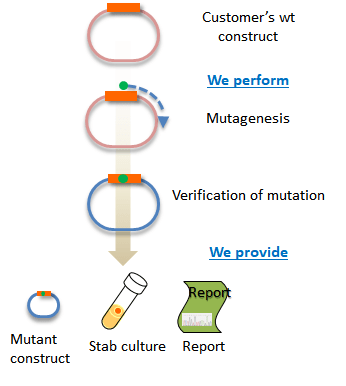 Starting materials provided by the customer
To initiate a project, please provide us:
At least one microgram of a plasmid containing the target gene
Target gene information:

The DNA sequence (or GenBank accession no)
Subcloning sites in vector
Target sequences for mutations

Vector information: Vector sequence (or commercial name), map and antibiotics resistance
We fully understand how important and sensitive the sequence data and other information communicated with our customers are. All materials and information received from customers will be held in the strictest confidence.
To submit your mutagenesis or subcloning project, please contact us or request a quotation. Orders can be placed by e-mail, or by fax with an approved PO or credit cards.
We will perform
Construction of mutagenesis or subcloning strategy.
Design and synthesis of mutagenic DNA fragments or PCR primers.
Mutagenesis of a target gene and subcloning in a destination vector.
Sequence verification* to confirm the target mutation or gene insert in a selected colony.
Shipping purified plasmid (mini-prep) along with a colony stab culture, DNA sequencing data, alignment result and report.
*The mutations are confirmed by DNA sequencing up to 1.0 kb region encompassing the target mutation at free. For DNA sequencing of whole gene insert, we will charge $25 per extra 800 bp sequencing for primer synthesis, sequencing reactions, plasmid prep, and sequence analysis for at least three selected colonies (optional).
How to Order
How to Order
Quotation and order

Download forms
Contact Us
All correspondences:
The Molecular Biology Core
Department of Surgery, Cardiac Surgery
The Ohio State University Wexner Medical Center
Biomedical Research Tower, Rm 373
460 W 12th Ave, Columbus, OH 43210
Tel: 614-293-9745 (Office), 614-293-9976 (Lab)
Email: MBClab@osumc.edu
Business Hours
Weekdays: 9 am - 5 pm
Weekends: Closed