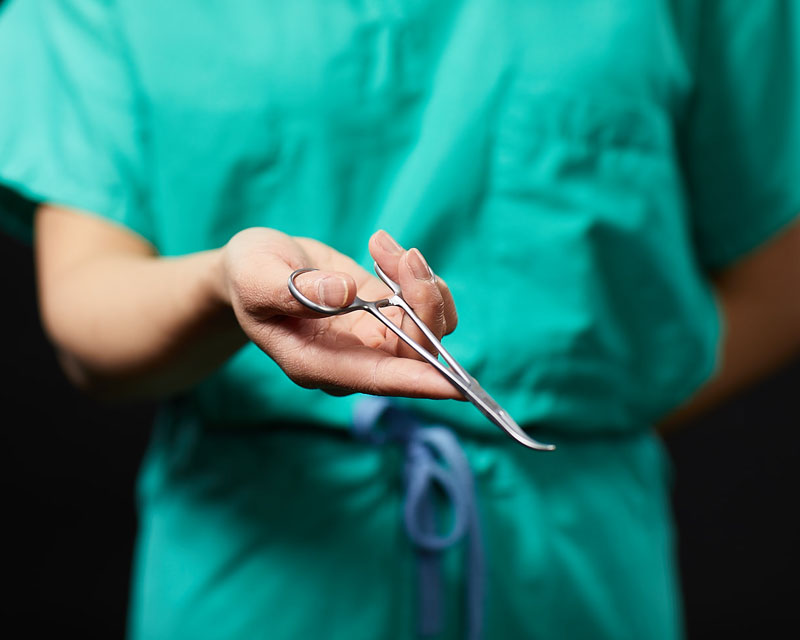 Every resident and fellow of The Ohio State University Wexner Medical Center Department of Surgery brings distinct talents and abilities to our team and also has specific professional and personal goals that we strive to support through a customizable training path.
Our broad range of education options allow all trainees to craft a personal experience that supports the career they envision.
To learn more, visit medicine.osu.edu/departments/surgery/education.
Developing confident, independent surgeons
Clinical Skills Education and Assessment Center

State-of-the-art, high-fidelity simulation labs, including open, laparoscopic and task trainers
Video teleconferencing capabilities where surgeries happening anywhere in the world provide trainees a bird's-eye view of the surgery on one screen and from inside the patient on another, all while speaking with the physicians performing the procedure
Formal assessments and mentorship meetings

Live case experience, with PGY2 residents averaging 400 cases
Novel alcohol-based soft tissue preservation extends reuse of donated bodies and significantly improves the ability to mimic living tissue
OR Coaching program
Residents receive feedback from senior surgeons, in addition to the attending for the case
Includes procedure-specific suggestions, as well as constructive comments related to technique and OR management, including small procedural changes or potentially negative habits that can be corrected before becoming ingrained
Observation and evaluation completed for 12 cases (three each for lap chole, inguinal hernia, ventral hernia and lap colectomy)
Based on program success and resident interest, three new OR coaches were added to the team
To learn more, visit medicine.osu.edu/departments/surgery/education/residency/or-coaching-project.
Upgraded robotic curriculum
Leads to a da Vinci® Equivalency Certificate
Begins with a series of dry labs, followed by case-specific pig labs, including high-volume procedures such as colectomy, gastrectomy and pancreatectomy
Additional simulation training available during each individual surgical rotations
Lead, Engage, Accelerate, Drive in Surgery (LEAD)
This leadership elective is available to PGY 2-5 general surgery and lab residents
The one-year course teaches effective leadership skills, which we believe is crucial for a successful surgical career
Small class size of 15 or fewer promotes discussion and input from varied perspectives
To learn more, visit medicine.osu.edu/departments/surgery/education/residency/lead.
Exposure to varied surgical settings
University Hospital
The Ohio State University Comprehensive Cancer Center – Arthur G. James Cancer Hospital and Richard J. Solove Research Institute
Richard M. Ross Heart Hospital
Ohio State East Hospital
Nationwide Children's Hospital
Outpatient surgery centers across central Ohio
Education Team
If you want to learn more about our education options and how they can be customized to each trainee's interests, please contact our education team members:
Brittany Williams – General Surgery Residency Program Manager
Anna Patterson – Program Manager, Research Education
Lori Bardon – Program Manager, Divisions of General and Gastrointestinal Surgery, Colon and Rectal Surgery, and Trauma, Critical Care and Burn
Kaitlen Knight – Program Manager, Divisions of Cardiac Surgery and Vascular Diseases and Surgery
Xiaodong (Phoenix) Chen, PhD, MSc, BEng – Senior Director of Education Science
Personal career development
All residents complete a minimum one-year research experience or a specialty fellowship during their residency, unless otherwise exempted.
Subspecialty surgical fellowships
Advanced therapeutic endoscopy and gastrointestinal surgery
Cardiothoracic surgery
Colorectal surgery
Surgical critical care
Abdominal transplant surgery
Pediatric surgery
Pediatric surgical critical care
Surgical oncology
Vascular surgery
Minimally invasive surgery
Bariatrics surgery
Research Training Program
This includes a mentored research project in any area of interest and completion of an advanced degree such as:

Master of Medical Science, with a track in translational, clinical, health services and medical education research
Master of Public Health
Master of Business Administration
An alternate Master of Science degree, such as a Master of Science in Anatomy

To learn more, visit medicine.osu.edu/departments/surgery/education/residency/rtp.
Expanded Residency Wellness Program
Ohio State Department of Surgery expands residency wellness program
Wellness took on added importance during COVID-19, and the Ohio State Wexner Medical Center Department of Surgery was able to expand its existing residency wellness program thanks to the Robert Zollinger Surgical Society. This longstanding alumni group was reinvigorated to emphasize the physical, mental, social and professional wellness that is especially important during the often stressful years of residency. Themed events, developed with guidance from the residency wellness committee assistance, helped our trainees establish unity and maintain a supportive environment.
Our two newest integrated residency programs
Cardiothoracic Surgery Integrated Residency
Six-year integrated program to prepare for specialization in cardiothoracic surgery in both academic and community settings
Rotation on both general and cardiothoracic services at the Ohio State Wexner Medical Center, and complete rotations on the congenital heart service at Nationwide Children's Hospital
Vascular Surgery Residency