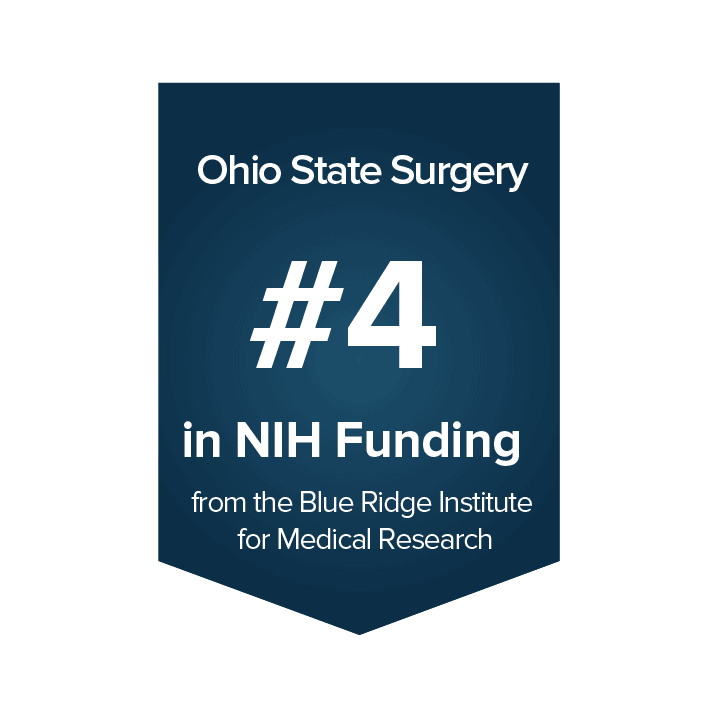 The Ohio State University Wexner Medical Center Department of Surgery has committed significant time, talent and facilities to the research process.
Our ultimate aim is to give our researchers everything they need to explore, innovate and transform their most daring ideas into reality.
An atmosphere of determination
More studies mean more discoveries.
In 2015, we were ranked 25th in National Institutes of Health (NIH) research funding. With resolve and focus we've made steady progress since:
2015 – #25
2018 – #18
2019 – #6
2020 – #5
2021 – #4
Others share our passion for research as well.
The Ohio State University is #3 in industry-sponsored research and a Top 12 public research university.
Support for big ideas
Department of Surgery initiatives:

The Center for Research Education and Advancement of Transdisciplinary Exploration (CREATE) – supports interprofessional project teams to streamline product and technology development and save costs.
The Center for Surgical Health Assessment, Research and Policy (SHARP) – provides mentorship, brainstorming sessions, research-in-progress meetings, physical research space, secure database server and staff support for project coordination, statistical analysis and development of grant funding opportunities.
Master of Medical Science degree – surgery trainees interested in a research career can pursue a Master of Medical Science degree with a curriculum track in either Basic/Translational Science or Clinical Science.

University research offices – For every aspect of research, our scientists can find support from specific university offices. This includes the Office of Research, as well as dedicated offices for sponsored programs, clinical trials, research compliance, responsible research practices, technology and commercialization, and research information technology.
State-of-the-Art Spaces
Innovation District — A new campus district being built that will include:

The Interdisciplinary Research Facility, a 270,000-square-foot facility where students, academic researchers, city leaders, Fortune 500 businesses and new start-ups — just steps away from each other — have the potential to share promising new ideas and accelerate discovery.
An interdisciplinary health sciences complex that provides 225,000 square feet of collaborative space and state-of-the-art technology for learning across the colleges of Medicine, Nursing, Pharmacy, Dentistry, Optometry, Public Health and Veterinary Medicine.

Biomedical Research Tower — Currently the largest research facility on The Ohio State University campus; includes the Imaging Core Facility, which provides researchers high resolution imaging using a variety of different instruments.
Tools of Discovery
The Comprehensive Transplant Center (CTC) Biorepository – affords our scientists reliable access to high-quality, clinically annotated normal and diseased human biospecimens
Novel alcohol-based soft-tissue preservation technique – extends reuse up to six months and significantly improves the ability to mimic living tissue
The Ohio State Human Tissue Resource Network (HTRN)
University Laboratory Animal Resources (ULAR)
Campus Miscopy and Imaging Facility (CMIF) – a fullservice facility supporting sample preparation, image processing and wide range of instrumentation
The Campus Chemical Instrument Center (CCIC) – state-of-the-art research facilities for Nuclear Magnetic Resonance, Mass Spectrometry and Proteomics
Pioneering methods to improve transplant outcomes and donor organ utilization
The COPPER laboratory, led by co-directors Sylvester Black, MD, PhD and Bryan Whitson, MD, PhD, is a model of collaboration, with investigators in thoracic and abdominal transplantation, biochemical engineering, biomedical engineering, mechanical engineering, molecular biology and physiology working together to expand the science of endothelial cell repair in ischemia reperfusion and exploit ex vivo perfusion to assess, repair and modify donor allografts. With their guidance, the Ohio State Comprehensive Transplant Center was the first in Ohio to offer extended ex vivo perfusion, a process that uses a mechanical system to respirate, warm, nourish and repair donor lungs outside the body, thus improving the odds that they can be used for transplant. Learn more at medicine.osu.edu/departments/surgery/copper-laboratory.
Directly linking the Department of Surgery with other scientists
With an organizing principle that "no one of us is as bright as all of us," the Center for Research Education and Advancement of Transdisciplinary Exploration (CREATE), led by director Sylvester Black, MD, PhD, establishes project teams that include health care providers, academic and health care faculty, students, partners from private industry, engineers and inventors. Its aim is to support research partnerships that can streamline product and technology development, facilitate consultation and save costs. Innovative solutions currently being explored include alternative energy-sourced mechanical ventilation for austere environments, the use of virtual reality in critical care settings and the benefits of Vamos mobility in critical care. Learn more about CREATE at medicine.osu.edu/departments/create.