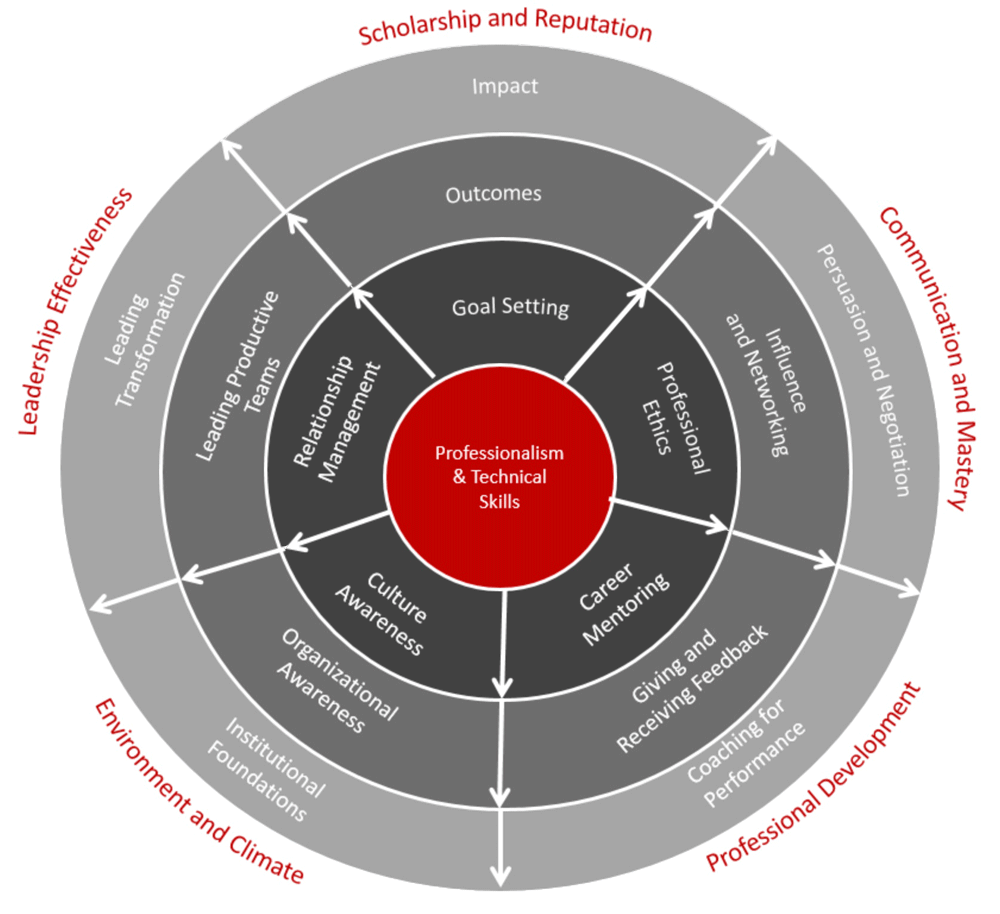 Comprehensive Faculty Career Development
The Center for Faculty Advancement, Mentoring and Engagement (FAME) provides comprehensive faculty career development throughout all domains of an academic medical center. We develop faculty to be expert educators, leaders, superlative clinicians and eminent scholars. We provide unique opportunities for women and minority faculty who are underrepresented in academic medicine and in leadership.
Our proprietary FAME faculty development model demonstrates skills and behaviors that faculty members should master for personal and professional growth. In addition to continuing to develop skills as a scholar, educator, researcher or clinician, there are five critical domains of faculty career development, all stemming from a foundation of professionalism: Professional development, Scholarship & reputation, Communication & mastery, Environment & climate, Leadership effectiveness.
What to conquer first?
The center ring is a great starting point, associated with the skills to master as an assistant professor. The middle ring is what associate professors should master and the outer ring aligns to a professor's skillset. We recommend reviewing with your mentor, division director or chair for assistance creating a plan of action.
Professionalism and Technical Skills

Scholarship and Reputation

Communication and Mastery

Professional Development

Environment and Climate

Leadership Effectiveness
Vision and Objectives
The vision of the Center for FAME is to be a hub for all efforts that foster the professional fulfillment and growth of the members of the faculty in alignment with the tripartite mission of the College of Medicine.
As its name implies, the objectives of FAME are to:
Advance the careers of our faculty members from all backgrounds and disciplines;
Effectively Mentor and advocate for all members of the faculty;
Engage faculty to achieve personal goals in alignment with University and Medical Center goals and objectives.
Format
Programs are offered in-person and online at FD4ME. Some programs, though not all, have been recorded so they can be watched online at your convenience. All of our scheduled programs are open enrollment for all faculty however, registration is required. Most of our programs offer category 1 CME credit. All of our cohort sessions (FAMEPRO, FCAP, FLI) require application and selection to join.
Mentoring for Success
Our integrated curriculum begins with mentoring. We strongly encourage each junior faculty member to identify a mentor within the first year of employment. The mentor helps the faculty member develop a personalized career plan and set reasonable annual goals in accordance with the faculty member's priorities. We are also active with mid-career and senior faculty. We ask mid-career and senior faculty to be mentors, and we provide mentor training.
Faculty Competencies
Part of the process is for faculty members to identify the skills they need to develop to achieve their goals. FAME offers numerous programs throughout the year to develop myriad skills and competencies, supporting our faculty development model including: scholarship & reputation, communication & mastery, professional development, environment & climate, leadership effectiveness and professionalism & technical skills. Along the way, we instruct faculty in the promotion process, how annual reviews are conducted, the business of academic medicine and how compensation is structured.
Collaborations
In addition to the programs we produce, we adopt and scale best practices created by departments for a larger audience. We bring in national experts to provide timely topical instruction. We collaborate with our health science colleagues, other colleges on campus and across the state of Ohio.
Outreach and Consultation
We provide onboarding visits to new faculty, and career consultation, upon request: FAME@osumc.edu. Reward Faculty success enables the College of Medicine to thrive. Engaged faculty are productive faculty, and this allows us to achieve organizational strategic goals. We connect faculty with the intangible rewards of work: opportunities for growth and learning, venues and events to develop good relationships with colleagues, and maintaining a sense of purpose.
When
Most of our programming is offered September through June.