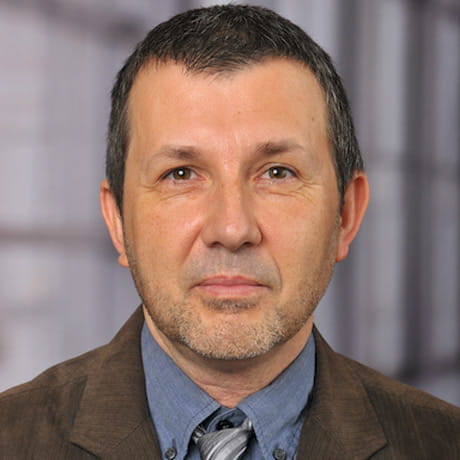 Senior Research Scientist
College of Medicine
Department of Neurological Surgery
In 2019, Dr. Hadaczek joined The Ohio State University Wexner Medical Center as a senior research scientist in neurological surgery. His work focuses on creating novel approaches for the delivery of therapeutic agents to specific target regions in the brain for effective treatment of brain diseases. He has supervised projects and preclinical studies that have culminated in clinical trials at the University of California, San Francisco, and at the National Institutes of Health. In addition, his work has been published in numerous peer-reviewed journals.
Dr. Hadaczek completed his PhD in medical biology and cancer genetics at the Pomeranian Medical University in Szczecin, Poland. He also completed postdoctoral studies at Thomas Jefferson University in Philadelphia and the University of California, San Francisco, where he worked as a supervising scientist. His current research is focused on translating novel therapies into clinical trials, particularly in the area of Parkinson's disease, and he has helped launch four separate clinical trials with the Bankiewicz group.
Research Interests
Treatment of Parkinson's disease via gene transfer and direct infusion of neurotrophic factors
Gene therapy of the brain
Brain tumors
Neurological disorders and neurodegenerative diseases
Neuroprotection
Neuropharmacology
Adeno-associated viruses
Education
MSc: Biology/Immunology, University of Szczecin (Poland)
PhD: Medical Biology/Cancer Genetics, Pomeranian Medical University (Szczecin, Poland)
Post-doctoral studies: Cancer Genetics, Thomas Jefferson University (Philadelphia)
Postdoctoral studies: Gene Therapy, University of California, San Francisco
Professional Memberships
American Society of Gene & Cell Therapy
Past Member, Society for Neuro-Oncology
Past Member, American Society of Clinical Oncology
Past Member, Polish Society of Genetics
Editorial Activities
Ad-Hoc Reviewer, Current Gene Therapy
Ad-Hoc Reviewer, Journal of Neurochemistry
Ad-Hoc Reviewer, Journal of Drug Targeting
Ad-Hoc Reviewer, Neuro-Oncology
Ad-Hoc Reviewer, Journal of Pharmacy and Pharmacology
Ad-Hoc Reviewer, Molecular Therapy
Honors and Awards
Award of Polish Ministry of Health and Social Care, 2000
Award of Polish Ministry of Health and Social Care, 1999
Scholarship of Foundation for Polish Science, 1998
Award of Polish Ministry of Health and Social Care, 1997
Scientific Award of Rector PMU from Pomeranian Medical University, Szczecin, Poland, 1996
Scientific Award of Rector PMU from Pomeranian Medical University, Szczecin, Poland, 1995