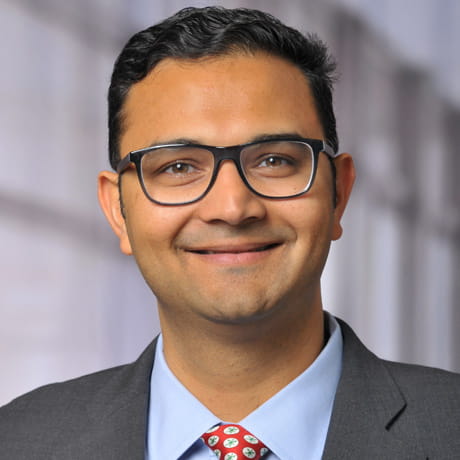 Assistant Professor, Department of Neurological Surgery

College of Medicine
Department of Neurological Surgery
Faculty, Chronic Brain Injury

Center for Neuromodulation
480 Medical Center Drive
Columbus, OH 43210
Phone: 855-255-0550, 614-366-7571
Fax: 614-366-8779
Vibhor.Krishna@osumc.edu
Current Research
As a surgeon-scientist, Dr. Krishna has expertise in the translational applications of neuroimaging relevant to neuromodulation and functional neurosurgery. He investigates both the imaging-based therapies (specifically focused ultrasound and image-guided deep brain stimulation) and discovers neuroimaging correlates of efficacious neurostimulation. His imaging modalities of interest include diffusion tensor imaging (quantitative, deterministic and probabilistic tractography) and functional magnetic resonance imaging.
This translational work has direct implications for precise localization of therapeutic targets for neurostimulation, guide stimulation titration and potentially improve patient selection. It has tremendous potential for broadening the application of neurostimulation to indications where the clinical effects are not immediate; most notably dystonia, epilepsy and disorders of behavior and cognition. This work will also improve our understanding of brain function and its modulation for functional restoration.
Education
MBBS: All India Institute of Medical Sciences
Residency: Neurological Surgery, Medical University of South Carolina
Fellowship: Neurological Surgery, Toronto Western Hospital, University of Toronto
Dr. Krishna is partially funded by the Chronic Brain Injury program, a part of Ohio State's Discovery Themes Initiative.