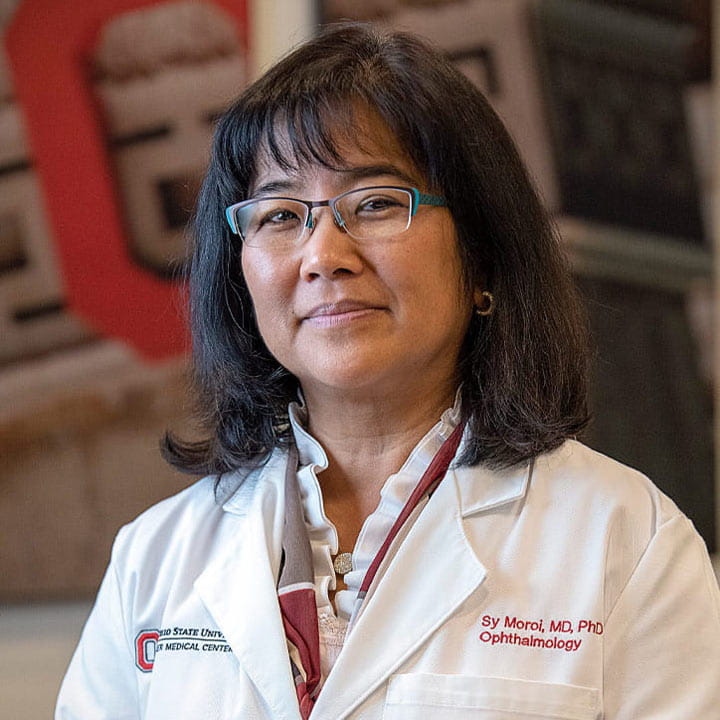 William H. Havener, MD Endowed Professor
Chair and Director of the Havener Eye Institute
Professor of Ophthalmology
Department of Ophthalmology and Visual Sciences
915 Olentangy River Road, Suite 5000
Columbus, OH 43212
Sayoko.Moroi@osumc.edu
Research Interests
My goal is to prevent glaucoma-related blindness. Over my 25 years at the University of Michigan and now at The Ohio State University since 2020, I have focused primarily on patient outcomes and genetics. I have assimilated my clinical experience, evidence-based medicine, and research to develop an individualized treatment plan for a patient based upon their phenotype and environment of work, hobbies, and home. This individualized approach toward prevention and treatment strategies are the fundamental principles of precision medicine.
Specifically on patient outcomes, I have focused on those individuals who are outside the average or median, such as unusual pharmacological treatment reactions, surgical results, wound healing, and clinical- pathological correlations. Specifically on genetics, I have been a key clinical contributor to a complex co-morbid glaucoma-retina phenotype that confirmed a novel causative mutation that was initially only attributed to a retina phenotype. I have been a major clinical contributor to an otolaryngology, retina, and glaucoma projects on genetics. With "on-the-job" genetics team science environment at Michigan, I was first author on a genetics project focused on case-control candidate gene study design and an integral participant in a glaucoma consortium, called NEIGHBOR (NEI Glaucoma Human Collaboration). I was the co-investigator with Michigan geneticist, Jun Li, PhD, leading the quantitative trait analysis of intraocular pressure (IOP) and central cornea thickness.
With respect to clinical trials, I served as site PI for the Ocular Hypertension Treatment Study, Advanced Glaucoma Intervention Study, and numerous clinical pharmacology trials. I serve as PI for a NIH funded, multi- center project that is designed to establish a clinical database on aqueous humor dynamics under baseline and glaucoma drug treatment conditions. I serve as multi-PI on a NSF grant focused on aqueous vein outflow and perilimbal sclera tissue biomechanics and NEI R21 grant focused on ocular conditions and diseases in women's health. I also serve as co-investigator on Dr. Andras Komaromy's pre-clinical gene therapy testing in a spontaneous dog model of glaucoma. The outcomes of these research projects align with the goal of precision medicine whereby informative biomarkers will be used to prevent glaucoma-related blindness and improve outcomes.
Active Funding
Current
Aqueous Humor Dynamic Components that Determine Intraocular Pressure Variance
R01EY022124 (PI: Sayoko E. Moroi, MD, PhD)
09/01/2020-08/31/2023
Our long-term goal is to improve outcomes by identifying biomarkers, behavioral and environmental factors, that together profile a patient at risk for disease by age-of-onset, rate of progression, poor response to treatment, and large IOP fluctuation.
Evaluation of retinal imaging as a biomarker of hypertensive effects on cognitive function
R21AG080407 (PI: Ma/Karvonen-Gutierrez)
Role: Co-Investigator
12/15/2022 - 11/30/2024
The goal of this proposal is to fill a knowledge gap and advance understanding of the retinal microvessels as a biomarker of hypertensive effects on cognitive function.
The Ohio State University Vision Sciences Research Core Program (OSU-VSRCP)
P30EY032857 (PI: Sayoko E. Moroi, MD, PhD)
09/30/2022 - 06/30/2027
The goal of this project is to provide high quality and cost-effective services to the vision scientists at The Ohio State University in three modules: Core A. Structural and Functional Assessments; Core B. Biostatistics, Bioinformatics and Genetic Analysis; and Core C. Image Analysis and Data Science.
Towards healthy aging: Quantifying vestibular contributors to age-related changes in balance and fall risk
R01AG073113 (PI: Merfeld)
Role: Co-Investigator
09/30/2021 - 05/31/2026
The goal of this project is to develop and test an intervention designed to improve vestibular precision, which could also improve balance and reduce falls.
Therapy development for open-angle glaucomas
R01EY025752 (PI: Komaromy)
Role: Co-Investigator
01/01/2020 - 04/30/2023 NCE
The goal of this proposal is to develop novel, improved mechanistic therapeutic strategies to treat high-pressure forms of open-angle glaucoma.
Research to prevent blindness challenge grant
(PI: Sayoko E. Moroi, MD, PhD)
01/01/2023 - 12/31/2026
The goal of the RPB Challenge Grant is to encourage growth for a newly emerging eye research program and recently appointed department chair at non-grantee ophthalmology departments at university-connected medical schools.
Education and Training
Fellowship: Glaucoma (Clinical), W.K. Kellogg Eye Center, University of Michigan, 1994-1995
Fellowship: Glaucoma Research, Duke University Eye Center, 1993-1994
Residency: Ophthalmology, Duke University Eye Center, 1990-1993
Internship: Department of Medicine, Duke University Medical Center, 1989-1990
MD/PhD: Department of Pathology and Department of Pharmacology, The Ohio State University, 1982-1989
Undergraduate: Chemistry and Psychology, Duke University, 1978-1982
Honors and Awards
Top 100 Women in Ophthalmology Power List, The Ophthalmologist, 2021
43rd Annual Midwest Glaucoma Symposium: Delivered four lectures: 1) Icare HOME as part of teleophthalmology, 2) Post-operative surprises in patients with plateau iris, 3) the Cohen Merck Lecture Progress toward mapping aqueous veins, 4) Assessment of character and biases during COVID-19 pandemic. 2020.
Roger P. Mason, MD Glaucoma Lecture, Department of Ophthalmology, Howard University, 2020
Invited talk, "Illuminating our Blindspots and Preventing Blindness," Clinician Scientist Lector, American Glaucoma Society, 2020
Invited talk, "How to Play in the Sandbox with Optometry," Young Ophthalmologists Program, American Academy of Ophthalmology, 2018
39th Annual Robert N. Shaffer Glaucoma Lecture, "At the Technological Confluence of Glaucoma Clinical Care and Research," American Academy of Ophthalmology Annual Meeting, 2018
Invited speaker at Glaucoma Sub-Specialty Day, American Academy of Ophthalmology, 2017
Top 25 Most Read Article, "Primary Open-Angle Glaucoma Preferred Practice Pattern Guidelines," Editorial Board of Ophthalmology, 2015
Cohort of the Rudi Ansbacher Women, Academic Medicine Leadership Scholars Program, 2015
Marquis' Who's Who in Medicine and Healthcare 10th Anniversary, 2014
International Association of Healthcare Professionals (IAHCP), The Leading Physicians of the World, 2014
Best Papers from the 2013 ASCRS/ASOA Symposium & Congress, "Association of Aqueous Humor Dynamic Markers in Glaucoma With Canaloplasty Surgery," Eye World, 2013
ASCRS Best Paper of Session 2-F GLAUCOMA MIGS and Diagnostic "Association of Aqueous Humor Dynamic Markers in Glaucoma with Canaloplasty Surgery", American Society of Cataract and Refractive Surgery Symposium, 2013
Certificate of Appreciation for Service as a Developing Country Eye Researcher Travel Fellowship Mentor, ARVO Foundation for Eye Research, 2012
Professional Memberships
American Academy of Ophthalmology

BCSC Sec. 10: Glaucoma – Member Subcommittee (2020)

American Association for the Advancement of Science
American Glaucoma Society
American Medical Association
American Society for Pharmacology and Experimental Therapeutics
Association for Research in Vision and Ophthalmology
Association for University Professors in Ophthalmology
Chandler-Grant Glaucoma Society
Cogan Ophthalmic History Society
Detroit Ophthalmology Club

Inactive December 2019 – present

International Society for Imaging in the Eye (ISIE)
Michigan Society of Eye Physicians and Surgeons
Michigan Peer Review Organization
Ohio Ophthalmological Society
Rudi Ansbacher Women in Academic Medicine Leadership Scholars Program
UM Michigan Mixed Methods Research and Scholarship Program
Women in Ophthalmology
Editorial Activities
Journal Reviewer
American Journal of Ophthalmology
Archives of Ophthalmology
British Journal of Ophthalmology
BMC Ophthalmology
Experimental Eye Research
Eye
Investigative Ophthalmology & Visual Science
Journal of the American Association for Pediatric Ophthalmology and Strabismus
Journal of Controlled Release
Journal of Glaucoma
Journal of Neuro-ophthalmology
Ophthalmology Glaucoma – Advisory Committee member
PLOS One
Survey of Ophthalmology