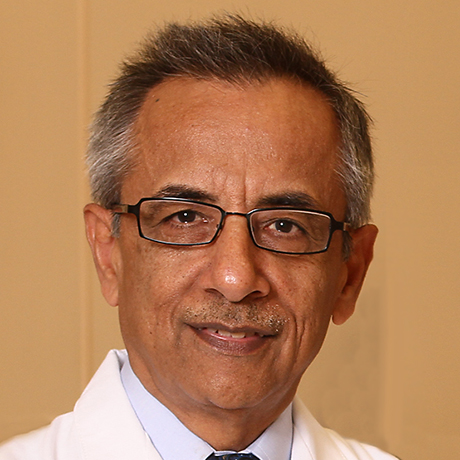 Director, FAME Faculty Leadership Institute
Health System Director, Non-Invasive Vascular Services
Bhagwan.Satiani@osumc.edu
614-293-8536

Dr. Satiani is interested in having residents participate in the growing area of research related to the economic consequences of our medical decisions. This includes cost of specific procedures, appropriateness of diagnostic testing, and efficiency of care. With the advent of value-based compensation and reimbursement and 'bundled' care, future practitioners will be asked to do more with less. Research is needed to influence clinicians to adopt the most cost-efficient ways to practice and to provide policy makers with factual information. There are opportunities particularly in the non-invasive vascular laboratory and other high volume areas.
Refereed Publications

Kudlaty EA, Oriowo B, Go MR, Satiani B. Isolated great saphenous vein thrombus is associated with high rates of complications regardless of management. Annals of Vasc Surg 2017 Nov 45:154-9.

Yoo T, Starr JE, Go MR, Vaccaro PS, Satiani B, Haurani MJ. Ultrasound-Guided Thrombin Injection Is a Safe and Effective Treatment for Femoral Artery Pseudoaneurysm in the Morbidly Obese. Vasc & Endovascular Surgery Aug 2017 DOI:10.177/1538574417708727

Strosberg DS, Hauran MJ, Satiani B, Go MR. Common carotid artery end diastolic velocity and acceleration time can predict degree of internal carotid artert stenosis. J Vasc Surg 2017 July;66:226-31. Doi:10.1016/j.jvs.2017.01.041.

Prakash S, Satiani B. Analysis of Compensation Disparities between Junior Academic and Private Practice Vascular Surgeons. Ann Vasc Surg 2017; 39:236-241.

Puttmann KT, Satiani B, Vaccaro P. Thoracic Outlet Syndrome in a Volleyball Player due to nonunion of the first rib fracture. Vasc Endovascular Surgery 2016 Nov;50(8):563-565.

Haurani MJ, Go MR, Starr JE, Vacaro PS, Satiani B. Analysis of Upper Arterial Duplex Indications May Reduce Unnecessary Tests. J Angiol Vasc Surg 2016, 1:004.

Oriowo B, Satiani B, Haurani MJ, Hoffman K, Evans J. Comparison of time utilization in an academic inpatient versus an outpatient vascular laboratory. J Clinical Ultrasound 2016 Nov 12;44(9);540-544. Doi.10.1002/jcu22375. Epub 2016 Jun 26.

Henry JC, Strosberg D, Warhadpande S, Satiani B. Go MR. Clinical and ultrasound sequelae of nonvisualized calf veins on duplex ultrasound for suspected deep vein thrombosis. J Vasc Ultrasound 2016 Mar;40:26-31.

Warhadpande S, Go MR, El Sayed HF, Satiani B, Vaccaro PS. Popliteal artery cystic adventitial disease: Early lessons in treatment. Ann Vasc Surg 2017 Jan;38:255-259. Doi:10.1016/j.avsg.2016.05.112.

Satiani B, Masterson L, Kudlaty E, Starr JE, Go MR. Significant cost savings can result from accurate coding of carotid duplex indications and elimination of inappropriate tests. J Angiology and Vasc Surg 2016 Apr;1:002.

Go MR, Masterson L, Veerman B, Satiani B. Reimbursement Policies for Carotid Duplex Ultrasound that are Based on International Classification of Diseases Codes May Discourage Testing in High-Yield Groups. Ann Vasc Surg 2016;31:163-169.

Satiani B, Haurani M. Self-employed community practice is still a viable proposition. Vascular Specialist 2016 Jan;12(1):8-9.

Oriowo B, Mong R, Kudlaty E, Satiani B. Vanishing Thrombus Resulting in Pulmonary Saddle Embolism. J Vasc Med Surg 3:169. Doi:10.4172/2329-6925.1000169

Awad H, Quevedo E, Abas M, Brown M, Satiani B, Capers Q 4th, Starr JE. Can the anesthesiologist use the radial artery for monitoring after transradial artery catherization? AA case Report 2015 June 15;4(12):159-62.

Mouawad NJ, Go MR, Haurani MJ, Moseley M, Satiani B. Elimination of medical unnecessary duplex venous scanning based on an established algorithm can result in significant cost savings under Medicare for the institution and the taxpayer. J Vasc Surg 2015; 3:107-112.

Masterson L, Satiani B, Evans J, Vaccaro PS. Managing and improving efficiency of an outpatient vascular laboratory. J Vasc Surg 2014;2;(4)477-482.

Satiani B, Nair DG, Starr JE, Samson RH. Essentials of negotiating for employment in a changing environment. J Vasc Surg 2014; 1-7.

Henry JC, Satiani B. Calf muscle venous thrombosis: a review of the clinical implications and therapy. Vasc Endovascular Surg 2014 July-Aug;48(5-6):396-401.

Satiani B, Sena J, Ruberg R, Ellison EC. Talent management and physician leadership training is essential for preparing tomorrow's physician leaders. J Vasc Surg 2014;59:542-6.

Satiani B, Sena J, Ruberg R, Ellison CE. Talent management and physician leadership training is essential for preparing tomorrow's physician leaders. J Vasc Surg 2013;⦁:1-5.

Satiani B. Health Care Update: Hospital Employment or Private Practice? Perspect Vasc Surg Endovasc Ther 2013 Dec;25(3-4):46-52. DOI:10.1177/1531003513510952

Mouawad NJ, Thors A, Haurani MJ, Satiani B. Varicose Veins – An evaluation of management outcomes between endovenous therapy and open surgical ligation.
2013 Submitted for publication

Wixon CL, Jain KM, Satiani B. Single-specialty versus multispecialty vascular surgical group model. Debate in J Vasc Surg 2013;57:1698-1702.

Mouawad NJ, Haurani MJ, Mason T, Satiani B. Delayed Presentation and Management of Blunt Traumatic Inferior Gluteal Artery Pseudoaneurysm with Associated Arteriovenous Fistula. Vascular Endovascular Surg 2013 July;47(7)573-576.

Satiani B, Williams TE, Brod H, Way DP, Ellison EC. A Review of Trends In Attrition Rates For Surgical Faculty: A Case For A Sustainable Retention Strategy To Cope With Demographic And Economic Reality. J Am Coll Surg 2013 May;216(5);944-53.

Go MR, Kiser D, Wald P, Haurani MJ, Moseley M, Satiani B. Clinical evaluation of suspected deep vein thrombosis guides the decision to anticoagulate prophylactically but does not impact the decision to perform after hours duplex venous scanning or increase its yield. J Vasc Surg 2013 Feb; 6: S0741-5214.

Jain KM, Wixon CL, Satiani B. Single Specialty versus Multi-Specialty Vascular Surgery Group Model. J Vasc Surg 2013 June;57(6):1698-702.

Matthews MA, Satiani B., Lohr J, Trends in a Changing Vascular Practice Environment for Members of the Society for Vascular Surgery. J Vasc Surg 2013; 57: 586-92.

Satiani B, Matthews MA, Gable D. Work effort, productivity and compensation trends in members of the Society for Vascular Surgery. Vascular and Endovascular Surgery. 2012; 46(7) 509-514.

Habib J, Baetz L, Satiani B. Assessment of collateral circulation to the hand prior to radial artery harvest. Vascular Medicine October 2012 vol. 17 no. 5 352-361.

Satiani B. Business Knowledge for Vascular Residents. Letter to Editor. J Vasc Surg 2012; 56: 589.

Satiani B. Use, misuse and under- use of work relative value units in a vascular surgery practice. J Vasc Surg 2012; 56: 267-272.

Satiani B. Physician incentives may not be aligned with their health system employer. What is a physician to do? Surgery. 2012; 152(5): 923-6.

Smith VL, Peterson L, Starr JE, Satiani B. External Iliac Artery Stenting: High incidence of concomitant revascularization procedures. Vascular and Endovascular Surgery. 2012; 46(3): 246-50.

Satiani B, Motew SJ, Darling RC, Jain KM, Wixon CL, Johnson BA, Weiss VJ, Gable DR. Changing practice paradigms: Negotiating your future. J Vasc Surg 2012; 55:1206-12.

Satiani B, Kiser D, Mason T. Turn- around time and timeliness of physician interpretation in the vascular laboratory. Vascular and Endovascular Surgery. 2012. 46(2) 167-17.

Williams TE, Satiani B. Ellison EC. A comparison of future recruitment needs in urban and rural hospitals: The rural imperative. Surgery 2011; 150: 617-25.

Satiani B, Williams TE, Ellison EC. The impact of employment of part time surgeons on the expected surgeon shortage. J Amer Coll Surg 2011; 213: 345–351.

Satiani B, Williams TE, Landon MB, Ellison EC, Gabbe SG. A Critical Deficit of OBGYN Surgeons in the U.S by 2030. Surgical Science, 2011, 2, 95-101. Published Online April 2011.

Santin B, Satiani B, Fries R. "Clinical characteristics of patients with isolated calf vein thrombosis in a large teaching hospital. International Journal of Vascular Medicine. Volume 2011 (2011), Article ID 414093, 4 pagesdoi: 10.1155/2011/414093. http://www.hindawi.com/journals/ijvm/2011/414093/

Satiani B. Impact of The Patient Protection and Affordable Care Act on vascular imaging. Ann Vasc Surg 2011. 25: 985-989.

Baetz L, Satiani B. "Palmar Arch Identification during Evaluation for Radial Artery Harvest" Accepted for publication. Vascular and Endovascular Surgery
2011. 45(3) 255-257.

Satiani B, Kiser D. Timeliness in notification of critical vascular laboratory test results is part of quality assurance. J Vasc Ultrasound 2010. 34(4): 189-191.

Shakhnovich I, Kiser D, Satiani B. Importance of validation of Duplex Ultrasonography in Identifying Moderate and Severe Carotid Artery Stenosis. Vascular & Endovascular Surgery. 2010. 44(6) 483-488.

Satiani. B, Vaccaro PS. A critical appraisal of physician-hospital integration models. J Vasc Surg 2010; 51, Issue 4: 1046-1053.

Beavers FP, Satiani B. Diversity does not equal disparity: How cultural competence can overcome; J Vasc Surg Volume 51, Issue 4, Special Supplement (April 2010) Diversity in Vascular Surgery: Adapting to America's New Face pages S1-S3.

Satiani B. Vaccaro PS, Go MR. Diversity in membership and leadership positions in a regional vascular society. J Vasc Surg Volume 51, Issue 4, Special Supplement (April 2010) Diversity in Vascular Surgery: Adapting to America's New Face. pages S47-S52.

Satiani B. Commentary. J Vasc Surg 2009; 50:1078.

Manley R, Satiani B. Revenue Cycle Management. J Vasc Surg 2009; 50:1232-8.

Williams TE, Satiani B, Thomas A, Ellison CE. The impending shortage and the estimated cost of training the future surgical workforce. Ann Surg 2009; 250:590–597.

Satiani A, Satiani B. Marketing strategies for vascular practitioners. J Vasc Surg 50: 691-697, 2009.

Satiani B. Williams TE. Fill in the blanks. MGMA CONNEXION. 9: (7) 36-40, August 2009.

Satiani B, Williams TE, Go M. Predicted shortage of Vascular Surgeons in the United States: population and workload analysis. J Vasc Surg 50:946-52, 2009.

Satiani B. "A Medicare primer." J Vasc Surg. 50: 453-60, 2009.

Satiani B, Miller S, Patel D. "No-Show Rates in the Vascular Laboratory: Analysis and Possible Solutions" J Vasc Interventional Radiology. 20:87-91, 2009.

Satiani B. Specialty Hospitals: Who do they help? Surgery. 143:589-98, 2008.

Pleister I, Evans J, Vaccaro PS, Satiani B. "Natural history of the great saphenous vein stump following endovenous laser therapy" Vascular & Endovascular Surgery. 42(4): 348-351, Aug/Sept 2008.

Santin B, Bahner, D, Satiani, B. A Retrospective Analysis of the Clinical Effects to Ultrasound Screening for Abdominal Aortic Aneurysms: The RACE to SAAAVE Study. J Vasc Ultrasound. 32(2): 75–78, 2008.

Pawaskar P, Balkrishnan R, Kiser D, Gray M, Satiani B. Work Flow Analysis: Evaluation of Conventional Mobile Vs Portable Ultrasound Scanners in Noninvasive Vascular Laboratory. J Vasc Ultrasound. 32(2): 85–88, 2008.

Falcone R, Satiani B. Physician as Hospital Chief Executive Officer. Vascular & Endovascular Surgery. 42:88-94, 2008.

Pawasker M, Satiani B, Balakrishnan R, Starr JE. Economic Evaluation of Carotid Artery. Stenting versus Carotid Endarterectomy for the Treatment of Carotid Artery Stenosis. J Amer Coll Surg 205, Issue 3: 413-419, 2007.

Evans J, Mong R, Satiani, B. The perioperative role of duplex venous scanning in Endovenous Laser Therapy. J Vasc Ultrasound 31(1): 37-40, 2007.

Patel D, Satiani B, Mong R, Baetz L, Spezio K. Appropriate Resource Utilization in Portable Non-Invasive Vascular Studies: The role of disruptive technology. J Vasc Ultrasound. 30(1): 35-38, 2006.

Satiani. B. "Expert Witness Testimony: Rules of Engagement." Vascular & Endovascular Surgery. 40: 223-227, 2006.

Satiani B: Exceptions to the Stark Law: Practical considerations for Surgeons. Plastic & Reconstructive Surgery. 117(3): 1012-1022, March 2006.

Satiani. B. Regarding "Ethics of the new economic credentialing," Letter to the Editor. J Vasc Surg 383, 2005.

Satiani.B: Physician-Hospital Relationship at the Crossroads - Again." Vascular" 13:4:202-204, 2005.

Satiani B: Re: Residency training in surgery in the 21st century: A new paradigm. Letter to the Editor. Surgery 137:391, 2005.

Satiani B: Invited Commentary. The Whistleblower Act (qui tam). Surgery. 137:472-476, 2005.

Satiani B: National Practitioner Data Bank, Structure and Function. J Am College of Surgeons. 199:981-986, 2004.

Satiani B. Recent Changes in the Academic Medical Center Exception Under Stark II: Relevance for the Academic Surgeon. www.Vascularweb.org 2004 Aug.

Satiani B: Business Knowledge of Surgeons. Amer J Surg 188:13-16,2004.

Gorty S, Baetz L, Starr J, Satiani B: New Paradigm for Treating Superficial Venous
Thrombosis in the Lower Extremities. Contemporary Surgery. 60:165-169, 2004.

Gorty S, Patton-Adkins J, DeLanno M, Starr J, Dean S, Satiani B. Superficial venous thrombosis of the lower extremities: Analysis if risk factors, and recurrence and role of anticoagulation. Vasc Medic. 9: 1-6, 2004.

Satiani B. The Economics of Healthcare Litigation. Vascular & Endovascular Surgery. 38(3): 287-90, 2004.

Satiani B: A time for reform in healthcare litigation. Amer J Surg 187:319- 322, 2004.

Satiani B: Anti-kickback laws and Safe Harbor protections: A brief review for Surgeons. Ann Vasc Surg 17:693-696, 2003.

Satiani B: Specialty hospitals and the Stark Act. Bulletin of the American College of
Surgeons. 88:22-24,2003.

Satiani B: Business Related Knowledge Base of Vascular Surgeons. J Vasc Surg Letter to the Editor. 38: 868, 2003.

Satiani B: Relevance of Federal Antitrust Statutes to clinical practice. J Vasc Surg 37:1334-1340, 2003.

Dean, S.M., Satiani, B: Three cases of digital ischemia successfully treated with cilostazol. Vasc Medic. 6: 245-248, 2001.

Satiani B. Stonisms. Surgery. 128: 105-6, 2000.

Satiani B: Pseudoaneurysm: Dissection and fibrinolysis complicating total hip replacement. Contemporary Surgery 52: 256-258, 1998.

Satiani B, Falcone R, Shook L, Price J: Screening for major deep vein thrombosis in seriously injured patients: A prospective study. Ann Vasc Surg 11: 626-629, 1997.

Satiani B, Chen TY, Shook L, Finnie K: Contralateral disease progression after carotid endarterectomy. Surgery 114:46-51, 1993.

Santanello SA, Falcone RE, Schultaz MA, Satiani B, Monk J, Carey LC: Correlation of metabolic acidosis with outcome following injury and its value as a scoring tool. The World Journal of Surg 17:575-579, 1993.

Satiani B, Das BM, Vaccaro PS, Gawron D: Angiographic follow up after laser assisted balloon angioplasty. J of Vascular Surgery 17:575-579, 1993.

Das BM, Zama N, Satiani B, Vaccaro PS: Pelvic necrosis: A complication of infected aortic graft excision. J of Cardiovascular Surgery 1:262-264, 1993.

Satiani B: Extra Cavitary Vascular Trauma. J of Vascular Nursing 9:8-11, 1991.

Rustin R, Satiani B: Noninvasive diagnosis of lower extremity venous thrombosis. American Family Physician 44:569-574, August 1991.

Satiani B: Laser assisted angioplasty in peripheral arterial disease. Pakistan Heart J 22:83-87, 1990.
Falcone RE, Zeeb P, Satiani B; Resuscitation without Risk. Ann Emerg Med. Oct; 17(10): 1130-1, 1988.

Satiani, B, Das BM: Predictors of success in bypass grafts to the isolated popliteal segment. Surg, Gyn and OB 162:525-530, 1986.

Fried SJ, Satiani B, Zeeb P: High I.V. Infusion Flow Rates. Am J Emerg. Med Sep; 3(5): 484, 1985.

Satiani B: Intravenous Digital Subtraction Angiography. J Foot Surg. Jul-Aug; 24 (4): 234, 1985.

Allen J, Beaver B, Das BM, Satiani B: Ergot-induced peripheral arterial ischemia. Contemporary Surgery 27:41-45, 1985.

Satiani B: A prospective randomized trial of aspirin in femoral popliteal and tibial bypass grafts. Angiology 9:608-616, September 1985.

Satiani B: The treatment of venous thromboembolism. Emergency Decisions September: 37-49, 1985.

Satiani B, et al: Contributor: Coping with vascular abnormalities in cardiovascular disorders. Nurses Clinical Library, Springhouse Corp: Springhouse PA, 112-129, 1984

Barry R, Satiani B, Das BM, Smead WL, Vaccaro P: Prognostic indicators in femoropopliteal and distal bypass grafts. Surg, Gyn and OB 161:129-132, 1985.

Satiani B, Paoletti D, Henry ML, Burns R, Smith D: A critical appraisal of impedance plethysmography in the diagnosis of acute deep venous thrombosis. Surg, Gyn and OB 161:25-29, 1984.

Beaver BL, Young D, Satiani B: Prediction of heparin requirements in acute thromboembolic venous disease. Arch Surg 120:436-438, 1985.

Satiani B, Hou C, Paoletti D, Henry M, Burns R, Smith D: Noninvasive assessment of aortoiliac disease. Bruit April: 29-33, 1985.

Simes B, Henry M, Satiani B: Non-invasive detection of extracranial carotid artery stenosis. Indian J Surg 46:32-36, 1984.

Satiani B: Current status of lower extremity bypass grafts. Pakistan Heart J 17:23-26, 1984

Coccia MR, Satiani B: A systematic approach to thoracic outlet syndrome. Current Surg 41:10-12, 1984.

Rea F, Satiani B: A technique for repair of iatrogenic femoral artery pseudoaneurysms. Surg, Gyn and OB 171:73-73, 1990.

Satiani B, Porter R: The influence of contralateral disease on the natural history of nonoperated significant carotid stenosis. Ann Vasc Surg 4:313-317, 1990.

Falcone R, Satiani B: Rapid volume replacement with warmed blood and fluids. Angiology 40:964-969, 1989.

Satiani B, Porter R, Biggers K, Das BM: Natural history of nonoperated significant carotid stenosis. Ann Vasc Surg 3:271-278, 1988.

Das BM, Satiani B, Smith W: Aberrant right hepatic artery vena cava fistula: A case report. Surgery 105:232-236,1989.

Satiani B, Fried S, Zeeb P, Falcone R: Normothermic rapid volume replacement in vascular catastrophes using the infuser 37. Ann Vas Surg 2:37-42, 1988.

Kropilak M, Satiani B: Combined superficial femoral artery and vein injury with deep vein thrombosis: Elements of proper management. Contemporary Surgery 2:37-42, 1988.

Satiani B, Porter R, Biggers K, Burns R: Evaluation of the color-coded Doppler ultrasound in detecting carotid bifurcation disease. J of Cardiovascular Surgery 29:196-200, 1988.

Satiani B, Fried S, Zeeb P, Falcone R: Normothermic rapid volume replacement in traumatic hypovolemia: A prospective analysis using a new device. Arch Surg 122:1044-104, 1987.

Satiani B, Biggers K, Burns R, Porter R, Das M. Are Noninvasive Doppler Arterial Studies in Predicting Success of Infrainguinal Bypass Grafts? Vasc Surg. 1986 Jul-Aug; 21(4): 237-42.

Fanning WJ, Vaccaro PS, Satiani B, Smead WL, Das BM: The role of echocardiography in patients with acute peripheral arterial embolization. Ann Vasc Surg 1:316-320, 1987.

Satiani B, Das BM, Vasko J: Reconstruction of the external carotid artery. Surg, Gyn and OB 164:105-110, 1987.

Satiani B, Das M. Management of Asymptomatic Carotid Disease. The Ohio State Med J. 1986 Oct; 705-708.

Fried S, Satiani B, Zeeb P: Normothermic rapid volume replacement for hypovolemic shock: An in vivo and in vitro study utilizing a new technique. J Trauma 26:183-188, 1986.

Satiani B, Burns J, Vasko JS: Surgical and nonsurgical treatment of total carotid artery occlusion. Amer J Surg 149:362-367, 1985.

Burns J, Satiani B, Vasko JS: Long term survival following total carotid artery occlusion. Cardiovas Rev & Reports 5:903-911, 1984.

Satiani B: Pitfalls in the management of penetrating upper extremity vascular trauma. Contemporary Surgery 23:67-72.

Coccia MR, Satiani B: Thoracic outlet syndrome. Amer Fam Phys 29:121-126, 1984.

Mazza G, Henry M, Betts R, Satiani B: Correlation of noninvasive testing with the natural history of lower extremity arterial occlusive disease. Bruit 7:22-25, 1983.

Zollinger RW II, Satiani B: Renal vascular injury secondary to blunt abdominal trauma: Successful revascularization. Current Surg, July: 259-260, 1982.

Satiani B, Beaver B: Traumatic venous aneurysms. Surg Rounds 2:137-138, 1983.

Satiani B, Liapis CD, Hayes HP, Kimmins S, Evans WE: A prospective randomized study of concomitant lumbar sympathectomy with aortoiliac reconstruction. Amer J Surg 143:755-760, 1980.

Ekers-Andrews M, Satiani B: The extra-anatomic bypass: An attractive alternative in peripheral vascular surgery. Nursing 82 (12): 34-41, 1982.

Satiani B, Denning D: Recurrent pulmonary embolism following Kim Ray Greenfield filter insertion. Contemporary Surgery 21:86-88, 1982.

Satiani B: Management of acute deep venous thrombosis. American Family Physician 25:103-109, 1982.

Satiani B, Leonard S, Evans WE: Successful reconstruction of a renal artery aneurysm in a solitary kidney. South Med J 75:366-367, 1982.

Satiani B: Hemodynamic consequences of lumbar sympathectomy with aortofemoral bypass. Pakistan Heart J 14:2-8, 1981.

Satiani B, Sowden DT: Hand ischemia. J Family Practice 15:163-169, 1982.

Satiani B, Slone M, Kramer D, Betts R: Noninvasive carotid artery evaluation. The Ohio State Med J 78:434-436, 1982

Satiani B: Combined profundaplasty and femoropopliteal bypass for limb salvage. Contemporary Surgery 19:67-75, 1981.

Satiani B: Upper extremity arterial ischemia. Pakistan Heart J 14:12-22, 1981

Stone HH, Fabian T, Satiani B, Turkleson M: Experience in the management of pancreatic trauma. J Trauma 21:257-262, 1982.

Satiani B: Diagnostic methods in acute deep venous thrombosis. Cardiovascular Rev & Rep 2:61-70, 1981.

Liapis C, Satiani B, Florence C, Evans WE: Motor speech malfunction following carotid endarterectomy. Surgery 89: 56-59, 1981.

Satiani B: Abdominal aortic aneurysms. American Family Physician 23: 87-94, 1981.

Satiani B: False aneurysms following arterial reconstruction. Surg, Gyn and OB 152:357-363, 1981.

Satiani B, Kazmers M, Evans WE: Anastomotic arterial aneurysms: A continuing challenge. Ann Surg 192:674-682,1980.

Kazmers M, Satiani B, Evans WE: Amputation level following unsuccessful distal limb salvage operations. Surgery 87: 685-687, 1980.

.Satiani B. Peripheral Arterial Surgery in 1980. Pakistan Heart J. 1980 Apr-Jun; 13(2): 42-49.

Liapis CD, Satiani B, Evans WE: Value of impedance plethysmography in suspected venous disease of lower extremity. Angiology 31:522-525, 1980.

Satiani B, Hayes JP, Evans WE: Prediction of distal reconstruction following aortofemoral bypass for limb salvage. Surg, Gyn and OB 151:500-502, 1980.

Satiani B, Liapis CD, Evans WE: Aorto femoral bypass for severe limb ischemia: Long-term survival and limb salvage. Amer J Surg 141:252-256, 1981.

Satiani, B: A practical approach to the management of chronic arterial insufficiency of the lower extremities. The Ohio State Med J 76:165-169, 1980.

Satiani B, Kuhn M, Evans WE: Deep venous thrombosis following operations upon the abdominal aorta. Surg, Gyn and OB 151:241-245, 1980.

Satiani, B, Evans WE: A technique for distal artery anastomosis. Surg, Gyn and OB 150:901-902, 1980.

Satiani B, Evans WE: A rational approach to acute limb ischemia. The Ohio State Med J 75:503-505, 1979.

Satiani, B, Liapis C, Evans WE: Kinking of a Warren Shunt as a cause of recurrent variceal hemorrhage. Amer J Surg 139: 428-429, 1980.

Satiani B, Tetalman M, VanAman M, Evans WE: Deep vein thrombosis following aortic surgery: Prospective evaluations of I-125 fibrinogen and impedance plethysmography. Amer Surg 45: 507-511, 1979.

Satiani B, Evans WE: Immediate prognosis and five-year survival after arterial embolectomy following myocardial infarction. Surg, Gyn and OB 150: 41-44, 1980.

Satiani B, Vasko JS, Evans WE: Hypertension following carotid endarterectomy. Surg Neuro II (5): 357-359, 1979.

Satiani B, Stone HH: Predictability of present outcome and future recurrence in acute pancreatitis. Arch Surg 114: 711-716, 1979.

Cooperman M, Martin EW Jr., Satiani B, Clark M, Evans WE: Detection of deep vein thrombosis by impedance plethysmography. Amer J Surg 137:252-254, 1979.

Satiani B, Liapis C, Pflug B, Vasko JS, Evans WE: Role of staging in bilateral carotid endarterectomy. Surgery 84:784-792, 1978.

Cooperman M, Martin EW Jr., Satiani B, Evans WE: Impedance plethysmography in the diagnosis of deep vein thrombosis of the lower extremity. Presented at the European-American Symposium on Venous Disease, Zurich Switzerland, September 1978. (Abstract)

Satiani B, Evans WE, Clark M, Cooperman M: An assessment of carotid phonoangiography and oculoplethysmography in the detection of carotid artery stenosis. Amer J Surg 136:618-621, 1978.

Satiani B, Evans WE: Results following arterial embolism: A twelve-year experience. Vas Surg 12:359-365, 1979.

Satiani B, Gross WS, Evans WE: Improved limb salvage after arterial embolectomy. Annals of Surgery 188:153-157.

Satiani B, Savrin R, Evans WE: Consumption coagulopathy associated with arterial aneurysms. J Cardiovas Surg 20:273-278, 1979.

Satiani B, Veazey CR, Perdue GD, Smith RB III: Preoperative arteriography before abdominal aortic aneurysmectomy? Amer Surgeon 44:650-654, 1978.

Satiani B, Bonner JT, Stone HH: Factors influencing intraoperative gastric regurgitation: A prospective, randomized study of nasogastric tube drainage. Arch Surg 113: 721-723, 1978.

Satiani B, Davidson ED: Hepatic abscesses: Improvement I mortality with early diagnosis and treatment. Amer J Surg 135:647-650, 1978.

Satiani B, Powell RW: Male breast cancer: A thirty-year experience. Amer Surgeon 44:86-93, 1978.
Satiani B, Powell RW, Matthews WH: Paget disease of the male breast. Arch Surg 112: 587-92, 1977.

Book Chapters:
Satiani B, Etzioni DA, Williams TE. Trends in the general surgery workforce. Seminars in colon & rectal surgery. 2013 24 (4) 180-186.

Habib J, Satiani B. Celiac Axis Compression Syndrome. Color Atlas and Synoposis of Vascular Disease 2014: 199-201. First Edition. Eds: Dean SM, Satiani B. McGraw Hill.

Satiani B. Endovenous laser ablation for varicose veins Color Atlas and Synopsis of Vascular Disease 2014:296-299. First Edition. Eds: Dean SM, Satiani B. McGraw Hill.

Satiani B. Popliteal artery entrapment syndrome. Color Atlas and Synopsis of Vascular Disease 2014: 160-162. First Edition. Eds: Dean SM, Satiani B. McGraw Hill.

Satiani B. Sclerotherapy. Color Atlas and Synopsis of Vascular Disease 2014: 293-295. First Edition. Eds: Dean SM, Satiani B. McGraw Hill.

Satiani B. Subclavian Cornoray Steal. Color Atlas and Synoposis of Vascular Disease 2014: 67-70. First Edition. Eds: Dean SM, Satiani B. McGraw Hill
2. Satiani B. Allen's Test and evaluation of the palmar arch. Color Atlas and Synopsis of Vascular Disease 2014: 79-81. First Edition. Eds: Dean SM, Satiani B. McGraw Hill.

Satiani B, Litzendorf M. Approaches to and management of varicose veins. In 'Manual of vascular diseases.' Second Edition. Eds: Rajagopalan S, Dean SM, Mohler ER, Mukherjee D. Wolters Kluwer Health. 2011.

Non-Refereed Publications

Satiani B. Preparing Physicians for Leadership Positions in Academic Medicine. Physician Leadership J. 2016 Mar-Apr;3(2):58-61

Satiani B. Faculty Development – Providing the tools to lead. The Ohio State University Wexner Medical Center, Department of Surgery, Dossier Spring 2016:9.

Satiani B. 6 Top Physician-Leadership Tips. HealthManagement.org featured Dr. Satiani tips from Becker Hospital Review Meeting. May 19, 2015.

Satiani B. Make checklist ICD-10. Perspective Vascular Specialist May 2015; 17.

Henry JC, Kiser D, Satiani B. A Critical Evaluation of Carotid Duplex Scanning in the Diagnosis of Significant Carotid Artery Occlusive Disease. Advances in Vascular Medicine 2015, Article ID 905384, 6 pages https://www.hindawi.com/journals/avm/2015/905384/

Satiani B, Bush R, Hingorani A, Huber T, Kashyap V, Moneta G, Risely G, Wooster D, Kalata E. Getting buy in through the art of persuasion. Leadership Development Committee of the SVS. Vascular Specialist 2014 Volume 10(3) page 7.

Satiani B, Bush R, Hingorani A, Huber T, Kashyap V, Moneta G, Risely G, Wooster D, Kalata E. Getting buy in through the art of persuasion. Leadership Development Committee of the SVS. Vascular Specialist 2014 Volume 10(3) page 7.

Satiani B. Specialty physicians will be the ones in short supply. Modern Healthcare, Healthcare Business News posted November 23, 2013.

Satiani B. Leadership Training: Faculty members graduate TMALDA program. OSU Surgery Today August 2013 page 13.

Satiani B. International Outreach: Dr. Satiani provides care to People of Pakistan. OSU Surgery Today August 2013 page 11.

Satiani B. Practice Mergers: Key Business Questions and Decisions. Society for Vascular Surgery, Practice Memo, March 2013 pages 1-4.

Satiani B, Go M. Negotiating a Compensation Plan. Practice Memo Available at ttp://www.vascularweb.org/practiceresources/PublishingImages/Community%20Practice%20compensation%20practice%20memo%20svs%20final.pdf. 10/8/2012

Satiani B. Physician Productivity Measures Should Include More Than Just RVUs. August 13th, 2012. http://www.kareo.com/gettingpaid/2012/08/physician-productivity-measures-should-include-more-than-just-rvus/

Satiani B. Your Practice Administrative Costs: What's Your Cost of Getting Paid? Part II. April 17th, 2012. http://www.kareo.com/gettingpaid/2012/04/

Satiani B. Medical Billing Update: Further Reduction in Reimbursement Proposed for Imaging. November 16th, 2011.

Satiani B. Surgeon shortage has some advocating for job-sharing part-timers. Business First, Sept 29, 2011.

Satiani B. Part-time surgeons would help ease shortage. American Medical News, Sept 28, 2011

Litzendorf ME, Satiani B. Superficial venous thrombosis: disease progression nd evolving treatment approaches. Vascular Health and Risk Management, 2011 Aug; Vol 2011(7):569-575.

Satiani B. Benchmarks for Your Medical Practice: A Vital Part of Critical Practice Analysis. June 13th, 2011. http://www.kareo.com/gettingpaid/

Satiani B. Understanding the RVU in Practice Management: Getting the Most Out of Using It in Your Practice. February 9th, 2011. http://www.kareo.com/gettingpaid/2011/02/understanding-the-rvu-in-practice-management-getting-the-most-out-of-using-it-in-your-practice/

Satiani B. Compensation Differences Between PCPs and Specialists. Vascular Specialist. April 2010, pages 7-8.

Freudeman D, Satiani B. Is medical office real estate investment for you? General Surgery News. 37:04, 2010.

Satiani B. Is practicing medicine worth it? Pulse. Pages 12-13. Winter 2009. Ohio Chapter, American College of Surgeons.

Satiani B. Employer sponsored health insurance benefit. General Surgery News. 36:10, October 2009.

Satiani B: Physicians' Motives In Imaging. Health Affairs, Volume 28, Number 6, pages 602-603, March/April 2009.

Satiani B. Study projects shortage of surgeons by 2010. Surgery Today, The Ohio State University Medical Center, Department of Surgery, February 2009.

Satiani. B. What went wrong: Why our great idea didn't work – here's what failure taught us. Physicians Practice July/August 2008.

Satiani. B. No defense. Modern Healthcare. 38 (11): page 24, March 17th, 2008.

Satiani B. "The B word" Letter to the Editor. Physicians Practice. October 2005, page 12.

Satiani B. "Follow the lawyers" Letter to the Editor. Modern Healthcare. August 1, 2005, page 23.

Satiani, B: Commentary on Carotid Endarterectomy. J of Vasc Nursing 9:18, 1991.

Letter, "Pharmacist prescribing study of anticoagulants biased" in the American Journal of Hospital Pharmacy.

Satiani B: Old Edna. JAMA 250:2793, 1983.

Satiani B: The physician image. Editorial, The Bulletin, Academy of Medicine of Columbus and Franklin County, March 1983, 347-348.

Satiani B: The white coat syndrome. Editorial, The Bulletin, Academy of Medicine of Columbus and Franklin County, July 1983, 117-118.

Satiani B: Trauma-The forgotten second cousin. Editorial, The Bulletin, Academy of Medicine of Columbus and Franklin County 48:404-405, October, 1982.

Surgical Pros and Cons, Surgery, Gynecology & Obstetrics 152:654, 1981.

Reply to "Letter to Editor", Annals of Surgery 193:120-121, 1981.

National and Regional Presentations

Satiani B. How should you make the revenue cycle work for you. Midwestern Vascular Surgical Society Meeting, Chicago IL September 8, 2017.

Satiani B. Top 10 Things to Understand About the Business Side of Medicine. Society for Vascular Surgery, San Diego CA May 31, 2017.

Aggarwal R, Wang T, Satiani B, Haurani MJ, Yoo T. Presence and Degree of Residual Venous Obstruction on Serial Duplex Imaging Increases the Risk of Recurrence and Progression of Lower Extremity Deep Venous Thrombosis. Vascular Endovascular Surgical Society Meeting, San Diego CA May 31, 2017.

Satiani B. Why Preparing Physicians for Leadership Positions in Medicine is a Challenge. American College of Surgeons, 2017 Leadership & Advocacy Summit, Washington DC May 7, 2017.

Kudlaty EA, Oriowo B, Go MR, Satiani B. Isolated great saphenous vein thrombus is associated with high rates of propagation and DVT regardless of treatment. Midwestern Vascular Surgical Society Annual Meeting, Columbus OH September 8, 2016.

Strosberg DS, Haurani MJ, Satiani B, Go MR. Common carotid artery end diastolic velocity and acceleration time can predict degree of internal artery stenosis. Midwestern Vascular Surgical Society Annual Meeting, Columbus OH September 8, 2016.

Satiani B. Interpreting with the masters; adventures in unusual abdominal and upper extremity vein cases. Advances in Vascular Imaging and Diagnosis 26th Symposium and Workshop on Management and Clinical Issues, New York NY November 21-22, 2015.

Satiani B. Improving efficiency in the vascular laboratory. Advances in Vascular Imaging and Diagnosis 26th Symposium and Workshop on Management and Clinical Issues, New York NY November 21-22, 2015.

Satiani B. Improving Efficiency In The Vascular Laboratory. Presented at the AVID symposium New York City, NY. November 21, 2015.

Satiani B. Interpreting With The Masters: Adventures In Unusual Abdominal And Upper Extremity Vein Cases. Co-Presented at the AVID symposium New York City, NY. November 10, 2015.

Prakash S. Satiani B. Dissatisfaction with Compensation and Academic Careers may force Assistant Professor Vascular Surgeon to Abandon Academic Practice. Midwestern Vascular Surgical Society. Chicago, IL. September 10-12, 2015.

Satiani B. Changing Your Executive Leadership Capabilities to Meet New Challenges Facing Hospitals. Becker Hospital Review 6th Annual Meeting, Chicago IL May 7-9, 2015.

Satiani B. Hospital Employment Or Private Practice? Will There Be Winners And losers? Florida Vascular Society Annual Meeting. Naples, FL April 30- May 3, 2015.

Satiani B. How Do We Train Leaders In Vascular Surgery? Florida Vascular Society Annual Meeting, Naples, FLA. April 30- May 3, 2015.

Satiani B. Isolated Calf/Muscular Vein DVT. Treat Or Not To Treat? Florida Vascular Society Annual Meeting. Naples, FLA. April 30- May 3, 2015.

Veerman B, Masterson L, Satiani B. Inaccurate Coding of Non-Invasivae Tests May Call Into Question Clinical and Policy Recommendations Based on Administrative Databases. Society for Clinical Vascular Surgery meeting Miami FL March 29, 2015-April 2, 2015.

Masterson L, Go MR, Veerman B, Satiani B. Inaccurate coding of non-invasive tests may call into question clinical and policy recommendations based on administrative databases. Columbus Surgical Society, Columbus OH February 28, 2015.

Henry JC, Strosberg D, Warhadpande S, Satiani B, Go MR. Clinical and Ultrasound Sequelae of Non-Visualized Calf Veins and Duplex Ultrasonography for Suspected Deep Vein Thrombosis. Midwestern Vascular Surgical Society Meeting, Coralville, IA September 4-6, 2014.

Hoffman K, Evans J, Kershner P, Haurani MJ, Satiani B. Analysis of Lost Sonographer Productivity in a University Hospital Vascular Laboratory. 2014 Society for Vascular Ultrasound Annual Conference, Lake Buena Vista, FL August 6-9, 2014.

Satiani B, Brod H, English E. The Faculty Leadership Institute: Developing leadership competencies in physicians and researchers. Association of American Medical Colleges, Faculty Affairs Professional Conference, Boston MA July 20, 2014.

Satiani B. Moderator – Breakfast Session, Society for Vascular Surgery Annual Meeting, Boston MA June 4, 2014.

Satiani B. SVS Leadership Program – Leadership Styles and Versatility. Society for Vascular Surgery Annual Meeting, Boston MA June 4, 2014.

Mouawad NJ, Go MR, Haurani MJ, Moseley M, Satiani B. Elimination of Medically Unnecessary Duplex Venous Scanning Based Upon an established algorithm can result in significant cost savings for Medicare. Society for Clinical Vascular Surgery Annual Meeting, Carlsbad CA March 20, 2014.

Haurani MJ, Satiani B. Analysis of Upper Extremity Arterial Duplex Indications May Reveal Potential Cost Savings. PVSS 2014 Annual Meeting, Steamboat Springs CO January 30-February 2, 2014.

Satiani B. Injecting business sense and common sense into the vascular lab: a few practical earls from an MD, MBA, RPVI. 24th Annual Society for Vascular Medicine meeting, Cleveland OH June 15, 2013.

Satiani B. Trends in employment of Vascular Surgeons. 3rd Annual Society of Asian American Vascular Surgery Meeting, San Francisco, CA May 30, 2013.

Satiani B. How to know your true (RVU). Presented at the Economics 101: Achieving Balance between Practice Expenses, Income, Future Employment Options Breakfast Session; 2013 Society for Vascular Surgery, San Francisco CA May 30, 2013.

Satiani B. Vascular practice in the current healthcare environment. Panel Discussion: Issues in Practice Management. George Washington University Cherry Blossom Vascular Symposium, Washington DC April 26-27, 2013.

Satiani B. "Creating a Local Program for Leadership Training." Presented at the Society of Surgical Chairs (SSC) and Association of Academic Surgical Administrators (AASA) joint program 'Life Cycle of an Academic Surgeon' on Sunday September 30, 2012, Chicago, Illinois.

Satiani B, Williams TE, Brod H, Way D, Ellison EC. "Trends in attrition rates for surgical faculty: a case for a sustainable retention strategy to cope with demographic and economic reality." Presented at the American College of Surgeons Meeting Chicago, Ill October 2nd 2012 at 'National and international trends in surgical practice session.'

Go MR, Kiser D, Wald P, Haurani MJ, Moseley M, Satiani B. Clinical Evaluation of Suspected DVT Guides the Decision to Prophylactically Anticoagulate But Does Not Impact the Decision to Perform After Hours Duplex Venous Scanning or Increase Its Yield. Presented paper at 36th annual meeting of the Midwestern Vascular Surgical Society September 6-8, 2012 Milwaukee, WI.

Satiani B. Compensation Methods for Physician Employment Contracts. Breakout Session on Compensation Methods and Strategies for Improving Revenue in Your Practice. Society for Vascular Surgery Annual Meeting, Washington, D.C. Wednesday, June 6, 2012.

Matthews M, Satiani B, Lohr JM. Trends in a changing vascular practice environment for members of the Society for Vascular Surgery. Presented at the meeting of the Society for Clinical Vascular Surgery. Las Vegas, Nevada. March 17th, 2012.

Litzendorf ME, Starr JE, Notter KE, Satiani B. Ultrasound-accelerated thrombolysis is superior to catheter-directed thrombolysis for the treatment of acute limb ischemia." Presented at the 2011 Society for Vascular Surgery Annual Meeting. Chicago. Illinois. June 18th 2011.

Satiani B. Can we utilize International Medical Graduates to address the upcoming physician shortage? Presented at the 2nd annual meeting of the South Asian American Vascular Society. Chicago, Illinois. June 16th, 2011.

Satiani B. "Where have we been and where are we going? An overview of Physician alignment trends." Presented at the 2011 Society for Vascular Surgery Annual Meeting Breakfast Session on Practice Paradigms. Chicago. Illinois. Thursday June 16th 2011.

Williams TE, Satiani B, Ellison EC. A comparison of future recruitment needs in rural and urban hospitals: the rural imperative. Presented at the 68th Annual Meeting of the Central Surgical Association, Detroit, MI. March 17th, 2011.

Litzendorf ME, Starr JE, Notter KE, Satiani B. Ultrasound-accelerated thrombolysis is superior to catheter directed thrombolysis for the treatment of acute limb ischemia. Presented at the 22nd Annual Presidential Symposium of the Columbus Surgical Society. March 12th 2011. Columbus, Ohio.

Itani K & Satiani B. "The International Medical Graduate General Surgeon and how best to encourage their contribution to answering the public need for General Surgeons" presented at the "General Surgery Think Tank" meeting sponsored by the American Surgical Foundation, October 12-13, 2010. Chicago, Illinois.

Satiani B. "Locum and itinerant General Surgery" presented at the "General Surgery Think Tank" meeting sponsored by the American Surgical Foundation, October 12-13, 2010. Chicago, Illinois.

Satiani B. "Special issues for International Medical Graduates" presented at the "General Surgery Think Tank" meeting sponsored by the American Surgical Foundation, October 12-13, 2010. Chicago, Illinois.

Satiani B. 'Diversity in Vascular Surgery' presented at the first meeting of the South Asian American Vascular Society, June 9th, 2010, Boston, MA.

Kiser D, Satiani B. "Timeliness in notification of critical vascular laboratory test results is part of quality assurance." Presented at the Society for Vascular Ultrasound Annual Conference in Boston, MA, June 11th, 2010.

Satiani. B. "Real estate part of the deal: Ownership and other options. Setting up an out-patient endovascular center: Presented at the Annual meeting of the Society for Vascular Surgery, Boston, Massachusetts, June 10th, 2010.

Satiani. B. Co-moderator: Setting up an outpatient endovascular center. Presented at the Annual meeting of the Society for Vascular Surgery, Boston, Massachusetts, June 10th, 2010.

Satiani B, Vascular Hospital Privileges: Who, What and Where? Society for Vascular Surgery, Denver, Colorado, June 12, 2009.

Satiani B, Williams TE, Go MR. Predicted Shortage of Vascular Surgeons in the United States: Population and Workload Analysis, presented at Society for Vascular Surgery, Denver, Colorado, June 12, 2009.

Williams TE, Satiani B, Thomas A, Ellison E. The Estimated Cost of Training the Future Surgical Workforce. Presented at the American Surgical Association Meeting, Indian Wells, CA, April 24, 2009.

Pleister I, Evans J, Vaccaro P S, Satiani B. Natural History of the Great Saphenous Vein Stump Following Endo-Venous Laser Therapy. Presented at the nineteenth annual Presidential Symposium of the Columbus Surgical Society, February 16, 2008, Columbus, Ohio.

Pleister I, Evans J, Vaccaro PS, Satiani B. Natural History of the Great Saphenous Vein Stump Following Endo-Venous Laser Therapy. Presented at the thirty-first annual meeting of the Midwestern Vascular Surgical Society, September 7, 2007, Chicago, Illinois.

Satiani B. Carotid Stent or Endarterectomy? Presented at the 17th Biennial Congress, Pakistan Cardiac Society, Karachi, Pakistan, December 17th, 2005.

Satiani B. Junk Science and the "Expert" Witness in the Courtroom. Presented at the E. Stanley Crawford Critical Issues Forum: Strategies for Reform, Society for Vascular Surgery meeting, Anaheim, CA, June 3-6, 2004.

Satiani B. Minimizing spinal and colonic complications. Presented at the Vascular Surgery Postgraduate course, American College of Surgeons Meeting, Orlando, Florida, October 26, 1998.

Thomas B, Satiani B, Finnie K: Evaluation of duplex criteria for detecting carotid stenosis: Does end diastolic velocity improve accuracy? Presented at the Seventh Annual Symposium of the Columbus Surgical Society, Columbus, Ohio, January 13, 1996.

Gupta D, Wright J, Vaccaro PS, Tober J, Smead W, Satiani B, Das BM: Reconstruction of the Thoracoabdominal Aorta: Identification of Risk Factors. Presented at the Peripheral Vascular Surgery Society Annual Meeting, Breckenridge, Colorado, January27, 1995.

Satiani B, Das BM, Vaccaro PS, Gawron D; Angiographic follow-up after laser assisted balloon angioplasty. Presented at the Sixteenth Annual Meeting of the Midwestern Vascular Surgical Society, Cleveland, Ohio, September 11-12, 1992.

Santanello SA, Falcone RE, Schulz MA, Satiani B, Monk J, Carey LC: Initial Metabolic Acidosis as a predictor of outcome in injury. Presented at the 34th World Congress of ISS/SIC and the 12th World Congress of CICD, Stockholm, Sweden, August 26, 1991.

Satiani B: Extra Cavitary Vascular Trauma. Presented at the 9th Annual Meeting of the Society for Peripheral Vascular Nursing, Boston, Massachusetts, June 3, 1991.

Miller DA, Das BM, Walters DN, Satiani B, Stanton P, Vaccaro PS, Gawron D: Contact Tip Laser Angioplasty: observations on early results. Presented at the 14th Annual Meeting of the Southern Association for Vascular Surgery, Acapulco, Mexico, February 1990.

Das BM, Jubak R, Satiani B, Miller M, Fleishman B: Laser revascularization using the Nd: YAG Laser with sapphire probe. Presented at the Laser Conference, Minneapolis, Minnesota, January 20, 1989.

Satiani B, Porter R: The influence of contralateral disease on the natural history of the nonoperated, significant carotid stenosis. Presented at the annual Meeting of the Southern Association for Vascular Surgery, Key West, Florida, January 25-28, 1989.

Teitlebaum D, Vaccaro P, Satiani B, Smead W: Brachiocephalic arterial reconstructions: Risk factors associated with neurologic deficit. Presented at the Twelfth Annual Peripheral Vascular Surgery Society Meeting, Chicago, Illinois, June 12, 1988.

Satiani B, Vasko J: Prognosis of patients with non-reconstructed totally occluded carotid arteries. Presented at the Thirty-fourth Annual Meeting of the American College of Angiology, Paradise Island, Bahamas, October 18-23, 1987.

Satiani B, Porter R, Biggers K, Das BM: Natural history of unoperated significant carotid stenosis. Presented at the Eleventh Annual Meeting of the Midwestern Vascular Surgical Society, Chicago, Illinois, September 25-26, 1987.

Satiani B, Fried S, Zeeb P, Falcone RE: Normothermic rapid volume replacement in vascular catastrophes using the infuser 37. Presented at the Tenth Annual Meeting of the Midwestern Vascular Surgical Society, Indianapolis, Indiana, September, 1986.

Falcone RE, Satiani B, Freed SJ, Zeeb P: Normothermic rapid volume replacement in traumatic hypovolemia using a new device. Presented at the American and European Views on Critical Care, Cannes, France, June 6-14, 1986.

Satiani B, Vasko JS, Das BM: External carotid artery reconstruction. Presented at the Thirtieth Annual Ohio Chapter, American College of Surgeons, Cleveland, Ohio, May 9-11, 1985.

Satiani B, Das BM: Predictors of success in bypass grafts to the isolated popliteal segment. Presented at the Eighth Annual Meeting of the Midwestern Vascular Surgical Society, Columbus, Ohio, September 21-22, 1984.

Henry M, Burns R, Paoletti D, Hou C, Smith D, Satiani B: Noninvasive assessment of aortoiliac disease. Presented at the Seventh Annual Society of Noninvasive Vascular Technology, Atlanta, Georgia, June 3-6, 1984.

Coccia M, Satiani B: A systematic approach to thoracic outlet syndrome. Presented at the Twenty-Fifth Annual Meeting of the University Surgical Residents Conference, Oklahoma City, Oklahoma, February 9, 1983.

Stone HH, Fabian TC, Satiani B, Turkelson ML: Experiences in the management of pancreatic trauma. Presented at the Fortieth Annual Session of the American Association or the Surgery of Trauma, Phoenix, Arizona, September 18-20, 1980.

Zollinger RW II, Satiani B: Blunt renal trauma and revascularization. Presented at the Senior Residents Meeting. Forty-Third Annual Meeting of the Society of University Surgeons, New York, New York, February 10, 1982.

Satiani B, Liapis CD, Hayes JP, Kimmons S, Evans WE: A prospective randomized study of concomitant lumbar sympathectomy with aortoiliac reconstruction. Presented at the Fourth Annual Meeting of the Midwestern Vascular Surgical Society, Cincinnati, Ohio, September 26-27, 1982.

Satiani B, Kazmers M, Evans WE: Anastomotic arterial aneurysms: A continuing challenge. Presented at the Twenty-Fifth Annual Meeting of the Ohio Chapter, American College of Surgeons, Dayton, Ohio, May 10, 1980.

Liapis C, Satiani B, Florence C, Evans WE: Motor speech malfunction following carotid endarterectomy. Presented the Thirty-Fourth Annual Meeting of the Society for Vascular Surgery, Chicago, Illinois, June 26-27, 1980.

Liapis CD, Satiani B, Kuhns M, Evans WE: Value of impedance plethysmography in suspected venous disease of the lower extremity. Presented at the Western Regional Scientific Conference, American College of Angiology, Las Vegas, Nevada, February 17-21, 1980.

Kazmers M, Satiani B, Evans WE: Amputation level following unsuccessful distal limb salvage operations. Presented at the Third Annual Meeting of Midwestern Vascular Surgical Society, Chicago, Illinois, September 28-29, 1979.

Evans WE, Satiani B, Vasko JS: Surgical repair in the Budd Chiari Syndrome. Presented at the Fourteenth World Congress of the International Cardiovascular Society, San Francisco, California, September 2-8, 1979.

Satiani B, Kuhns M, Evans WE: Deep venous thrombosis following aortic surgery: A prospective study. Presented at the Fourteenth World Congress of the International Cardiovascular Society, San Francisco, California, September 2-8, 1979.

Satiani B, Evans WE: Immediate prognosis and five-year survival after embolectomy following myocardial infarction. Presented at the Sixty-Fourth Clinical Congress of the American College of Surgeons, San Francisco, California, October 16-19, 1978.

Clark M, Satiani B, Evans WE, Cooperman M: An assessment of carotid phonoangiography and oculoplethysmography in the detection of carotid artery stenosis. Presented at the Annual Meeting of the Society of Noninvasive Vascular Technologists, Los Angeles, California, June 24, 1978.

Kuhns P, Myers C, Clark M, Cooperman M, Martin EW Jr., Satiani B, Evans WE: Impedance Plethysmography in the diagnosis of deep vein thrombosis of the lower extremity. Presented at the Annual Meeting of the Society of Noninvasive Vascular Technologists, Los Angeles, California, June 24, 1978.

Satiani B, Liapis CD, Pflug BK, Vasko JS, Evans WE: Role of staging in bilateral carotid endarterectomy. Presented before the Thirty-Second Annual Meeting of the Society for Vascular Surgery in Los Angeles, California, June 22-23, 1978.

Satiani B, Evans WE: Results following arterial embolectomy: A twelve year experience. Presented before the Twenty-Fifth Annual Meeting of the American College of Angiology, Colorado Springs, Colorado, May 28-June 1, 1978.

Cooperman M, Martin EW Jr., Satiani B, Evans WE: Impedance plethysmography in the diagnosis of deep venous thrombosis of the lower extremity. Presented at the European-American Symposium on Venous Diseases, Zurich, Switzerland, September 1978.

Satiani B, Veazey CR, Perdue GD, Smith RB III: Preoperative aortography before abdominal aneurysmectomy? Presented before the Southeastern Surgical Congress, New Orleans, Louisiana, February 20-24, 1978.

Presentations: Visiting Professor/Hospitals/Medical Staff/Grand Rounds/Conferences/Symposia

Satiani B It's time for: Vascular Jeopardy. The Ohio State University Wexner Medical Center, 10th Annual Vascular Noninvasive Testing Symposium, Columbus OH November 4, 2017.

Satiani B. Peripheral Arterial Duplex Examination. The Ohio State University Wexner Medical Center, Division of Vascular Diseases & Surgery, Vascular Grand Rounds, Columbus OH September 18, 2017.

Satiani B. Panel Participant on Leadership with Drs Caliguiri, Moffat-Bruce & Martin. The Ohio State University Wexner Medical Center, Emergency Medicine Department, Columbus OH July 12, 2017.

Satiani B. Lower Extremity Venous Duplex Examination. The Ohio State University Wexner Medical Center, Division of Vascular Diseases & Surgery, Vascular Grand Rounds, Columbus OH March 20, 2017.

Satiani B. Challenges for academic surgeons and the future for surgical residents. University of Missouri, Surgery Grand Rounds, Columbia Missouri February 14, 2017.

Satiani B. Carotid Duplex Examination Part II. The Ohio State University Wexner Medical Center, Division of Vascular Diseases & Surgery, Vascular Grand Rounds, Columbus OH November 7, 2016.

Satiani B. Stump the audience #2: Ultrasound imaging. The Ohio State University, Division of Vascular Diseases & Surgery, 9th Annual Vascular Non-Invasive Testing Symposium, Columbus OH October 15, 2016.

Satiani B. It's time for: Vascular Jeopardy! The Ohio State University, Division of Vascular Diseases & Surgery, 9th Annual Vascular Non-Invasive Testing Symposium, Columbus OH October 15, 2016.

Satiani B. Carotid Duplex Exam Part 1. The Ohio State University Wexner Medical Center, Division of Vascular Diseases & Surgery, Vascular Grand Rounds, Columbus OH August 8, 2016.

Satiani B. Mesenteric/Celiac Duplex examination. The Ohio State University Wexner Medical Center, Division of Vascular Diseases & Surgery, Vascular Grand Rounds, Columbus OH May 9, 2016.

Satiani B. Physician Leaders. Mt. Carmel West Hospital, Department of Internal Medicine, Grand Rounds, Columbus OH April 13, 2016.

Satiani B. Physiologic arterial testing. The Ohio State University Wexner Medical Center, Division of Vascular Diseases & Surgery, Vascular Grand Rounds, Columbus OH February 8, 2016.

Satiani B. Why preparing physicians for leadership positions in academic medicine is a challenge. The Ohio State University Wexner Medical Center, Department of Surgery, Surgery Grand Rounds, Columbus OH December 10, 2015.

Satiani B. "How to stay sane as a manger in the vascular lab." Controversies in Vascular Disease and the 8th Annual Noninvasive Testing Symposium, Saturday November 14, 2015.

Satiani B. Renal Artery Duplex Scanning. The Ohio State University Wexner Medical Center, Division of Vascular Diseases & Surgery, Vascular Grand Rounds, Columbus OH November 2, 2015.

Satiani B. "Diversity & Inclusion: A Leadership Imperative." Nationwide Children's Hospital, Medical Leadership Program, Columbus, Ohio. August 24, 2015.

Satiani B. Medicare and Medicaid. The Ohio State University Wexner Medical Center, Department of Surgery, Seminars in Practice Management, Columbus OH August 13, 2015.

Satiani B. Upper extremity venous duplex scanning. . The Ohio State University Wexner Medical Center, Division of Vascular Diseases & Surgery, Vascular Grand Rounds, Columbus OH August 10, 2015.

Satiani B. Healthcare changes in 2015. The Ohio State University Wexner Medical Center, Department of Surgery, Seminar in Practice Management, Columbus OH July 9, 2015.

Satiani B. Arterial Duplex Scanning. The Ohio State University Wexner Medical Center, Division of Vascular Disease & Surgery, Vascular Grand Rounds, Columbus OH May 11, 2015.

Satiani B. Leading Teams in Medical Education. The Ohio State University Wexner Medical Center, Department of Pediatrics, Lunch and Learn, Columbus OH April 22, 2015.

Satiani B. Prioritizing Use of Insurances Life, Disability, and Health. The Ohio State University Wexner Medical Center, Department of Surgery, Seminar in Practice Management, Columbus OH April 16, 2015.

Satiani, B. Chronic venous insufficiency evaluation. The Ohio State University Wexner Medical Center, Division of Vascular Disease & Surgery, Vascular Grand Rounds, Columbus OH February 9, 2015.

Satiani B. Case Presentation: Stump the Audience. The Ohio State University Wexner Medical Center, 7th Annual Vascular Non-Invasive Testing Symposium, Columbus OH November 8, 2014.

Satiani B. Physiologic LEA Testing. The Ohio State University Wexner Medical Center, Division of Vascular Disease & Surgery, Vascular Grand Rounds, Columbus OH October 27, 2014.

Satiani B. Carotid Artery Duplex Scanning Part Two: Correlations; Quality Assurance and Cases. The Ohio State University Wexner Medical Center, Division of Vascular Disease & Surgery, Vascular Grand Rounds, Columbus OH July 14, 2014.

Satiani B. Significance of the ABI and appropriateness of non-invasive vascular testing. The Ohio State University Wexner Medical Center, Cardiology Grand Rounds, Columbus, OH May 9, 2014.

Satiani B. Finance; Corporations and tax structures. The Ohio State University Wexner Medical Center, Department of Surgery, Practice Management Seminar to Surgical Residents, Columbus OH April 17 2014.

Satiani B. Carotid Duplex Exam: Part 1. The Ohio State University Wexner Medical Center, Division of Vascular Diseases & Surgery, Vascular Grand Rounds, Columbus OH April 7, 2014.

Satiani B. Faculty Leadership Institute. The Ohio State University Wexner Medical Center, Faculty Orientation: Getting engaged in the academic life. April 1, 2014.

Satiani B. Resources and tools for career success. The Ohio State University Wexner Medical Center, Faculty Orientation: Getting engaged in the academic life. April 1, 2014.

Satiani B. Business of academic medicine. The Ohio State University Wexner Medical Center, Fame Lunch and Learn Session, Columbus, OH March 11, 2014.

Satiani B. Venous Disease. The Ohio State University Wexner Medical Center, Department of Surgery, Speaker Professor Conference, Columbus, OH February 13 2014.

Satiani B. My top ten list in healthcare; Medicare. The Ohio State University, Fisher School of Business, Healthcare Industry Cluster, Columbus OH February 11 2014.

Satiani B. Introduction to semester, healthcare occupations and healthcare reform. The Ohio State University Wexner Medical Center, Fisher School of Business, Healthcare Industry Cluster, Columbus OH January 14, 2014.

Satiani B. The business of medicine or change management. The Ohio State University Wexner Medical Center, Department of Surgery, Assistant Professor Group, Columbus OH January 9, 2014.

Satiani B. The future employment picture for General Surgeons. Medical College Ohio, Visiting Professor Surgical Grand Rounds, Toledo OH November 27, 2013.

Satiani, B. Time management and Panel discussion. The Ohio State University Wexner Medical Center, Faculty School: How to Thrive in Academic Medicine workshop, Columbus OH November 15, 2013

Satiani B. After hours venous scanning is a waste of time and resources. Controversies in Vascular Disease, The Ohio State University Wexner Medical Center, Columbus, OH November 1, 2013

Satiani BS. Lower Extremity Venous Duplex Exam. The Ohio State University Wexner Medical Center, Division of Vascular Diseases & Surgery, Vascular Grand Rounds, Columbus OH October 28, 2013.

Satiani B. Vascular Diseases. The Ohio State University Wexner Medical Center, Department of Surgery, Med III Lecture, Columbus OH September 23, 2013.

Satiani B. Mesenteric duplex examination. The Ohio State University Wexner Medical Center, Division of Vascular Diseases & Surgery, Vascular Surgery Grand Rounds, Columbus OH July 22, 2013.

Satiani B. U.S. Healthcare System and the future. The Ohio State University Wexner Medical Center, Department of Surgery, Practice Management Seminar, Columbus OH July 11, 2013

Satiani B. Renal Artery Duplex Examination. The Ohio State University, Division of Vascular Diseases & Surgery, Vascular Grand Rounds, Columbus, OH May 13, 2013.

Satiani B. Basics of Malpractice, Torts, and Negligence. The Ohio state University Wexner Medical Center, College of Medicine, Seminar in Practice Management, Columbus OH May 9, 2013.

Satiani, B. Trends in Physician Practices with Health Reform. Association of Pakistani Physicians of North America – Ohio, Columbus OH April 20, 2013.

Satiani B. Insurance to get: why? Which one? How much? The Ohio State University, General Surgery, Resident Practice Management class, Columbus OH February 14, 2013.

Satiani B. "Medicare & Medicaid" Presented to the Undergraduate Healthcare Cluster at Fisher School of Business, Ohio State University. February 12th, 2013.

Satiani. Venous Disease. The Ohio State University, Department of Surgery, Professor Conference, Columbus, OH February 9, 2013.

Satiani B. Vascular Grand Rounds. Upper Extremity Venous Evaluation. Vascular Lab lecture. February 4th, 2013.

Satiani B. "Overview of healthcare cluster program for 2013" Presented to the Undergraduate Healthcare Cluster at Fisher School of Business, Ohio State University. January 8th, 2013.

Satiani B. Limb Loss: Difference or disparity. Presented at the Ohio Commission on Minority Health, January 18th, 2013.

Satiani B. Clinical Evaluation of Suspected DVT Guides the Decision to Prophylactically Anticoagulate But Does Not Impact the Decision to Perform After Hours Duplex Venous Scanning or Increase Its Yield. Presented to Emergency Department OSU East Hospital, December 7th, 2012.

Satiani B. Vascular Grand Rounds . Upper Extremity Arterial Evaluation. Vascular Lab lecture. November 5th, 2012.

Satiani B. Moderator Panel on Physician-Hospital Integration in the 21st Century. The Greater Ohio Healthcare Leaders Forum. August 24th, 2012. Columbus, Ohio.

Satiani B. Physician-Hospital Integration in the 21st Century: Implications of a workforce shortage. Presented at The Greater Ohio Healthcare Leaders Forum. August 24th, 2012. Columbus, Ohio.

Satiani B. Speaker: Vascular Grand Rounds; Chronic venous testing. The Ohio State University Medical Center August 6, 2012.

Satiani B. Speaker: Vascular Grand Rounds; Physiologic arterial testing. The Ohio State University Medical Center March 26th, 2012.

Satiani B. "Healthcare Law." Seminars in practice management. Department of surgery, The Ohio State University, November 10th, 2011.

Satiani B. "Personal Finance and Financial Advisors." Presented to the Plastic Surgery Department, November 4th, 2011.

Satiani B. Speaker: Vascular Grand Rounds; Carotid duplex part 1. The Ohio State University Medical Center October 31st, 2011.

Satiani B. Work Life balance. Seminars in practice management. Department of Surgery, The Ohio State University, October 13th, 2011.

Satiani B. Timeliness of physician interpretation in the vascular lab. Presented at the 4th annual non-invasive vascular seminar, October 7th & 8th, 2011. The Ohio State University.

Satiani B. Co-Course Director: Controversies in vascular diseases and 4th annual non-invasive vascular seminar, October 7th & 8th, 2011. The Ohio State University.

Satiani B. Vascular Diseases. Med III Lecture. September 26th 2011.

Satiani B. "Time value of money." Presented to the Plastic Surgery Department, September 2nd, 2011.

Satiani B. Medicare & Medicaid. Seminars in practice management. Department of surgery, The Ohio State University, August 11th, 2011.

Satiani B. "Venous duplex scanning." Vascular Diseases & Surgery Grand rounds, July 25th, 2011.

Mathews M, Satiani B. Trends in productivity and work effort of today's Vascular Surgeon. Presented at the 16th Annual Department of Surgery Research Conference, June 10th 2011. Columbus. Ohio.

Satiani B. "Arterial duplex scanning." Vascular Diseases & Surgery Grand rounds, May 23rd, 2011.

Satiani B. "Where have we been and where are we going? An overview of physician alignment trends." Presented at the William L. Smead Symposium. May 21st, 2011. Columbus, Ohio.

Speaker along with Dr. Thomas E Williams. Department of OBGYN, The Ohio State University. Grand Rounds. January 7th, 2010. The Impending Shortage & Estimated Cost of Training the Future OBGYN Workforce.

Speaker: University of Michigan Department of Surgery, debate. "Surgeons Owning the Scalpel: Physician Ownership of Health and Infrastructure is Good for the United States." Pro. November 20th, 2009.

Visiting Professor, University of Tennessee, Memphis. "After all, tomorrow is another day!" An optimistic view for physicians." November 3rd, 2009.

Speaker: Vascular Lab Division Conference; Carotid duplex part 1. The Ohio State University Medical Center October 26, 2009.

Speaker. Vascular Lab Privileges. Second Non-Invasive Vascular Symposium, The Ohio State University Medical Center, Ross Heart Hospital, Columbus, Ohio. October 3rd, 2009.

Co-Director and Planner: Second Non-Invasive Vascular Symposium, The Ohio State University Medical Center, Ross Heart Hospital, Columbus, Ohio. October 3rd, 2009.

Speaker: Vascular Lab Division Conference; Carotid duplex part 1. The Ohio State University Medical Center September 25, 2009.

Speaker: The impending shortage & estimated cost of training the future neurosurgical workforce, Neurosurgery Grand Rounds, The Ohio State University Medical Center, Columbus, Ohio May 21, 2009.

Speaker: Vascular lab division CME conference; chronic venous reflux testing. The Ohio State University Medical Center July 31, 2009.

Speaker: Vascular Lab Division CME Conference; Upper Extremity Venous duplex. The Ohio State University Medical Center April 24th, 2009.

Speaker: The Estimated Cost of Training the Future Surgical Workforce, Department of Surgery Faculty, Ohio State University Medical Center, Columbus, Ohio April 16, 2009.

Speaker: Student Financial Services, The Ohio State University Medical Center, "Personal savings/investing and the importance of creating a financial plan?" Columbus, Ohio February 16, 2009.

Speaker: Vascular Lab Division Conference; Upper Extremity Venous duplex. The Ohio State University Medical Center February 27th, 2009.

Speaker: Vascular Lab Division Conference; Lower Extremity Venous duplex. The Ohio State University Medical Center January 30th, 2009.

Speaker: Professor Conference, The Ohio State University Medical Center, "Venous Disease (PVD)", Department of Surgery, Columbus, Ohio February 12, 2009.

Speaker: Student Financial Services, The Ohio State University Medical Center, "What is the most important financial advice that you would offer to students?" Columbus, Ohio November 12, 2008.

Co-Director and Planner: Non-Invasive Vascular Symposium, The Ohio State University Medical Center, Ross Heart Hospital, Columbus, Ohio November 1, 2008.

Speaker: Non-Invasive Vascular Symposium, The Ohio State University Medical Center, Ross Heart Hospital, "Portable ultrasound: indications, appropriateness and economic implications. Columbus, Ohio November 1, 2008.

Speaker: 4th Year Honor Medical Students – Clinical Skills Educational Assessment Center. "Vascular Ultrasound" Prior Health Library, Columbus, Ohio September 3, 2008.

Speaker: Clark County Medical Society, Springfield, Ohio. "Tomorrow is another day" An optimistic view for physicians. January 22nd, 2008.

Speaker: Department of Surgery. The Ohio State University, Grand Rounds. "Tomorrow is another day" An optimistic view for physicians. September 20th, 2007.

Invited Lecture "Thoracic Endovascular Grafts." Presented at the 6th Biennial Meeting, Pakistan Society of Cardiac & Thoracic Surgeons, Karachi, Pakistan, December 16-18th, 2006.

Invited Lecture "Overview of Vascular Surgery." Presented at the 17th Biennial Congress, Pakistan Cardiac Society, Karachi, Pakistan, December 18th, 2005.

Speaker: Wound Care Committee, The Ohio State University. "Non-Invasive Arterial Testing in non-healing wounds" October 25th, 2005.

Speaker: Department of Surgery The Ohio State University, Grand Rounds. "Physician-Hospital Relationship: A physician's perspective". October 13th, 2005.

Speaker: Department of Anesthesia, The Ohio State University, Grand Rounds. "Medicare: Full Disclosure" October 5th, 2005.

Discussant: Evaluation of the complexity of open abdominal aortic aneurysm repair in the era of endovascular stent grafting. Costin J, Watson D, Duff SB, Blossom G. Presented at the 29th Annual Meeting of the Midwestern Vascular Surgical Society, September 15-17, 2005, Chicago.

Speaker. Med Central Hospital, Mansfield, Ohio, May 2005. "Protocols for the Evaluation of Acute Deep Venous Thrombosis."

Moderator "Seminar on Vascular Non-Invasive testing." April 23rd, 2005, Columbus, Ohio. Speaker " Superficial Venous Thrombosis."

Moderator "Seminar on Vascular Non-Invasive Testing", September 18th, 2004, Columbus, Ohio. Speaker " Protocols for the Evaluation of Acute Deep Venous Thrombosis."

Speaker. Surgical Grand Rounds, Department of Surgery, The Ohio State University. "Sclerotherapy" January 13th, 2005.

Moderator "Seminar on Vascular Non-Invasive Testing", April 23rd, 2005, Columbus, Ohio sponsored by General Electric. Speaker "Superficial Venous Thrombosis"

Speaker. Lower Extremity Revascularization. Excellence in Vascular Nursing 2000 Symposium, February 23-26, 2000, Clearwater, Florida.

Speaker. Vascular Trauma. Excellence in Vascular Nursing 2000 Symposium, February 23-26, 2000, Clearwater, Florida.

Speaker. Renal Artery Revascularization in Vascular Surgical Disease. Symposium Doctors' Hospital. October 23-24, 1999, Columbus, Ohio.

Speaker. Surgical Grand Round. Grant Medical Center. New Drug Therapies in Claudication and Follow up Graft Imaging. October 13, 1999.

Discussant. An Accurate Method of differentiating an ICA occlusion from a preocclusive stenosis using the CCA and ECA Doppler signal. AP Sawchuk et al at the 23rd Annual Meeting of the Midwestern Vascular surgical society, Chicago, Illinois, September 24-25, 1999.

Speaker, Surgical Grand Rounds, "Outcomes assessment in vascular surgery", Grant Medical Center, Columbus, Ohio, November 13, 1996.

Invited discussant, "Long term follow-up of femoral popliteal bypass patients: Does the need for later revascularizations justify the preservation of the greater saphenous vein? By Erwin et al. Twentieth Annual Meeting of the Midwestern Vascular Surgical Society, St. Louis, Missouri, September 27-28, 1996.

Speaker, Visceral Ischemic Syndrome, Annual Vascular Disease Conference, Doctors Hospital, Stouffer Dublin Hotel, Dublin, Ohio, January 20-21, 1995.

Discussant of Paper, "Surgical management of infrainguinal prosthetic graft infections", by O'Hara, et al. Eighteenth Annual Meeting of the Midwestern Vascular Surgical Society, Cincinnati, Ohio, September 23-24, 1994.

Discussant of Paper, "Occluded PTFE FP Grafts: by Meyer et al: Eighteenth Annual Meeting, Midwestern Vascular Surgical Society, Cincinnati, Ohio, September 23-24, 1994.

Satiani, B: "Ruptured Abdominal Aortic Aneurysms" Life Flight Log Vol IV, 1994.

Speaker, "Arterial Perspective: Wound Healing", Wound Healing Seminar, Columbus, Ohio, May 17, 1994.

Satiani, B: Treatment of Chronic wounds: An Arterial Perspective. Presented at Grant Medical Center Wound Care Center Conference. Columbus, Ohio, May 7, 1994.

Discussant of Paper, "Occluded PTFE FP Grafts: by Meyer et al: Eighteenth Annual Meeting, Midwestern Vascular Surgical Society, Cincinnati, Ohio, September 23-24, 1994.

Speaker, "Arterial Perspective: Wound Healing", Wound Healing Seminar, Columbus, Ohio, May 17, 1994.

Satiani, B: Treatment of Chronic wounds: An Arterial Perspective. Presented at Grant Medical Center Wound Care Center Conference. Columbus, Ohio, May 7, 1994.

Discussant of paper "Optimizing Technical Success of Renal Revascularization: Does Intraoperative Colorflow Duplex Ultrasonography Enhance Results?" Annual Meeting Midwestern Vascular Surgical Society, Cleveland, Ohio, September 11-12, 1992.

Curative Technologies, Inc., Wound Care Center Division "Wound Care Management", October 28, 1992.

Symposium Chairman, "Vascular Disease for the Primary Care Physician", Grant Medial Center, Columbus, Ohio, April 26, 1991.

Speaker, Pike County Medical Society, "Laser Angioplasty", Waverly, Ohio, September 1990.

Speaker, Central Ohio Academy of Family Physicians, Family Practice Review, "Acute Deep Venous Thrombosis", Columbus, Ohio, November 2, 1990.

Speaker, Ohio Academy of Family Physicians (Family Medicine Review), "Diabetes and Vascular Disease", Columbus, Ohio, June 28-30, 1990.

Visiting Professor, Fairview General Hospital, Cleveland, Ohio, September 16, 1989.

Symposium Co-Chairman, "Vascular Disease for the Primary Care Physician", Grant Medical Center, May 1989.

Visiting Professor, Fairview General Hospital, Cleveland, Ohio, "Diagnosis of Acute DVT", April 7, 1989.

Speaker at Regional Rounds: Trauma and Surgical Critical Care, Grant Medical Center, February 11, 1989.

Chairman, Abbott Seminar, "Thrombolytic Therapy", Grant Medical Center, 1987.

Satiani, B: Carotid Artery Disease: A Personal Odyssey. Presented at the Family Practice Review, Worthington, Ohio, November 12-13, 1993.

Andrew Pultz Lecture: Carotid Artery Disease. Family Practice Review, COAFP, Columbus, Ohio, November 12, 1993.

Speaker, Union Memorial Hospital, "Laser and Balloon Angioplasty" Marysville, Ohio, April 14, 1993.

Speaker, Ohio Academy of Family Physicians "Vascular Review" Columbus, Ohio, January 9, 1993.

Chairman, Glaxo Seminars, "Diabetic Foot Infections", Grant Medical Center, 1986, 1987.

Speaker, The Family Practice Review, "Controversies in Carotid Disease". Sponsored by the Central Ohio Academy of Family Physicians, Columbus, Ohio November 15-17, 1985.

Symposium Chairman, Symposium on Portal Hypertension, Grant Medical Center, November 8, 1985.

Co-Chairman, Peripheral Vascular Nursing Seminar, "Cerebrovascular Disease", Grant Medical Center, August 9, 1985.

Discussant of paper "The natural history of total occlusions of the internal carotid artery", by AV Perrson et al, at the Thirty-Seventy Annual Meeting of the Society for Vascular Surgery, San Francisco, California, June 17-18, 1983.

Co-Chairman, Peripheral Vascular Seminar, "Nursing Care of Patients with Peripheral Vascular Disease. Session III, Diseases of the Venous System", Grant Hospital, Columbus, Ohio, May 14, 1982.

Co-Chairman, Peripheral Vascular Seminar, "Nursing Care of Patients wit Peripheral Vascular Disease. Session II, Cerebrovascular and Upper Extremity Disorders", Grant Hospital, Columbus, Ohio, May 14, 1982.

Co-Chairman, Peripheral Vascular Seminar, "Nursing Care of Patients with Peripheral Vascular Disease. Session I, Arterial Disease", Grant Hospital, Columbus, Ohio, May 14, 1982.

Discussant of paper, "Detection of subcritical stenoses by Doppler spectrum analysis" by PJ Bendick and JL Glover, presented at the Fifth Annual Meeting of the Midwestern Vascular Surgical Society, Chicago, Illinois, September 1981.

Discussant of paper, "the prognosis of transient ischemic attacks on patient with normal angiograms" by Dr. Mendelowitz, et al, presented at the Thirty-Fifth Annual Meeting of the International Cardiovascular Society, Dallas, Texas, June 1981.

Panel Member, Critical Care Symposium, "Venous Thromboembolism", Grant Hospital, Columbus, Ohio, November 15, 1980.

Discussant of Paper, "Late appearance of arterial emboli: Diagnosis and Management" by F. Jarrett presented at the Thirty-Third Annual Meeting of the Society for Vascular Surgery, Nashville, Tennessee, June, 1979.

Faculty and Panel Member, Peripheral Vascular Symposium, Columbus, Ohio, September 14-16, 1978.

Poster Presentations

Babatunde Oriowo, MD, Starr JE, Meadows M, Adebayo O, Satiani B. Changes in Carotid Duplex Spectral Doppler Criteria after Left Ventricular Assist Device Placement. Poster Presented at the Midwestern Vascular Surgical Society. Chicago, IL. September 10-12, 2015. 1st Place winner

Haurani MJ, Satiani B, Masterson L, Kiser D, Starr JE. Ultrasound Guided Thrombin Injection Is Safe in the Morbidly Obese. Poster presented at the Midwestern Vascular Surgical Society. Chicago, ILL. September 10-12, 2015.

Mouawad NJ, Thors A, Satiani B, Haurani MJ. Varicose Veins – An evaluation of management outcomes between endovenous therapy and open surgical ligation using The American College of Surgeons National Surgical Quality Improvement Program Database. Poster presentation at the American Venous Forum, Phoenix AZ February 28, 2013.

Haurani MJ, Kiser DL, Satiani B. 24/7 vascular lab access demanded: providing more value will be incongruent with cost control mandates. E-Poster presentation at the 41st Society for Clinical Vascular Surgery annual meeting, Miami, FL March 13, 2013.

Yang JC, Tiwari P, Miller M, Williams TE, Satiani B, Thomas A, Ellison EC. The impending shortage and implications of the plastic surgery workforce. Presented at the 15th Annual Department of Surgery Research Conference. May 2010.

Williams TE, Satiani B, Ellison EC, Souba WW, Gabbe SG. The Impending Surgical Threat to the Rural Hospitals. Poster presentation at Sixth Annual AAMC Physician Workforce Research Conference, May 6-7, 2010, Alexandria, VA.

Satiani B, Williams TE, Ellison EC, Souba WW, Gabbe SG. Another 30 million people: A crisis of access? Poster presentation at Sixth Annual AAMC Physician Workforce Research Conference, May 6-7, 2010, Alexandria, VA.

Webcast

Endovenous Laser Ablation. April 28th, 2006. Center for Continuing Medical education, The Ohio State University Medical Center. http://ccme.osu.edu/cmeactivities/onlineeducation/ondemand/program/index.cfm?id=245#

Media

Journey to innovation. https://www.youtube.com/watch?v=jOalQZJ0-Ew

WOSU-TV Study predicts surgeons shortage, calls for more part-timers. Oct 17, 2011

September JACS Media Coverage – Allowing Part-Time Surgeons May Help Address Workforce Shortage 2011

Science Daily (9/14): "Allowing part-time surgeons may help address workforce shortage"

Also picked up on BioPortfolio.com, FirstScience.com, MedicalNewsToday.com, ScienceNewsline.com

Columbus Dispatch General Surgeons needed in U.S. …. Stat! January 22, 2009

Outpatient Surgery Magazine (9/15): "Part-timers would alleviate looming surgeon shortage"

Becker's Hospital Review (9/16): "Study: Offering surgeons part-time employment could reduce workforce shortage"

American Medical News (9/28): "Part-time surgeons would help ease shortage"

Ghose.C. Surgeon shortage has some advocating for job-sharing part-timers. http://www.bizjournals.com/columbus/blog/2011/09/surgeon-shortage-has-some-advocating.html?ana=twt&page=all

Reviewer for Journals/Editorial Boards

Editoral board Vascular Specialist, 2015

Guest Reviewer Journal of Applied Clinical Informatics, 2011

Editorial board International Journal of Vascular Medicine, December 2009- current.

Guest Reviewer, American Journal of Neuroradiology, August 2009.

Guest Reviewer, Journal of Vascular Surgery, February 2009- 2010, 2012-2013

Associate Editor, Vascular Surgery 1988-1994.

Reviewer, "International Abstracts of Surgery" Section, Surgery, Gynecology & Obstetrics (not current)

Bulletin, The Academy of Medicine, Franklin County, 1982-1983

Advanced Training Courses

Interpretation training for Carotid IMT and Brachial Artery Reactivity, University of Wisconsin, Madison, August 2009.

Laser Training Institute as Medical Laser Safety Officer, June 4, 2005, Columbus, Ohio.

Microvascular Surgery Training Course by Dr. R. Acland, University of Louisville, Kentucky, December 4-8, 1978.

Trauma

Advanced Trauma Life Support Instructor, in 21 Courses by the American College of Surgeons, Mt. Carmel Medical Center, Grant Medical Center, & The Ohio State University.

National or Medical Staff & Hospital Committees:

Secretary, Ohio Minority Health Commission 2015

Medical school applicants admissions committee. The Ohio State University School of Medicine. 2011-2012.

Medical school applicant screening committee. The Ohio State University School of Medicine. 2011-2012.

Member, Clinical Practice Council of the Society for Vascular Surgery, 2010-2011, 2011-2012, 2012-2013.

Member, Committee on Diversity of the Society for Vascular Surgery, 2008-9, 2009-2010.

Member, Community Practice Advisory Committee of the Society for Vascular Surgery. 2008-9, 2009-2010, 2010-2011, 2011-2012, 201-2013.

Member, Community Practice Advisory Committee of the Society for Vascular Surgery. 2008-9, 2009-2010, 2010-2011, 2011-2012, 201-2013.

Member-at-large, Board of Directors Department of Surgery LLC, The Ohio State University. 2006- 2008.

Member, Strategic Planning Task Force, Ohio State University Physicians Inc. 2006.

Coordinator CME activities for Madison County Hospital, London, Ohio. 2005-6.

Member, Task Force on 'Heart Signature' program, The Ohio State University, September 2005.

Member, Research Committee, Department of Surgery, The Ohio State University, 2004- current.

Member, Ohio Health Board Ad-hoc committee on Issue of Physician Investors in Specialty Hospitals, March 2002.

Member ad-hoc committee OhioHealth on future of Doctors Hospital, March 2001.

Member, Advisory Group, Physician Management Fellowship Program, Ohio Health, 1997.

Member, Board of OhioHealth Group, 1996-1997.

Member, Medical Directors Council, Grant/Riverside Hospitals, 1996.

Member, Executive Committee, Board of Directors, Grant/Riverside Hospitals, 1996-1997.

Member, Medical Affairs Committee, Grant/Riverside, 1996.

Member, Planning and Integration Committee, Grant/Riverside, 1996.

Board Member, Grant/Riverside Board, 1996-1997.

Member, Search Committee for Selection of CEO, Grant/Riverside Hospitals, 1995-1996.

Member, Grant Medical Center Board of Directors, 1994-1995.

Member, Quality of Care Committee of the Grant Medical Center Board of Directors, 1995-1996.

President, Grant Medical Staff, 1996-1998.

President Elect, Grant Medical Staff, 1994-1996.

Member, Interim Board Integrated Provider Association, Grant and Riverside Medical Staff, 1994-1995.

Member, Grant Hospital/Medical Staff Planning Task Force, 1993-1994.

Member, Physician's Effectiveness Committee, Grant Medical Center, 1992-1995.

Triage Officer, Vascular/Cardiac Step-down Unit-6E Unit, 1992-1994.

Chairman, Anesthesia Steering/Search Committee, 1992-1992.

Graduate Medical Education Committee, Grant Medical Center, 1992-1993.

Chairman, Central Credentials Committee, Grant Medical Center, 1990-1993.

U.S. Health Plan Credentials Committee, 1990-1991.

Member at Large, Executive Committee, Medial Staff, Grant Medical Center, 1990-1993.

Chairman, Council of Medical Education, 1988-1990.

Bylaws Committee, Grant Medical Center, 1987-1989.

Council of Medical Education, Grant Medical Center 1987-1989.

Chairman, Department of Surgery, Grant Medical Center, 1984-1986.

Executive Committee, Grant Medical Center, 1984-1985.

Operating Room Committee, Grant Medical Center, 1984-1988. Chairman, 1988-1989.

Trauma Committee, Grant Medical Center, 1982-1983.

Director Surgical Advisory Committee, Department of Medical Education, Grant Medical Center, 1981-1984.

Cardiovascular Service Committee, Grant Hospital, 1980-1988

Transfusion Committee-St. Anthony Hospital, 1978-1980.

Business Education

Seminar in Practice Management for Surgical residents. Coordinators: B. Satiani & Ray Manley, Department of Surgery January 13, 2005 to June 30th 2009. Eighteen-month cycle of monthly one-hour seminars. July 2009 to current. 24-month cycle of monthly one-hour seminars.

Speaker "Financial Advisors" Presented to the Plastic Surgery Department, November 4th, 2011.

Speaker "Time value of money." Presented to the Plastic Surgery Department, September 2nd, 2011.

Moderator & Speaker: Department of Surgery Corporation Board Retreat on 'Changes in healthcare and physician hospital integration." Columbus, Ohio May 11th, 2010.

Speaker "It's all about access" "The healthcare reform act and your practice" Medical Center of Newark, Newark, Ohio June 23rd, 2010.

Moderator Panel on "The healthcare reform act and your practice" Medical Center of Newark, Newark, Ohio June 23rd, 2010.

Ross Heart Hospital Leadership Development Program (Executive Education) completed February 15 – November 20, 2007.

Invited Speaker: Indian Doctors Association of Houston, October 20th, 2007. Changes in Stark Law, Anti-kickback & anti-trust law for practicing physicians.

Visiting Professor: H. Harlan Stone Lecture: Pay for performance. What the fuss is all about? Phoenix Integrated Surgical Residency Program. Banner Health. Phoenix, Arizona. June 7th, 2007.

Invited Speaker: Indian Doctors Association of Houston, April 28th, 2007.

Pay for performance: What the fuss is all about.

Invited Speaker: Indian Doctors Association of Houston, April 28th, 2007. Changes in the Stark Law: How does it apply to your practice?

Speaker: Business-side macro-environment, regulatory and legal overview. 'What physicians ought to know and why'. Overview of a One-Day Executive Retreat on HealthCare Executive

Leadership, Offered by Otterbein College and Mount Carmel for Mount Carmel Managers. August 26th, 2006.

Coordinator & Speaker, Residents Business Education Meeting, "Practice & Business Issues for Surgical Trainees." Ohio Chapter, American College of Surgeons, May 9th, 2006, Columbus, Ohio.

Fundamentals for a successful medical practice: A business education program for Physicians. Sponsored by Ohio Health, Columbus, Ohio, January 28-, 2004. Course Director: B.Satiani, in conjunction with the Executive education & Development Office, College of Business, Ohio University, Athens, Ohio.

Fundamentals for a successful medical practice: A business education program for Physicians. Sponsored by OhioHealth, Columbus, Ohio, October 22-November 19,2003. Course Director: Satiani, in conjunction with the Executive education & Development Office, College of Business, Ohio University, Athens, Ohio.

Fundamentals for a successful medical practice: A business education program for Physicians. Sponsored by Ohio Health, Columbus, Ohio, April 21st- May 19th, 2004. Course Director: B.Satiani, in conjunction with the Executive education & Development Office, College of Business, Ohio University, Athens, Ohio.

Talent Management and Leader Development Programs

Director FAME Faculty Leadership Institute at the Wexner Medical Center at The Ohio State University College of Medicine April 2013- current

Co-Director Talent Management & Leader Development Academy (TMALDA) for Surgical Departments at The Ohio State University for surgical faculty: 18-monthly sessions. September 2011- May 2013