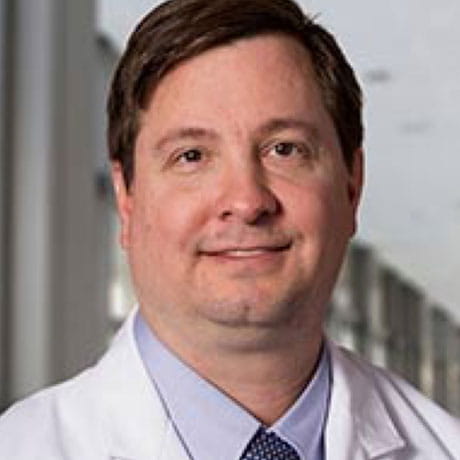 N-813 Doan Hall
410 W. 10th Ave.
Columbus, OH 43210
614-293-9327
Education
MS: Microbiology, University of South Florida, Tampa 1998
MD: University of South Florida College of Medicine, Tampa 2002
Specialty Training
General surgery residency, Eastern Virgina Medical School, Norfolk
Fellowship in cardiovascular surgery, The Johns Hopkins Hospital, Baltimore
Fellowship in aortic surgery, The Cleveland Clinic
Appointment:
January 2015
Specialty Interests
Aortic surgery
Adult cardiac surgery
Coronary artery bypass surgery
Mechanical circulatory support
Research Interests
In January of 2015, I joined the faculty of The Ohio State University as an assistant professor of Surgery and have developed a clinical and research practice focused on aortic and aortic valve disease. I have worked with my vascular surgery colleagues in advancing our Aortic Center in treatment of patients with complex aortic arch disease. I have also re-initiated a program for the surgical approach to cardiac arrhythmias in conjunction with electrophysiologists in the Division of Cardiovascular Medicine. In an effort to further this program, I applied and was selected for the James L. Cox Fellowship in atrial fibrillation surgery through the American Association of Thoracic Surgery. Currently I am involved in several clinical trials including trans-catheter valve replacement, magnetic resonance elastography evaluation of thoracic aortopathy, anti-thrombin supplementation in high risk cardiopulmonary bypass and embolic protection devices in cardiac surgery. Although I do not have a personal active laboratory, I am collaborating in basic science research including animal models to study mechanisms of spinal cord ischemia as a result of aortic surgery. My clinical research interests include aortic surgery in connective tissue disorders, aortopathy associated with bicuspid aortic valves, clinical evaluation of trans-catheter aortic valve replacement and surgical ablation techniques for cardiac arrhythmia.

As with many academic surgeons, education is a passion for me. Currently, I am active in medical student, resident and continuing medical education through the Department of Surgery, the American College of Cardiology and the Society of Thoracic Surgeons. I particularly enjoy my work with the pre-clinical medical students in our Summer Scholars Program aimed at encouraging medical students to seek a career in cardiothoracic surgery.