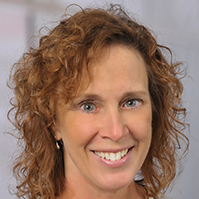 Health System Director, Endovascular Services
Program Director, Vascular Surgery Fellowship Program
Jean.Starr@osumc.edu
614-293-8536

Dr. Starr has a research interest in endovascular surgery and clinical outcomes studies, in addition to serving as the local Principal Investigator for several multicenter and NIH trials and a local prospective investigation. Her current projects several Vascular Quality Initiative (SVS VQI) projects, investigation of radial artery and femoral access complications, carotid duplex criteria for LVAD patients, and vascular surgical site infections. She also leads local, regional, and national advocacy efforts for women in surgery.
Presentations

Lower extremity revascularization and endovascular repair of AAA. Grant Medical Center, Nursing Lecture Series, Columbus, OH 1995-2003.

Asymptomatic Carotid Disease. Thoracic Outlet Syndrome. Endovascular Disease. and Renal Occlusive Disease. Grant Medical Center, Family Practice Lecture Series, Columbus, OH 1995-2003.

Influence of Gender upon Cardiac Risk and Survival in Patients with Infrarenal Aortic Aneurysms. Midwest Vascular Surgical Society Meeting, Chicago, IL September 23, 1995.

New Modalities in Diagnosis and Treatment of Venous and Arterial Disease. Grant Medical Center, Advances in Chronic Wound Management Conference, Columbus, OH October 14, 1995.

Update in Endovascular Therapies for Peripheral Vascular Disease. Grant Medical Center, Medical-Surgical Grand Rounds, Columbus, OH January 23, 1996.

AAA repair. St. Ann's Hospital, Nursing Lecture Series, Westerville, OH 1996-2002.

Current Diagnosis & Management of Peripheral Arterial Disease. Samaritan Hospital, Ashland, OH, St. Mary's Hospital, Evansville, IN; Upper Valley Medical Center, Troy, OH and Grant Medical Center, Columbus, OH 2000-2003.

The Acutely Ischemic Limb. Doctors Hospital, Resident Advisory Committee, Columbus, OH, September 27, 2000.

Endovascular Repair of AAA. Madison County Hospital, London, Ohio and Bucyrus Community Hospital, Bucyrus, OH 2004.

Peripheral Vascular Disease – An Interventional Approach. University Hospital East, Cardiology Conference, Columbus, OH May 6, 2004.

Lower Extremity Arterial Diagnosis Management. The Ohio State University, OSU Med Net 21 Live Web cast, Columbus, OH August 27, 2004.

Stroke and Carotid Artery Disease. The Ohio State University, Department of Surgery, Surgery Grand Rounds, Columbus, OH December 2, 2004.

Aneurysm Disease: An Interventional Approach. The Ohio State University, Saturday Morning Cardiology/Cardiac Surgery Grand Rounds, Columbus, OH February 12, 2005.

Carotid Stenting and Aortic Endo-grafting. Marion General Hospital, Grand Rounds, Marion OH, February 24, 2005.

Endovascular AAA Repair. The Ohio State University, OSU MedNet 21 Web-cast, Columbus, OH March 11, 2005.

An Affair of the Heart. Bucyrus Community Hospital, Women's Community Event, Bucyrus, OH April 16, 2005.

Current Vascular Research at OSU. The Ohio State University, Service Board Meeting, Columbus, OH April 28, 2005.

State of the Art: Vascular Surgery Update. American College of Surgeons – Ohio Chapter Annual Meeting, Columbus, OH May 11, 2005.

Hemostasis Surgical Bleeding & Transfusion. The Ohio State University, Department of Surgery, Resident Conference, Columbus, OH September 1, 2005.

Carotid Stenting. The Ohio State University, Alumni Weekend Postgraduate Course, Columbus, OH September 16, 2005.

Carotid Stenting System. Interviewed by NBC-Channel 4 TV, Columbus, OH January 9, 2006.

Carotid Stenting. Interviewed by Channel 10 TV, Heart to Heart Show, Columbus, OH January 24, 2006.

Vascular Disease. The Ohio State University, Department of Surgery, Professor Rounds Lecture, Columbus, OH February 3, 2006.

Carotid Stent Therapy Update – Review the treatment course for patients with Carotid Stent procedure. The Ohio State University, OSU Med Net 21 Live Web- cast, Columbus, OH February 15, 2006.

Vascular System – Aorta & Great Vessels. The Ohio State University, Department of Surgery, Professor Conference, Columbus, OH February 23, 2006.

Carotid Stenting and the possible cognitive benefits. Interviewed by Channel 10 TV, Columbus, OH February 25, 2006.

Aortic Aneurysms. COSI (Center of Science & Industry) – live broadcast to several high schools across the country, Columbus, OH March 10, 2006 .

New Era in Cardiovascular Medicine: A multidisciplinary Approach. Ross Heart Hospital, Big Ten Cardiovascular Medicine Fellow Summit, Columbus, OH April 22, 2006.

Thoracic Endovascular Aneurysm Repair. The Ohio State University, OSU Med Net 21 Live Web cast, Columbus, OH July 28, 2006

Post-Operative Carotid Endartectomy/Stent care. Ross Heart Hospital, 4th Floor Nurses In-service, Columbus, OH August 1, 2006.

Post-Operative Carotid Endartectomy/Stenting care. Ross Heart Hospital, 4th Floor Nurses In-service, Columbus, OH November 15, 2006.

Opening the Door on Vessel Closure. Dinner symposium sponsored by Abbott Vascular, Smith & Wollensky, Columbus, OH December 7, 2006.

Aortic aneurysms (or blood vessel balloons). COSI (Center of Science & Industry) live broadcast to several high schools across the country, Columbus, OH January 29, 2007.

TEVAR applications for aortic dissection & traumatic disruption. The Ohio State University, Surgery Grand Rounds for Cardiology, Columbus, OH February 24, 2007.

Peripheral Arterial Disease. The Ohio State University, Ross Heart Hospital Heart Series speaker, Columbus, OH February 27, 2007.

Thoracic Endograft Repair. Kettering Medical Center, Surgery Grand Rounds, Dayton, OH April 24, 2007.

Current treatment options & post-procedural management of carotid atherosclerosis. The Ohio State University, Spring 2007 Nursing Conference, Columbus, OH April 30, 2007.

Treatment of ruptured AAA, Norwich Township EMS meeting, Hilliard, OH May 22, 2007.

Closure devises. Vascular Abbott, Barnard Tibbett's, Columbus, OH May, 23, 2007.

Stroke, Vascular Surgery, Ischemic & Swollen leg. The Ohio State University, Department of Surgery, Student Group Session, Columbus, OH May 30, 2007.

Stroke, Vascular Surgery, Ischemic & Swollen leg. The Ohio State University, Department of Surgery, Student Group Session, Columbus, OH June 18, 2007.

Treatment of ruptured AAA. Medflight of Columbus, Columbus, OH July 23, 2007.

Vascular surgeons perspective on arterial closure. Vascular Abbott National Sales Meeting, Chicago, IL August 1, 2007.

Treatment of ruptured AAA. Delaware EMS, Delaware, OH September 25, 2007.

Aortic aneurysms (or blood vessel balloons). COSI (Center of Science & Industry) live broadcast to several high schools across the country, Columbus, OH October 19, 2007.

Endovascular Treatment of Traumatic Thoracic Aortic Injuries. The Ohio State University, Surgery Grand Rounds, Department of Surgery, Columbus, OH November 15, 2007.

Peripheral Vascular Surgery. The Ohio State University, Department of Surgery, Basic Science Lecture, Columbus, OH December 6, 2007.

New Device May Replace Blood Pressure Medication. Presented on Ohio News Network, WBNS-10 TV, February 8, 2008 ~ During an in-studio interview, Dr. Jean Starr discussed a new clinical trial at Ohio State University Medical Center to treat hypertension by implanting a medical device that stimulates the body's own natural system to lower blood pressure. The trial will test a new treatment for patients who can no longer control their high blood pressure with medications and lifestyle modifications. If successful, the implant could be another important tool for helping people treat their hypertension, said Starr, a co-investigator of the study with Dr. Randy Wexler.

Rheos Baroreceptor Hypertension System. Ross Heart Hospital, Rheos Pivotal Consumer Lecture Services, Columbus, OH March 12, 2008.

Stroke, Vascular Surgery, Ischemic & Swollen leg. The Ohio State University, Department of Surgery, Student Group Session, Columbus, OH April 2, 2008.

Vessel Closure. Abbott Vascular Program, Easton, Columbus, OH April 10, 2008.

Vascular Surgery. The Ohio State University, Department of Surgery, Surgery Interest Group, Columbus, OH April 29, 2008.

Innovations in Endovascular Therapy. Ohio State Medical Association, 2008 Women in Medicine, Hilton Columbus Easton, Columbus, OH, May 3, 2008.

Stroke, Vascular Surgery, Ischemic & Swollen Leg. The Ohio State University, Department of Surgery, Student Study Session, Columbus, OH June 2, 2008.

Rheos Baroreceptor Hypertension System. Ross Heart Hospital, Rheos Pivotal Consumer Lecture Services, Columbus, OH June 19, 2008.

Management of Arterial Thrombus: Surgical, Medical & Ultrasound. The Ohio State University, Heart of it all conference, Hilton Easton, Columbus, OH June 24, 2008.

Clinical Update on Vascular Interventions & Rheos. The Ohio State University, Ross Heart Hospital Board Meeting, Columbus, OH August 18, 2008.

Hemostasis, Surgical Bleeding & Transfusion. The Ohio State University, Department of Surgery, Basic Sciences Lecture, Columbus, OH September 4, 2008.

Angiogram. Ross Heart Hospital, 5th Floor In-service, Columbus, OH October 15, 2008

Carotid stents: update on results and ultrasound criteria. The Ohio State University Medical Center, Non-Invasive Testing Symposium, Columbus, OH November 1, 2008.

Renal Artery Disease. The Ohio State University Medical Center, Division of Vascular Diseases & Surgery, Vascular Grand Rounds, Columbus, OH November 21, 2008.

Stroke, Vascular Surgery, Ischemic & Swollen Leg. The Ohio State University, Department of Surgery, Student Study Session, Columbus, OH February 2, 2009.

Stroke, Vascular Surgery, Ischemic & Swollen Leg. The Ohio State University, Department of Surgery, Student Study Session, Columbus, OH February 4, 2009.

New modalities for thoracic aortic aneurysm repair. Ross Heart Hospital, 5th Floor Nurses In-service, Columbus, OH April 15, 2009.

Update on Closure Devices. Abbott Vascular sponsored event for regional techs, cath lab techs and nurses at Lindsey's, Columbus, OH April 16, 2009.

Acute Arterial Occlusion. The Ohio State University Medical Center, Division of Vascular Diseases & Surgery, Vascular Grand Rounds, Columbus, OH April 17, 2009.

Finding Work-Life Balance in Surgery. American College of Surgeons, Ohio Chapter, Hyatt Regency Cleveland, OH May 9, 2009.

New Modalities for TAA Repair. Barbarton Hospital, Department of Surgery Staff Meeting, Akron, OH May 20, 2009.

Hemostatis, Surgical Bleeding & Transfusion. The Ohio State University, Department of Surgery, Basic Science Lecture, Columbus, OH August 6, 2009.

Venous Thromboembolic Disease. The Ohio State University, Division of Vascular Disease & Surgery, Vascular Grand Rounds, Columbus, OH September 4, 2009.

On the horizon: what's coming next for lower extremity interventions? 23rd Annual Midwestern Vascular Surgical Society Meeting, Chicago, IL Sept 10, 2009.

Endovascular management of lower extremity occlusive disease. 23rd Annual Midwestern Vascular Surgical Society Meeting, Chicago, IL Sept 10, 2009.

Tibial intervention. 23rd Annual Midwestern Vascular Surgical Society Meeting, Chicago, IL Sept 10, 2009.

Panel Member – 23rd Annual Midwestern Vascular Surgical Society Meeting, Chicago, IL Sept 10, 2009.

Innovations in Endovascular Therapy. Ohio State University Medical Center, Anesthesiology Grand Rounds, Columbus, OH September 24, 2009.

Percutaneous arterial closures devise. Advisory on presentation at the Fellow Technology Exchange, Minneapolis, MN October 3, 2009.

Peripheral Arterial Disease. The Ohio State University Medical Center, Department of Surgery, Med III Surgery Clerkship Didactic Lecture, Columbus, OH October 26, 2009.

Carotid Stenting. The Ohio State University Medical Center, Cardiology Grand Rounds, Columbus, OH December 11, 2009.

Acute Limb Ischemia. The Ohio State University, Ross OR In-service, Columbus, OH January 7, 2010.

Acute Limb Ischemia. Ross Hearth Hospital, 5th Floor Nurses In-service, Columbus, OH February 3, 2010.

Carotid Artery Disease. OSU MedNet 21 Live CME Webcast, Columbus, OH February 26, 2010.

Disease of the Thoracic Aorta and Aortic Arch. Society for Vascular Medicine, 2010 Comprehensive Vascular Review Course, Cleveland, OH April 30, 2010.

Gender Disparities in Peripheral Artery Disease. University of Vermont, Surgery Grand Rounds & Visiting Women in Surgery Professorship, Burlington, VT May 6, 2010.

Hemostasis, Surgical Bleeding & Transfusion. The Ohio State University, Department of Surgery, Basic Science Lecture/General Surgery Resident Conference, Columbus, OH August 5, 2010.

Basic Science of Renovascular Hypertension. The Ohio State University Medical Center, Division of Vascular Diseases & Surgery, Vascular Grand Rounds, Columbus, OH August 9, 2010.

Intravascular Ultrasound. The Ohio State University, 3rd Non-Invasive Vascular Symposium, Columbus, OH October 16, 2010.

Updates on Management of Thoracic Abdominal Aortic Disease. 6th Annual Cardiology Update Conference, Sioux City, IA October 20, 2010.

Starting a TEVAR Practice, Required Skills, Interdisciplinary Teams and Case Presentation: Device Delivery Special Considerations at the Midwestern Vascular Surgical Society Advanced TEVAR course, Madison WI December 2, 2010.

Cerebral Blood Flow. The Ohio State University Medical Center, Division of Vascular Diseases & Surgery, Vascular Grand Rounds, Columbus, OH December 6, 2010.

Current Management of Carotid Stenosis. The Ohio State University Medical Center, Ross 5th Floor Nurse In-service, Columbus, OH January 5, 2011.

Pre-Med introduction to a career as a surgeon. The Ohio State University Medical Center, Pre-Med Club, Columbus, OH January 31, 2011.

Carotid Artery Disease. The Ohio State University, Division of Vascular Diseases & Surgery, Vascular Grand Rounds, Columbus, OH May 2, 2011.

What's new at the "U": Endovascular update? The Ohio State University, William L. Smead, MD Symposium, Longaberger Alumni House, Columbus, OH May 21, 2011.

Litzendorf M, Starr JE, Satiani B, Notter K. Ultrasound-Accelerated Thrombolysis is Superior to Catheter-Directed Thrombolysis for the Treatment of Acute Limb Ischemia Presented at the 2011 Vascular Annual Meeting of the Society for Vascular Surgery, Chicago, IL June 18, 2011.

Management of Acute Limb Ischemia, Ross Heart Hospital 5th Floor Nurse In-Service, Columbus, OH June 29, 2011.

Endovascular Treatment of Abdominal and Thoracic Aneurysm. The Ohio State University Medical Center, American Society of Clinical Anatomists Meeting, Surgery and Technology Meetings Anatomy, Columbus, OH July 16, 2011.

Hemostatic, Surgical Bleeding & Transfusion. The Ohio State University Medical Center, Department of Surgery, Basic Science Conference, Columbus, OH August 4, 2011.

Why would anyone want a neck scar with the advent of carotid stenting? The Ohio State University Heart and Vascular Center and Division of Vascular Diseases and Surgery, Controversies in Vascular Diseases Seminar, Columbus, OH October 7, 2011.

Thrombolysis for acute DVT: Value of venous duplex scanning. The Ohio State University, Heart and Vascular Center and Division of Vascular Diseases and Surgery, 4th Annual Vascular Non-invasive Testing Symposium, Columbus, OH October 8, 2011.

Renal Artery Disease. The Ohio State University Medical Center, Division of Vascular Diseases and Surgery, Vascular Grand Rounds, Columbus, OH October 10, 2011.

Venous Thromboembolic Disease. The Ohio State University Medical Center, Division of Vascular Diseases & Surgery, Vascular Grand Rounds, Columbus, OH March 5, 2012.

Anticoagulation goals/therapies for PVS patients. The Ohio State University Wexner Medical Center, Ross 5th Floor Nurse In-service, Columbus, OH July 18, 2012

Acute Arterial Occlusion. The Ohio State University Wexner Medical Center, Division of Vascular Diseases & Surgery, Vascular Grand Rounds, Columbus, OH August 13, 2012.

Endovascular AAA Repair in Patients with Ventricular Assist Devices. Midwestern Vascular Surgical Society Annual Meeting, Rapid Fire Session, Milwaukee WI September 7, 2012.

Arterial Vascular Disease in Women. The Ohio State University, 4th Annual Women's Cardiovascular Health Conference, Columbus, OH September 14, 2012.

Endovascular Case Studies. The Ohio State University, 4th Annual Acute Myocardial Infarction Update: Beyond STEMI: An Introduction to Level 1 Heart and Vascular Emergency Program, Columbus, OH September 21, 2012.

Optimal Treatment Strategy for Carotid Artery Disease: Stents vs Surgery. The Ohio State 7University Heart and Vascular Center 4th Annual Contemporary Multidisciplinary Cardiovascular Medicine Seminar, Orlando, FL September 29, 2012.

Noninvasive workup of intermittent claudication. The Ohio State University Heart and Vascular Center 4th Annual Contemporary Multidisciplinary Cardiovascular Medicine Seminar, Orlando, FL September 29, 2012.

Preoperative angiography is necessary prior to most surgical interventions. The Ohio State University Heart and Vascular Center, Controversies in Vascular Diseases Seminar, Columbus, OH October 12, 2012.

Surgical option for tibial artery disease remains the gold standard. The Ohio State University Heart and Vascular Center, Controversies in Vascular Diseases Seminar, Columbus, OH October 12, 2012.

Popliteal artery entrapment: the real story. The Ohio State University Heart and Vascular Center, 5th Annual Vascular Noninvasive Testing Symposium, Columbus, OH October 13, 2012.

Peripheral Vascular Disease. The Ohio State University Medical Center, Department of Surgery, Professor Conference, Columbus, OH October 25, 2012.

Peripheral Arterial Disease in Women. Southern Ohio Medical Center, Grand Rounds, Portsmouth, OH February 15, 2013.

Cerebral Blood Flow. The Ohio State University, Division of Vascular Diseases & Surgery, Vascular Grand Rounds, Columbus OH February 18, 2013.

Anatomy. Chalmers P. Wyle VA Hospital, Columbus OH February 20, 2013.

Advances in Aneurysm Treatment. WCMH NBC 4 TV, Matters of the Heart, Columbus OH February 28, 2013.

Keller-Biehl L, Starr JE. Inferior Vena Caval Interruption in an Era of Retrievable Filters. The Columbus Surgical Society 24th Annual Presidential Symposium, March 16, 20213.

Vascular Disease in Women/PAD and Gender Disparities. Ohio Health Vascular Symposium, Columbus OH May 10, 2013.

Ross Operations Council Update. Ross Heart Hospital 5th floor In-Service, Columbus, OH May 15, 2013.

Emerging Vascular Programs. Society for Vascular Surgery, Chaired and moderated Breakfast Sessions, San Francisco, CA May 31, 2013.

Skeletal Muscle Ischemia & Reperfusion: Mechanisms of Injury & Intervention. The Ohio State University Wexner Medical Center, Division of Vascular Diseases & Surgery, Vascular Grand Rounds, Columbus OH August 5, 2013.

Professor Rounds Moderator. The Ohio State University Wexner Medical Center, Department of Surgery, Columbus OH August 20, 2013

Stages of a Medical Career. The Ohio State University College of Medicine, Women in Medicine Fall Panel, Columbus OH October 15, 2013.

Carotid stenting after laryngectomy and radiation. The Royal Society of Medicine, London CardioVascular Symposium 2013, Vascular Medicine Section, London England October 7, 2013.

Complex management of a traumatic popliteal artery pseudoaneurysm after knee arthroscopy. The Royal Society of Medicine, London CardioVascular Symposium 2013, Vascular Medicine Section, London England October 7, 2013.

Stages of a Medical Career. The Ohio State University College of Medicine, Women in Medicine Fall Panel, Columbus OH October 15, 2013.

Bypass Graft. The Ohio State University Wexner Medical Center, Ross Heart Hospital, 5th floor In-Service, Columbus OH October 16, 2013.

Co-director Medtronic Fellows Technology Exchange Conference, Minneapolis, MN October 18 – 20, 2013.

New Options in Vascular Disease Treatment. Wyandot Memorial Hospital, Grand Rounds, Upper Sandusky, OH October 22, 2013.

That thinking is obsolete; there are many ways to salvage a graft! Controversies in Vascular Disease, The Ohio State University Wexner Medical Center, Columbus, OH November 1, 2013

Chronic visceral ischemia is best treated with open surgical techniques. Controversies in Vascular Disease, The Ohio State University Wexner Medical Center, Columbus, OH November 1, 2013

Bedside IVC filter placement. 6th Annual Vascular Noninvasive Testing Symposium, The Ohio State University Wexner Medical Center, Columbus OH November 2, 2013.

Radiation Safety for Vascular Surgeons. The Ohio State University Wexner Medical Center, Division of Vascular Diseases & Surgery, Vascular Grand Rounds, Columbus OH January 27, 2014.

Vascular Graft and their complications. Ross Heart Hospital, 5th floor In-service, Columbus OH March 5, 2014.

Basics of Endovascular Intervention. Ross Heart Hospital, OR In-service, Columbus OH July 3, 2014.

Carotid Artery Disease. The Ohio State University Wexner Medical Center, Division of Vascular Diseases & Surgery, Vascular Grand Rounds, Columbus OH July 7, 2014.

New options in vascular disease treatment. Blanchard Valley Hospital, Grand Rounds, Findlay, OH July 25, 2014.

Overview of Atherectomy Devices and When Should We Use Them? Midwestern Vascular Surgical Society Meeting, Peripheral Disease Session Moderator, Coralville, IA September 4-6, 2014.

Masterson LL, Corby T, Haurani MJ, Yu L, Starr JE. Access Site Complications Are Commonly Found on Femoral Artery Duplex Ultrasound and Associated With Age and Manual Pressure. Midwestern Vascular Surgical Society Meeting, Coralville, IA September 4-6, 2014.

Vascular Disease. The Ohio State University Wexner Medical Center, Department of Surgery, Medical Student Lead Serve Inspire Small Group, Columbus OH September 16, 2014.

Incision site infections and the vascular trial. The Ohio State University Wexner Medical Center, Ross Heart Hospital 5th Floor In-Service, Columbus OH October 15, 2014.
141. Moderator -Medtronic Fellow Tech Exchange Meeting, Milwaukee WI October 17-19, 2014.

Renal Artery Disease and the basic science of R-V HTN. The Ohio State University Wexner Medical Center, Division of Vascular Disease & Surgery, Vascular Grand Rounds, Columbus OH October 27, 2014.

CREST does not support the use of carotid stenting for all. The Ohio State University Wexner Medical Center, Controversies in Vascular Diseases Seminar, Columbus OH November 7, 2014.

Peripheral Vascular Disease. The Ohio State University Wexner Medical Center, Family Medicine Grand Rounds, Columbus OH January 7, 2015.

Vascular Diseases. The Ohio State University Wexner Medical Center, Department of Surgery, Med III Small Group Lecture. January 20, 2015.

Peripheral Arterial Disease. The Ohio State University Wexner Medical Center, Department of Surgery, Basic Science Conference, Columbus OH February 12, 2015.

Update on Endovascular AAA Repair and New Approaches, Ohio Assembly of Association of Surgical Technologist Conference, Mt. Carmel East, Columbus OH March 7, 2015.

Venous Thromboembolic Disease. The Ohio State University Wexner Medical Center, Division of Vascular Disease & Surgery, Vascular Grand Rounds, Columbus OH April 6, 2015.

Introducing IVUS into your practice. Society for Vascular Surgery Annual Meeting, Chicago IL June 17, 2015.

Technical strategies in acute limb ischemia. Society for Vascular Surgery Annual Meeting, Chicago IL June 17, 2015.

Moderator – Pearls for the everyday practicing clinical vascular surgeon. Society for Vascular Surgery Annual Meeting, Chicago IL June 20, 2015.

Complex Endovascular Techniques and Atherectomy. Chicago Endovascular Conference, Chicago IL July 8-11, 2015.

Dealing with Disasters & Complications. Chicago Endovascular Conference, Chicago IL July 8-11, 2015.

Complex cases and complications case review. Chicago Endovascular Conference, Chicago IL July 8-11, 2015.

DIY Step-by-Step: Bedside IVC-Placement. Chicago Endovascular Conference, Chicago IL July 8-11, 2015.

Acute arterial occlusion. The Ohio State University Wexner Medical Center, Division of Vascular Diseases & Surgery, Vascular Grand Rounds, Columbus OH August 17, 2015.

Technical Tips/Tricks to Cross Long-Length Fem-Pop and Tibial Artery Occlusion. Midwestern Vascular Surgical Society Meeting, Chicago IL September 10, 2015.

Moderator- New Horizons in Vascular Surgery Session VQI Session. Midwestern Vascular Surgical Society Meeting, Chicago IL September 12, 2015.

Babatunde Oriowo, MD, Starr JE, Meadows M, Adebayo O, Satiani B. Changes in Carotid Duplex Spectral Doppler Criteria after Left Ventricular Assist Device Placement. Poster Presented at the Midwestern Vascular Surgical Society. Chicago, IL. September 10-12, 2015. 1st Place winner

Haurani MJ, Satiani B, Masterson L, Kiser D, Starr JE. Ultrasound Guided Thrombin Injection Is Safe in the Morbidly Obese. Poster presented at the Midwestern Vascular Surgical Society. Chicago, ILL. September 10-12, 2015.

Starr JE. Unique presentation of Peripheral Arterial Disease in Women. The Ohio State University Wexner Medical Center, Strong at Heart Program for Women 2015, Columbus Funny Bone Easton, Columbus OH October 2, 2015.

Starr JE. Contemporary Issues in Managing Lower Extremity Arterial Disease. American College of Surgeons Clinical Congress Meeting, Chicago IL October 7, 2015.

Starr JE. Moderator – Medtronic Fellow Tech Exchange, Minneapolis, MN October 16-17, 2015.

Starr JE OSU hosted Great Lakes Vascular Surgery Group Members Vascular Quality Initiative quarterly meeting Columbus OH, October 23, 2015.

Starr JE. Drug costed balloons and drug eluting stents are the wave of the future. The Ohio State University Wexner Medical Center, Division of Vascular Disease & Surgery, Controversies in Vascular Diseases, Columbus OH November 13, 2015.

Starr JE. Abdominal Aortic Aneurysm in Women. 40th Annual Northwestern Vascular Symposium, Chicago, IL December 12, 2015.

Starr JE. Update on clinical trials. The Ohio State University Wexner Medical Center, Ross Heart Hospital, 5th floor In-Service, Columbus, OH January 6, 2016.

Starr, JE. Cerebral Blood Flow. The Ohio State University Wexner Medical Center, Division of Vascular Diseases & Surgery, Vascular Grand Rounds, Columbus OH February 8, 2016.

Starr JE. Moderator - Mediam and large-vessel vasculitis, Categorical Course, Society Interventional Radiologist Conference, Vancouver BC April 5, 2016.

Starr JE. Getting your questions answered: Preventing and Treating Heart Disease. The Ohio State Ross Heart Hospital Wellness Series, Columbus OH May 24, 2016.

Starr JE Pediatric Vascular Injuries. Nationwide Children's Hospital, Trauma Grand Rounds, Columbus OH July 13, 2016.

Starr JE. Panelist –Complex Endovascular Techniques III. Chicago Endovascular Conference, Chicago IL July 18, 2016.

Starr JE. A Vascular Surgeons' Approach to Acute Limb Ischemia. Chicago Endovascular Conference, Chicago IL July 18, 2016.

Starr JE. Panelist – Business of Medicine. Chicago Endovascular Conference, Chicago IL July 19, 2016.

Starr JE. Compartment Syndrome. The Ohio State University Wexner Medical Center, 5th Floor Ross In-Service, Columbus OH August 3, 2016.

Starr JE. Use of Endovascular Therapy in the Management of PVD. The Ohio State University Wexner Medical Center, Division of Vascular Diseases & Surgery, Vascular Grand Rounds, Columbus OH August 29, 2016.

Starr JE. External Rotations, Sub-internships, Tips for Interviews and the Match Application. Midwestern Vascular Surgical Society, 2016 Medical Student Education & Participation Program, Columbus OH September 7, 2016.

Starr JE. Moderator New Horizons in Vascular Surgery Session II. Midwestern Vascular Surgical Society Annual Meeting, Columbus OH September 8, 2016.

Starr JE. IVC filters should be contraindicated for prophylaxis. The Ohio State University, Division of Vascular Diseases & Surgery, Controversies in Vascular Diseases, Columbus OH October 14, 2016.

Starr JE. What happened to carotid stenting: CREST-2 update. The Ohio State University, Division of Vascular Diseases & Surgery, 9th Annual Vascular Non-Invasive Testing Symposium, Columbus OH October 15, 2016.

Starr JE. Proctor at Advanced Vascular Surgery Skills & Simulation Assessment Program Royal Oak, MI January 12-14, 2017.

Starr JE. Vascular Emergencies. The Ohio State University Wexner Medical Center, Surgical Intensive Care NP's, Columbus OH January 18, 2017.

Starr JE. New and upcoming trials, study results regarding grafts and treatment of AAA. The Ohio State University Wexner Medical Center, Ross Heart Hospital 5th Floor In-Service, Columbus OH February 1, 2017.

Starr JE. Prevention and Vascular Disease. American Heart Association, Go Red Fireside Chat, The Kitchen, Columbus OH February 15, 2017.

Starr JE. Vascular Diseases 101. The Ohio State University Wexner Medical Center, Go Red for Women Luncheon, Columbus OH February 23, 2017.

Starr JE. Lymphedema. The Ohio State University Wexner Medical Center, Division of Vascular Diseases & Surgery, Vascular Grand Rounds, Columbus OH March 27, 2017.

Starr JE. Vascular Surgery Small Group – Session Moderator. The Ohio State University Wexner Medical Center, Department of Surgery, Columbus OH March 28, 2017.

Starr JE. Vascular Disease in Women. The Ohio State University Wexner Medical Center, Women's Pour Your Heart Out Event, Brio Restaurant, Columbus OH May 18, 2017.

Starr JE. Panel Discussion with Program Directors. Society for Vascular Surgery, General Surgery Resident Program Breakfast, San Diego CA June 1, 2017.

Starr JE. Aortic Disease. Chicago Vascular Conference, Panelist, Chicago IL July 25, 2017.

Starr JE. Appropraite Management of Blunt Thoracic Aortic Injury in the Face of Multi-trauma. Chicago Vascular Conference, Panelist, Chicago IL July 25, 2017.

Starr JE. Update on the PVS quality measure results for FY17 and target measures for FY18. The Ohio State University Wexner Medical Center, Ross 5th floor In-Service, Columbus OH August 30, 2017.

Starr JE. Moderator & Presenter Medtronic Fellow Tech Exchange Meeting, Minneapolis MN, October 13-15, 2017.

Starr JE. Diagnosis and Management of Acute Arterial Occlusion. The Ohio State University Wexner Medical Center, Division of Vascular Diseases & Surgery, Vascular Grand Rounds, Columbus OH October 23, 2017.

Starr JE. " title pending "Good Samaritan Hospital, Surgery Grand Rounds, John L. Cranley MD Memorial Lectureship, Cincinnati OH October 27,2017.

Starr JE Quality initiatives are best via organized data collection programs. The Ohio State University Wexner Medical Center, Controversies in Vascular Diseases Seminar, Columbus OH November 3, 2017.

Abstracts

Starr JE, Hertzer NR: Short Term Outcome of Peripheral Vascular Surgery in Women vs. Men. Cleveland Vascular Society Annual Scientific Meeting, Cleveland OH May, 1994.

Starr JE, Litzendorf M, Satiani B, Go MR: Ultrasound-accelerated thrombolysis is superior to catheter-directed thrombolysis for the treatment of acute limb ischemia. 2011 Society for Vascular Surgery Annual Meeting, Rapid Paced Paper Session II, Chicago, IL June 16-18, 2011.

Keller-Biehl L, Go MR, Starr JE. Inferior vena caval interruption in an era of retrievable filters. Columbus Surgical Society 2013 Presidential Symposium, Columbus, OH March 16, 2013.

Polley NR, West J, Wellington L, Zirki N, Swain J, Andritsos MJ, Schuster DP, Starr JE, Mangino JE. Optimizing Blood Glucose Control to Reduce Risk of Peripheral Vascular Bypass Graft Surgical Site Infections. Ohio State University Medical Center, Department of Surgery Klassen Research Day, Columbus OH May 2, 2013.

Peterson L, Starr JE. Influence of obesity on groin surgical site infections after vascular surgery. The Ohio State University, Department of Surgery, 17th Annual Research Day, Columbus, OH May 25,2013

Strosberg DS, Henry JC, Corbey T, Masterson L, Starr JE. Perioperative antiplatelet therapy and surgical outcomes in emergent and major elective general surgical thoracic and vascular procedures. Columbus Surgical Society, Columbus OH February 28, 2015.

Videos

Chapters

Starr JE, Vaccaro PS. Endovascular Management of Non-Healing Leg Ulceration. Vascular Surgery: Cases, Questions and Commentaries Third Edition, DOI:10.1007/978-1-84996-365-5_20, Springer-Verlag London Limited 2011.

Starr JE. Aortoiliac Occlusive Disease: Treatment with Stenting. Color Atlas and Synopsis of Vascular Disease. Dean SM, Satiani B editors, McGraw Hill published 2014 pages 6-10.

Starr JE. Tibioperoneal Occlusive Disease. Color Atlas and Synopsis of Vascular Disease. Dean SM, Satiani B editors, McGraw Hill published 2014 pages 18-21.

Starr JE. Carotid Artery Fibromusclar Dysplasia. Color Atlas and Synopsis of Vascular Disease. Dean SM, Satiani B editors, McGraw Hill published 2014 pages 102-104.

Starr JE. Carotid Artery Aneurysm. Color Atlas and Synopsis of Vascular Disease. Dean SM, Satiani B editors, McGraw Hill published 2014 pages 108-110.

Starr JE. Mycotic Aneurysmal Disease. Color Atlas and Synopsis of Vascular Disease. Dean SM, Satiani B editors, McGraw Hill published 2014 pages 141-143.

Starr JE. Iliac Artery Endofibrosis. Color Atlas and Synopsis of Vascular Disease. Dean SM, Satiani B editors, McGraw Hill published 2014 pages 163-167.

Starr JE. Arterial Vascular Disease in Women. Color Atlas and Synopsis of Women's Cardiovascular Health, Gulati M, Abraham WT editors, McGraw Hill, published Jan 2014, pages 134-146

Unpublished Scholarly Presentations

An Analysis of Endograft Migration With AneuRx Aortic Stent Graft. Jean Starr, M.D., Richard Fries, M.D., Investigators. Primary Objective: To retrospectively review the incidence of AneuRx stent graft migration at the Ohio State University Medical Center and to examine the variables that may contribute to increased migratory rates.

Bovine Patch Angioplasty During Carotid Endarterectomy: A Retrospective Review. Jean Starr, M.D., Irina Pleister, M.D., Investigators. Primary Objective: To review the data regarding demographics, operative indications, peri-operative complications, midterm complications, and most important, the occurrence of late adverse outcomes of bovine pericardial patch angioplasty during CEA at the Ohio State University Medical Center.

Complications With The Angio-Seal and StarClose Endovascular Closure Devices: A Retrospective Review. Jean Starr, M.D., Ryan Helmick, Investigators. Primary Objective: To review the patient characteristics, method of closure and outcomes including complications of patients receiving peripheral angioplasty for heart catheterization and closure with either manual compression, Angio-Seal or StarClose devices at The Ohio State University Medical Center.

Bulletins and Technical Reports

Starr, JE. Specialists using new device to open blockage in carotid artery reduce risk of stroke. OSU Medical Center's, Surgery Today, November 2005.

Starr, JE. Better Treatments, Quicker Recoveries. OSU Medical Center's consumer magazine, Physicians Practice, Health1 Spring Issue, 2006.

Starr, JE. Specialists study options for treatment of aortic aneurysms. OSU Medical Center's, Surgery Today, May 2007.

Starr, JE. Minimally Invasive Stent Placement Can Fix Thoracic Aneurysms. OSU Medical Center's consumer magazine, Physicians Practice, Summer Issue, 2007.

Starr, JE. Specialist examining pacemaker-like device to control hypertension. OSU Medical Center's, Surgery Today, May 2008.

Starr, JE. New device may replace blood pressure medication. Central Ohio M.D. News, March/April 2008.

Starr, JE. Minimally-invasive Techniques Treat Vascular Disease Safely, Effectively. Ohio Academy of Family Physicians, October 10, 2008 & Business First, October 2008

Starr JE, Vaccaro PS. Descending Thoracic Aneurysm Stent Graft Trial Under Way. The Ohio University Medical Center, Medical Staff News, April 2009.

Starr, JE. Hypertension Treatment Studied in Rheos Pivotal Trial. The Ohio University Medical Center, Medical Staff News, April 2009.

Starr, JE. Treatment of Carotid Artery Atherosclerotic Disease with Stenting Studied. The Ohio University Medical Center, Medical Staff News, April 2009.

Starr JE, Go MR. Safety, Effectiveness of Herculink Elite Renal Stent Evaluated. The Ohio University Medical Center, Medical Staff News, April 2009.

Starr JE, Go MR. Iliac Stent Trial Accruing Patients. The Ohio University Medical Center, Medical Staff News, April 2009.

Starr, JE. Ohio State's Ross Heart Hospital is Central Ohio's Best Choice for Women's Health Care article in Columbus Dispatch April 22, 2012.

Starr JE Awards presented at the Vascular Annual Meeting. Vascular Specialist July 2013 page 11.

Starr JE. Leadership Training: Faculty members graduate TMALDA program. OSU Surgery Today August 2013 page 13.

Starr JE. Recognition: SVS Women's Leadership Award. OSU Surgery Today August 2013 page 30.

The Women's Book: The Power of Networks; 2014-2015 Columbus Area Editiion, featured in "Women of Ohio State: Strengthening Connections; Leading by Example" pages 24-32.

Videos

Ross Heart Hospital Commercial, July 20, 2008 featuring Jean Starr, M.D. with patient interaction.

Matters of the Heart "Treating Vascular Disease" WCMH NBC 4 TV, Columbus, OH February 28, 2012.

Video promoting OSU Vascular Fellowship 2013

Matters of the Heart "Advances in Aneurysm Treatment" WCMH NBC 4 TV, Columbus, OH February 28, 2013.

Matters of the Heart, "IVC thrombosis managed with new Angiovac device" WCMH NBC 4 TV, Columbus OH February 27, 2014.

Matters of the Heart, "Vascular Diease" WCMH NBC 4 TV, Columbus OH February 25,2015.

PAD Awareness Month September 20, 2017 WTTE-TV/28

http://abc6onyourside.com/good-day-columbus/pad-awareness-month

Reviewer

Annals of Vascular Surgery, 2008

Journal of Surgery, 2008

Archives of Surgery, 2010

American Family Physician, 2013

Vascular Medicine, 2014

Publications

Caniano DA, Starr JE, Ginn-Pease ME: Extensive Short-Bowel Syndrome in Neonates: Outcome in the 1980's; Surgery 1989 Feb;105:119-124.

Starr JE, Hertzer NR, Mascha EJ, O'Hara PJ, Krajewski LP, Sullivan TM, Beven EG: Influence of Gender on Cardiac Risk and Survival in Patients with Infrarenal Aortic Aneurysms; J Vascular Surg 1996;23:870-880.

Dean S, Starr JE, Anorexia Nervosa Associated Raynaud Phenomenon (Photoclinic): Consultant 2001 May;41(6):918.

Santanello SA, Starr JE, Larosa JL, Barboza R, McGee D, Hari J: Traumatic rupture of the aorta: repair with a covered endovascular stent. J Trauma-Injury Infection and Critical Care 2002;52(6):1223-1223.

Gorty S, Baetz L, Starr J, Satiani B: New Paradigm for Treating Superficial Venous Thrombosis in the Lower Extremities. Contemporary Surgery 2004; 60:165-169.

Gorty S, Patton-Adkins J, Dalanno M, Starr JE, Dean S, Satiani B, Superficial Venous Thrombosis of the Lower Extremities: Analysis of Risk Factors and Recurrence and Role of Anticoagulation: Vascular Medicine 2004;9(1):1-6.

Tillman BW, Vaccaro PS, Starr JE, Das BM: Use of an endovascular occlusion balloon for control of unremitting venous hemorrhage. J Vascular Surg 2006 Feb;43(2):399-400.

Pawasker M, Satiani B, Balakrishnan R, Starr JE. Economic Evaluation of Carotid Artery Stenting versus Carotid Endarterectomy for the Treatment of Carotid Artery Stenosis. J Amer Coll Surg 2007 Sept;205(3):413-419.

Yu H, Starnes B, Starr, J, Arko F. Vascular Access Site Management. Can vascular access site complications be reduced? Endovascular Today 2008 Mar;7(3):40-44.

Starr J, Walker G, Vaccaro P. Endograft Infection Presenting as a Ruptured Aortic Aneurysm. Ann Vasc Surg 2009 Nov/Dec;23(6):87.

Starr Jean: On the Horizon: What's Coming Next for Lower Extremity Interventions. Perspectives of Vascular Surgery Endovascular Therapy 2009 Dec; 21(4):218-20. doi:10.1177/1531003509356595 Published Dec 16, 2009.

Starr Jean: Required skills and interdisciplinary teams in starting a TEVAR practice. J Vasc Surg 2010;52:45S-49S.

Reed AB, Brown K, Bush R, Halpern V, Kibbe M, Killewich L, Mureebe L, Ozsvath K, Rzucidlo E, Starr J. Predicted shortage of vascular surgeons in the United States: population and workload analysis. J Vasc Surg 2010 Apr;51(4):1076-7.

Smith V, Peterson L, Starr J, Satiani B. External Iliac Artery Stenting: High Incidence of Concomitant Revascularization Procedures. Vascular and Endovascular Surgery; 2012 April;46(3)246-50.DIO: 10.1177/1538574412442400

http://journals.sagepub.com/doi/abs/10.1177/1538574412442400

Starr JE, Halpern V. Abdominal aortic aneurysm in women. J Vasc Surg 2013 April;57:3S-10S.

Huynh TTT, Starr JE. Diseases of the thoracic aorta in women. J Vasc Surg 2013 April;57:11S-17S.

Reed AB, Halpern V, Starr JE. Vascular disease in women. Introduction. J Vasc Surg 2013 April;57(4 Suppl):11S-7S.

Mouawad N, Daniels KJ, Starr JE. Advanced malignant mesothelioma mimicking acute containedthoracic aortic rupture. Interactive CardioVascular and Thoracic Surgery 2013;1-3. Doi:10.1093/icvts/ivt465.

Clair D, Adams J, Reen B, Feldman R, Starr JE, Diaz-Cartelle J, Dawkins K. The EPIC Nitinol Stent System in the Treatment of Iliac Artery Lesions: One-Year from the ORION Clinical Trial. J Endovasc Ther 2014 April;21:213-222.

Dean SM, Starr J. An Unusual Case of Familial Lymphedema, Ann Vasc Surg 2013 Dec 10 pii:S0890-5096(13)00655-9. Doi 10.1016/j.avsg.2013.09.009 [Epub ahead of print]

Starr JE, Elsayed-Awad H, Sai-Sudhakar CB. Endovascular abdominal aortic aneurysm repair in patients with ventricular assist devices. Ann Vasc Surg 2014 Oct; 28(7):1792.

Satiani BS, Nair DG, Starr JE, Samson RH. Essentials for negotiating for employement in a changing environment. J Vasc Surg. 2014 July;60(1):253-59.

Go MR, Keller-Biehl L, Starr JE. Penetration of the inferior vena cava and adjacent organs after filter placement is associated with retrievable filter type and length of time in place. J Vasc Surg Ven and Lymp Disorder 2014 April;2(2):174-178.

Awad H, Quevedo E, Abad M, Brown M, Satiani B, Capers Q, Starr JE. Can the Anesthesiologist Use of the Radial Artery for Monitoring After Transradial Artery Catheterization? Anesthesia and analgesia Case Reports Dec 1 2014 manuscript #AA-D-14-0028R4.

Quarrie R, Mouawad NJ, Haurani MJ, Starr J. Acute Aortocaval Fistula Secondary to Chronic Type 1 B Abdominal Aortic Aneurysm Endoleak. Submitted to Vascular and Endovascular Surgery

Awad H, Quevedo E, Abas M, Brown M, Satiani B, Capers Q 4th, Starr JE. Can the anesthesiologist use the radial artery for monitoring after transradial artery catherization? AA case Report 2015 June 15;4(12):159-62.

Warhadpande S, Kenyhercz W, Illapani P, Raterman B, Dowell J, Go MR, Vaccaro PS, Starr JE, White R, Kolipaka A. Quantification of abdominal aortic aneurysm stiffness using magnetic resonance elastography and its comparison to aneurysm diameter. Journal of Vascular Surgery. 2016 Oct; 64: 966-74.

Kolipaka A, Illapani VS, Kenyhercz W, Dowell JD, Go MR, Starr JE, Vaccaro PS, White RD. Quantification of abdominal aortic aneurysm stiffness using magnetic resonance elastography and its comparison to aneurysm diameter. J Vasc Surg 2016 April 27. Pii:S0741-5214(16)30008-8. Doi: 10.1016/j.jvs.2016.03.426.

Haurani MJ, Go MR, Starr JE, Vaccaro PS, Satiani B. Analysis of Upper Arterial Duplex Indications May Reduce Unnecessary Tests. J Angiol Vasc Surg 2016, 1:004.

Mouawad MJ, Go MR, Bloomston M, Starr J. Mesenchymal tumor of the inferior vena cava. Vasa 2016 Sep[;45(5):423-5. Doi:10.1024/0301-1526/a000554.

Strosberg DS, Corby T, Henry JC, Starr JE. Preoperative antiplatelet use does not increase incidence of bleeding after major operations. Surgery 2016 Oct;160(4):968-76.

Yoo T, Starr JE, Go MR, Vaccaro PS, Satiani B, Haurani MJ. Ultrasound-Guided Thrombin Injection Is a Safe and Effective Treatment for Femoral Artery Pseudoaneurysm in the Morbidly Obese. Vasc & Endovascular Surgery Aug 2017 DOI:10.177/1538574417708727