White Coat Ceremony connects students and alumni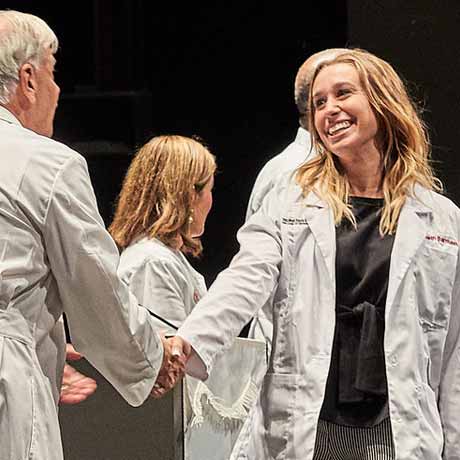 It is transformative to sit in the shoes of those who pay it forward for today's students, welcoming a new generation of physicians-in-training. That is what happens when Chadwick Wright, '06 MD, PhD and Richard Wardrop, '02 MD, PhD, among other enthusiastic Ohio State College of Medicine alumni sponsor students at the White Coat Ceremony, a long-held tradition that welcomes incoming students to the start of medical school.
When Dr. Wardrop was a student, there was no White Coat Ceremony. "We bought our coats unceremoniously at the bookstore and took them to the tailor and got an iron-on patch," recalls Wardrop, program director of Internal Medicine-Pediatrics Residency Program and associate professor of medicine and pediatrics at the University of North Carolina School of Medicine.
Now, the ceremony has become a high point of the start to orientation week for Med 1 students as they embark on four years of medical education.
And even though he didn't get to participate in a White Coat Ceremony when he was a student, Wardrop is passionate about the message it sends and the opportunities it enables. To have a white coat ceremony and know what that stands for now around humanity and medicine, it means a lot for me professionally and personally," he says.
Support from alumni brings MSTP candidates together
The White Coat Scholarship Fund supports M1 medical student scholarships, which makes medical education affordable by lessening the burden of debt and enabling students to instead focus more on their studies.
Drs. Wright and Wardrop are unique White Coat donors as they've teamed up and divided their support each year for 10 incoming College of Medicine students who are also pursuing a PhD as part of the Medical Scientist Training Program (MSTP), a distinctive program that recruits, trains and nurtures physician scientists to become leaders in the health professions.
Their giving has another impact as well—it allows these 10 MD/PhD candidates to feel like a small group among the large class of more than 200 students.
Dr. Wright, now an assistant professor of radiology and nuclear medicine at the Ohio State Wexner Medical Center, continues to feel the power of the ceremony and the ties it creates. "It is the transformative moment when incoming students put on the white coats and officially become medical students."
He attended the August 2017 ceremony, 20 years after his own, and was in awe of the excitement it created for students and their families. "People were so enthusiastic watching their son or daughter or sister walk up on stage to get their white coat," he says. "It's just as exciting as graduation."
Alumni sponsorship of white coats has ongoing impact
Not only do Drs. Wright and Wardrop have a direct connection to their donation and its recipients, but the students also appreciate the support from those who have come before them. For two current students, alumni sponsorship of their white coats gives them a sense of community and professional pride.
"It is an honor to know that MSTP alumni sponsored my white coat," says Sydney Fobare, a first-year student in the program. "The MSTP is a small program, and by sponsoring our white coats, it highlighted the responsibility I have to the program."
First-year student Zheng Hong Tan concurs. "Having MSTP alumni come back and sponsor our white coats is a testament to how tight-knit the program is. It's always fun talking with the alumni and seeing how far they have progressed since their training concluded, and it is very reassuring in a sense. When you are in a rough patch, it's helpful to think about your alumni sponsors."
Alumni sponsorship of the white coats make the ceremony even more powerful than it might be otherwise be, connecting the current students to the past, the present, and the future of medical care and research. "The White Coat Ceremony was more emotional than I expected," says Fobare. "I knew that I was starting medical school, but putting on that white coat with my family in the audience created both excitement and nerves for the beginning of my medical school education."
Dr. Wardrop adds that it's a privilege to have the opportunity to give back to the students who will one day pay it forward. "This is my way of saying we're here, we're waiting for you, welcome and good luck—all at the same time."