Heena Santry, MD, thrives in acute care surgery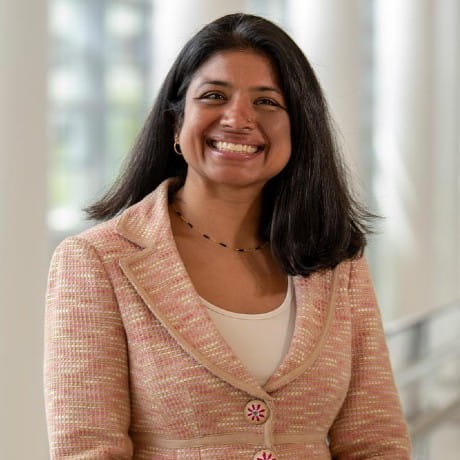 Expect the unexpected. That could be the mantra of Heena Santry, MD. Her patients are emergency patients who didn't expect to need a surgeon.
As associate professor in the Department of Surgery and vice chair of Health Services Research, Dr. Santry specializes in acute care surgery, and meets almost all of her patients in the emergency setting. Her clinical expertise focuses on patients who need ICU care, are injured or have unexpected diseases of the abdominal organs, the skin or soft tissue.
And her research focuses on patients who need emergency general surgery. She studies not just their treatment but factors that affect patient outcomes, including limitations in access to care such as poverty, health insurance status and health literacy.
A social anthropology background
Dr. Santry was attracted to a career in health care because she wanted to alleviate human suffering.
"I majored in social anthropology to understand culture, illness and healing. No illness occurs in a vacuum, and every person's illness is affected by biomedical factors and a plethora of other factors related to their housing security, food security, social support and their cultural background," she says.
In medical school, she wanted to bring her social anthropology skills to primary care patients and demonstrably make their lives better by not just focusing on their healthcare needs, but rather on their wider psychosocial needs.
Then she did her first surgery rotation. Four days into the rotation, she realized that she must be a surgeon. "There's no more intimate human connection than taking out a patient's organs, taking out what is killing someone and piecing it all back together."
She was drawn to her clinical specialty from a background in anthropology, a commitment to social justice and a love of surgery. In her field of acute care surgery, she's as much a social worker as she is a surgeon. And she prides herself on being a source of emotional support for patients and their families during the most trying times.
A center for funded research
Recruited to Ohio State by Timothy Pawlik, MD, PhD, MPH, professor and chair of the Department of Surgery, Dr. Santry's first assignment was creating the Center for Surgical Heath Assessment Research and Policy (SHARP), which opened in April 2018. With the goal of conducting funded research that interests both governmental agencies and private foundations, SHARP has phenomenal surgeons and staff who are interested in doing work that focuses on the wider factors outside of an individual surgeon's control that affect surgical outcomes.
"The center works as an intellectual think tank. I can cultivate an idea that's related to one of my patients, while another surgeon can cultivate a different idea. Together, we have a shared interest in making surgical care safe, equitable and cost-effective."
SHARP aims to build bridges that make it easier to navigate Ohio State's large academic landscape, so surgeons with phenomenal ideas can execute them successfully and on a funded pathway.
"We do research because we see an opportunity to make patient care better," she says. "We want to develop a body of literature, a compendium of results and analyses that can influence health policy and how surgeons make their decisions across lots of different healthcare settings."