Leon McDougle, MD, MPH, completes term as NMA president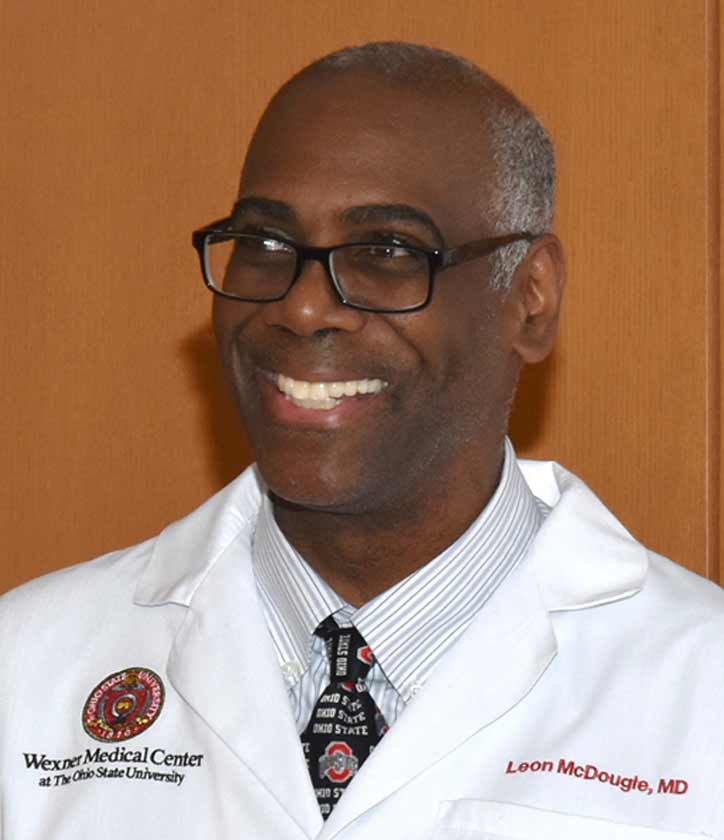 Leon McDougle, MD, MPH, tackles topics of diversity, equity and inclusion (DEI) with a passion that's second to none.
In particular, he's contributed to the DEI conversation at the national level in his role as president of the National Medical Association (NMA), the nation's oldest and largest organization representing African American physicians and their patients. Dr. McDougle just completed his one-year term as the 121st president of the NMA. He was also the organization's first-ever virtual president, serving during a time of great turbulence in our nation.
As president, Dr. McDougle represented The Ohio State University on the national stage, engaging our country's leaders in critical conversations to effect positive and sustainable change across our communities. Topics included the American Families Plan, elimination of menthol from tobacco products, Maximizing Outcomes for Moms through Medicaid Improvement and Enhancement of Services Act, the George Floyd Justice in Policing Act, clean water, climate change mitigation, abolishing capital punishment, optimal care of older persons, and physician, scientist and health professions workforce diversity and vitality. He led NMA efforts in support of a lawsuit for the Centers for Disease Control to maintain its moratorium on home evictions during the pandemic, hosted an exceptional colloquium on African American health parity and advocated for the Antiracism in Public Health Act, Black Men in Medicine and expansion of the Affordable Care Act. He recruited top-notch speakers to present at the NMA convention on crucial topics ranging from Medicare and the civil rights movement to minority participation in clinical trials. And he led the NMA to participate in COVID-19 vaccination studies and to broadly communicate the importance of becoming vaccinated.
As Dr. McDougle passes the baton to the next NMA president, he says, "There is still so much more we need to do. We should want our country's health professions to be supportive of anti-racism efforts and inclusive so that future health care professionals enter the workspace volunteering to take the lead or participate in anti-racism and implicit bias mitigation and active upstander training. We need to create health care environments where anti-racism, implicit bias mitigation and active upstander skill development are the expectation — not the requirement — of being an existing team member."
Dr. McDougle is the associate dean for Diversity and Inclusion at The Ohio State University College of Medicine and the chief diversity officer for The Ohio State University Wexner Medical Center. His tireless anti-racism and health parity efforts are a powerful testament to his remarkable character and values, and Ohio State is very fortunate to have him as a physician, a faculty member, a leader and a friend.