Lewandowski receives 2022 Research Achievement Award of the ISHR for ongoing advancements to cardiovascular research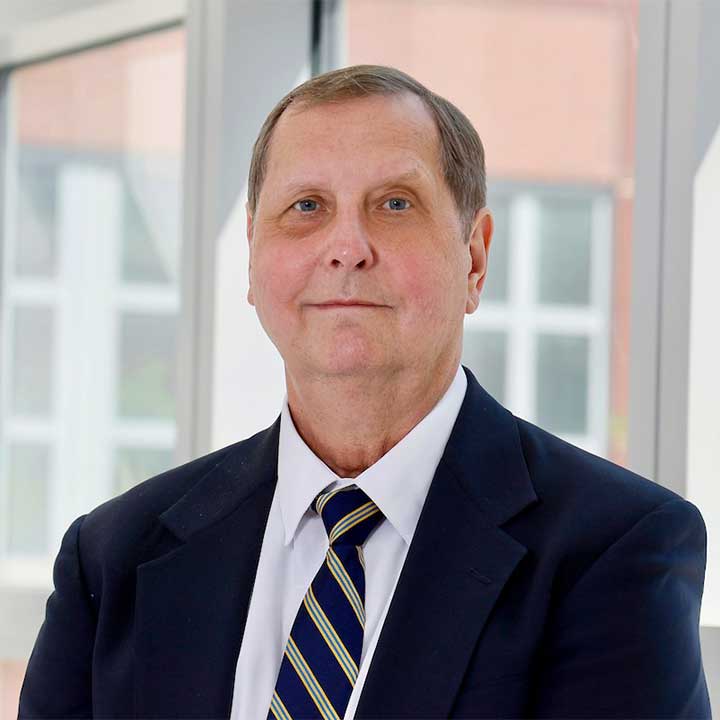 E. Douglas Lewandowski, PhD, professor of Internal Medicine at The Ohio State University College of Medicine and the Jack M. George Chair in Medicine, is the recipient of the 2022 Research Achievement Award of the International Society for Heart Research (ISHR). This award recognizes Dr. Lewandowski as "an internationally prominent investigator with a sustained and distinguished record of major scientific achievements in cardiovascular research." Awardees are considered to have a major impact on the scientific community's understanding and treatment of cardiovascular diseases.
Funded by the National Institutes of Health (NIH) for more than two decades, Dr. Lewandowski's lab researches the metabolic basis of impaired contraction in diseased hearts, as well as the impact of altered cardiac biochemistry on whole body metabolism. His work focuses on acquired heart failure, diabetic cardiomyopathy and ischemic heart disease.
Dr. Lewandowski has pioneered new procedures to visualize and quantify metabolic activity within diseased and non-diseased hearts, employing multidisciplinary approaches such as nuclear magnetic resonance, stable isotope kinetics, mass spectrometry and noninvasive imaging modalities. Combining these approaches, Dr. Lewandowski and his research group are identifying molecular mechanisms of disease within the heart muscle cells of beating hearts that can then serve as targets for new treatments to combat the heart failure. The ISHR Research Achievement Award recognizes Dr. Lewandowski's continued contributions in challenging dogma with new approaches and new levels of understanding to discover how derangements in cardiac metabolism, if not corrected, ultimately lead to heart failure.
"We have tested prospective therapies such as pharmacologic intervention, gene therapy and dietary regimens to counter metabolic inefficiencies related to the pathological heart," says Dr. Lewandowski. "A particularly exciting area of investigation has been our work in studying the dynamics of lipid metabolism in the heart. We have explored shifts in the reciprocal mechanisms of lipid storage and oxidation. These shifts influence the underlying mechanisms of lipolytic signaling for metabolic gene activation through ligand binding nuclear receptors and the formation of physiologically active or lipotoxic lipid intermediates."
Dr. Lewandowski has more than 80 peer-reviewed publications. Most recently, he collaborated with lead author Andrew Carley, PhD, assistant professor of Internal Medicine at the Ohio State College of Medicine and their research team. Their study addressed the rapidly growing interest in supporting cardiac function in heart failure patients by providing ketones as a fuel source for the high-energy demands of the heart. Their findings, published in the premier cardiology journal, Circulation, showed that failing hearts actually prefer short-chain fatty acids over ketones as an even more efficient fuel. He also found that the failing hearts of human patients contain increased levels of an enzyme that can promote short-chain fatty acid use by the heart as an adaptive response to chronic stress on the heart.
Dr. Lewandowski is a recipient of the MERIT Award (R37) from the National Heart, Lung and Blood Institute of the NIH and an Established Investigator Award from the American Heart Association. He is also an elected fellow of the American Association for the Advancement of Science, a fellow of the ISHR and a fellow of the American Heart Association.
The 2022 Research Achievement Award will be presented to Dr. Lewandowski in Berlin, Germany, at the 2022 World Congress of the ISHR, during which he will present a major lecture on his work to be published in the ISHR's Journal of Molecular and Cellular Cardiology.
"Doug's work is impactful as not only does it provide fundamental new insight into the biology of the heart muscle, but it also gives the field new pathways to treat human disease," says Peter Mohler, PhD, interim vice president of Research at The Ohio State University and vice dean for Research at the Ohio State College of Medicine. "This award recognizes Doug's scientific contributions and also his many years of thoughtful leadership and mentoring. We are really fortunate to have Dr. Lewandowski at Ohio State."
While the award recognizes Dr. Lewandowski's contributions to cardiovascular science, it also highlights the importance of advancing research into the metabolic causes of heart disease. Heart disease remains the primary cause of death in the United States, with heart failure as the only form of cardiovascular disease that is on the rise.
Congratulations to Dr. Lewandowski for this recognition of his continued outstanding work in cardiology.