Student earns historic recognition at American Association for Cancer Research Conference
Isaiah Boateng, an undergraduate student in honors Biomedical Science at The Ohio State University College of Medicine, is the first-ever African American student to earn first place in the undergraduate poster competition and caucus at the American Association for Cancer Research (AACR) Conference.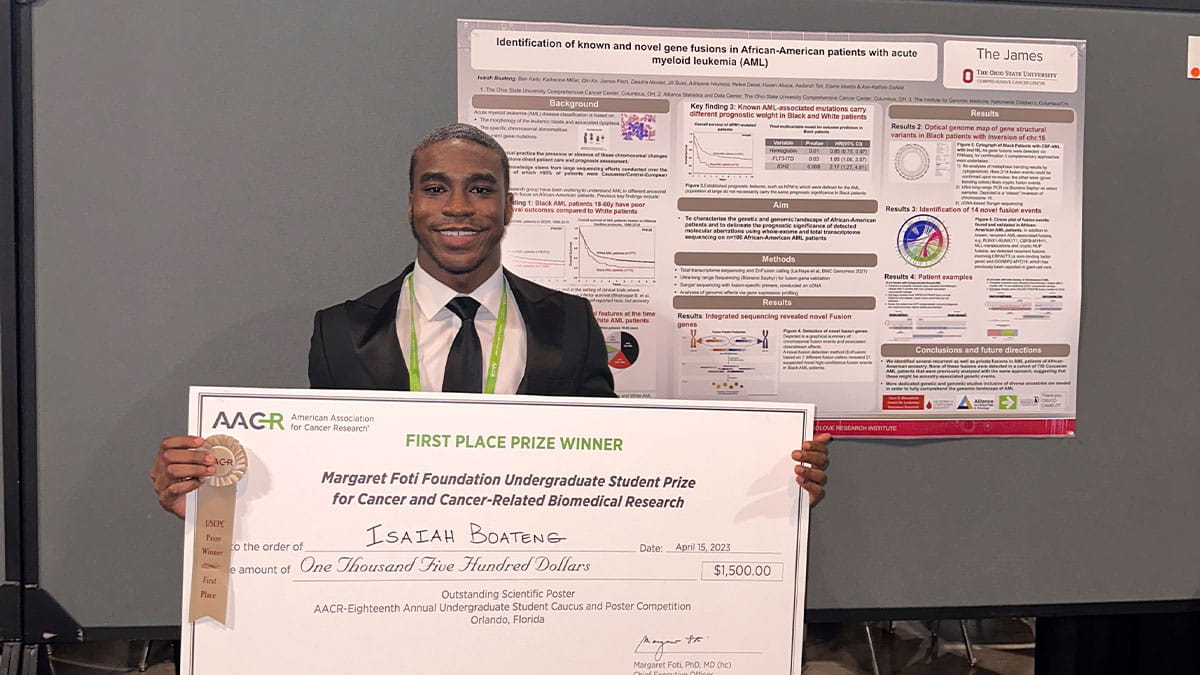 The AACR is the world's oldest and largest professional association related to cancer research.

At the conference, Boateng presented research he conducts with Ann-Kathrin Eisfeld, MD, assistant professor of Internal Medicine and director of the Clara D. Bloomfield Center for Leukemia Outcomes Research at the Ohio State College of Medicine, on understanding somatic genetic contributors to survival disparities in acute myeloid leukemia patients.
The goal of the research is to ensure cancer treatments are designed for diverse groups of patients and that racial minorities receive equal consideration and care in contributing to the understanding of cancer. Boateng says he is deeply humbled by the award and the incredible support he has received from mentors and researchers at Ohio State.

"I am grateful for the opportunity to break barriers and pave the way for future generations" Boateng says. "I hope that this accomplishment inspires other students from diverse backgrounds to help tackle the complex disease of cancer."
Boateng was introduced to cancer research in high school through an initiative called CREATES-HS, a program run by The Center for Cancer Mentoring, Education, Leadership and Oncology-Related Training. There he had the opportunity to learn about cancer discovery in the lab of the late Albert de la Chapelle, MD, PhD, a Distinguished Professor in the Department of Cancer Biology and Genetics at the College of Medicine. At the time, Dr. Eisfeld was the cancer researcher's fellow and recognized Boateng's passion and promise right away. She continues to mentor Boateng and says his relentless curiosity is unmatched.
"His involvement in the work to understand ancestry-associated differences in cancer genetics elevates his dedication to additional heights," Dr. Eisfeld says. "That and his natural ability to communicate the importance of the research and the findings contribute to his success."
Boateng reports that the award validates his hard work and the countless hours spent in the lab conducting experiments and analyzing data.
"It has also added fuel to my burning desire to pursue medicine," Boateng says. "I'm starting to apply to medical school and getting one step closer to my dream."