Department of family medicine chair named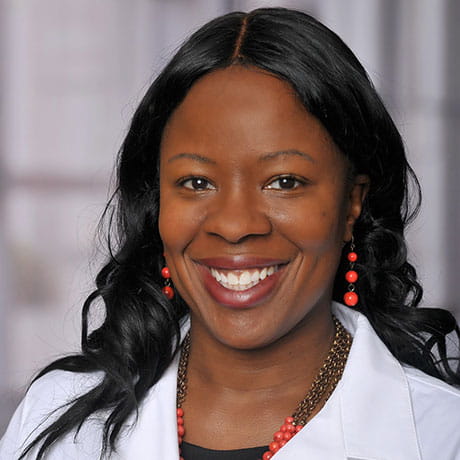 J. Nwando Olayiwola, MD, MPH, FAAFP, has accepted our offer to be the next chair of the Department of Family Medicine at The Ohio State University College of Medicine. Dr. Olayiwola comes to Ohio State from the University of California, San Francisco (UCSF). She will join the Ohio State team Sept. 1, and brings a wealth of experience in physician leadership, primary care transformation, healthcare innovation, health services research and diversity and inclusion programming.

Dr. Olayiwola received her medical degree from Ohio State and completed her family medicine residency at Columbia University. She then received a master of health policy degree from the Harvard School of Public Health, where she was a Commonwealth Fund Fellow in Minority Health Policy. This prestigious fellowship, which is awarded to a maximum of six individuals annually, is designed to prepare physicians to become leaders in transforming healthcare delivery.

Dr. Olayiwola began her career serving as the chief medical officer of Community Health Center, Inc., the largest Federally Qualified Health Center system in Connecticut, where she led a medical staff of more than 200 clinicians, transformed 12 primary care practices into Patient-Centered Medical Homes and developed Connecticut's first eConsult and tele-retinopathy programs. She was recruited to UCSF where she led the Center for Excellence in Primary Care, spearheading national and international efforts on primary care transformation and systems redesign. In 2017, Dr. Olayiwola became the inaugural chief clinical transformation officer at RubiconMD, a company that has produced the leading eConsult platform designed to improve primary care access to specialty care.

In each of these roles, Dr. Olayiwola has been highly productive. She is a prolific writer with multiple publications and books, and is an invited speaker across the world on the topics of health services research, community health, social determinants of health, primary care improvement, healthcare innovation and technology, access to care, health disparities, patient engagement, discrimination and oppression and physician burnout. She created the nation's first program to train clinical leaders in the adoption of healthcare technologies. She created a novel model to transform primary care delivery through the integration of high-value technology. Moreover, she designed and implemented the nation's first CME accreditation for educating physicians through the use of case-based electronic consultations. She founded a national program focused on developing minority women professionals in health care.

Dr. Olayiwola's wealth of leadership and entrepreneurial experience will be an asset to our Family Medicine program.