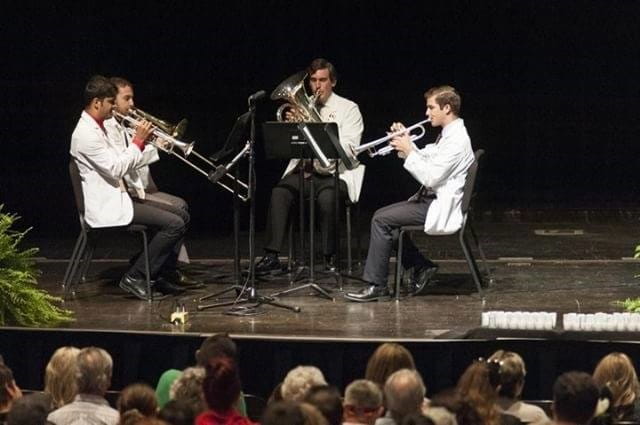 Members of The Ohio State University Professional School Orchestra will gather in 160 Meiling Hall to perform a concert in celebration of the holidays. This year, the group will present two performances, one on December 3 at 7 p.m. and another on December 6 at 12:30 p.m. featuring arrangements of Tchaikovsky's Romeo and Juliet Overture, Respighi's Pines of Rome (Finale) and John Williams' Star Wars Through the Years. The Ohio State College of Medicine UltraSound Choir will perform songs from Carol of the Bells and A Charlie Brown Christmas and conclude with a round of Carmen Ohio.
Now in its seventh year, the Professional School Orchestra originated with a small group of medical students who were determined to bring their musical talents together to form an orchestra. Today, the orchestra has expanded beyond the medical school to include students from Ohio State's other professional schools, including dentistry, law, veterinary medicine, pharmacy and optometry.
MD-PhD student Matt Lordo joined the orchestra three years ago, adding the mellow sound of his baritone euphonium to the group's musical repertoire.
"I joined the orchestra as a first-year medical student as a creative outlet to decompress from the typical stressors encountered in medical and graduate school. Not only has my time in the orchestra exceeded my expectations in terms of the quality of our performances, it has also made me a more resilient person by allowing me to channel my emotions into the music we are performing."
Today, Matt is an active leader in the program and working on building a consortium of orchestras in medical schools across the country to provide a place to share information, tips and advice, as well as a forum for networking and discussion.
An early interest in music led him to contemplate music as a major, but in the end, his love of science won out. Now in the second year of his PhD program, Matt is able to continue expanding his musical interests as an avocation, while preparing for a career in biomedical science. He will enter his third year of medical school next year and anticipates graduating with the MD Class of 2024.
The Professional School Orchestra is a student-run initiative presented by the Linda C. Stone, MD, Program for Humanism and the Arts in Medicine and sponsored by The Ohio State University College of Medicine, the Ohio State College of Medicine Alumni Society, the Ohio State Wexner Medical Center Service Board, the Ohio State Interprofessional Council and the gifts of generous donors to the Medicine and the Arts Endowment Fund through The Ohio State University Foundation.