Phillip Popovich, PhD, has been studying spinal cord injury (SCI) for more than 30 years.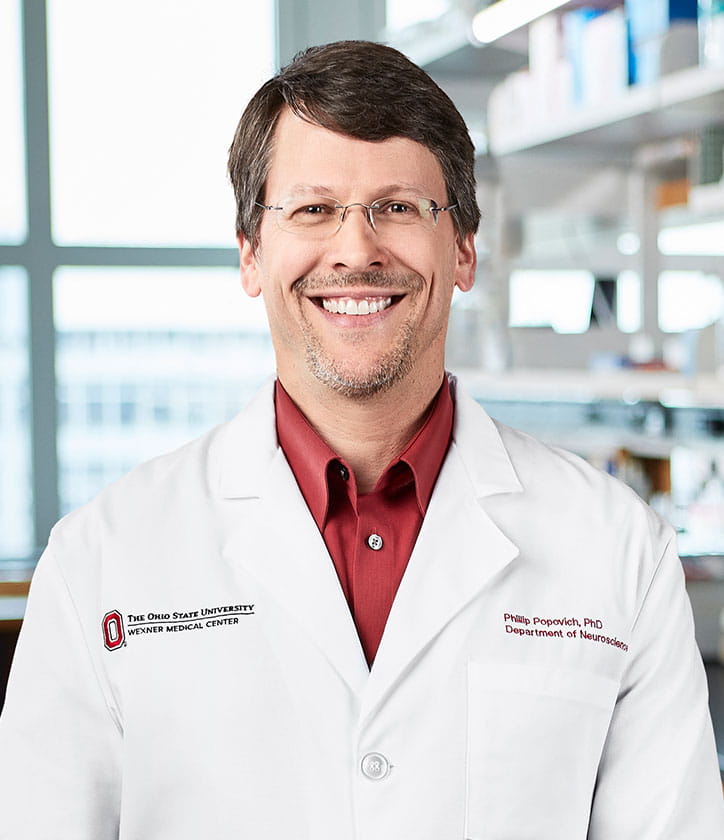 Thanks to a prestigious R35 Research Program Award from the National Institute of Neurological Disorders and Stroke, the professor and chair of the Department of Neuroscience at The Ohio State University College of Medicine can continue his vision of helping individuals who suffer a spinal cord injury.
In addition to impairing mobility, SCI often causes secondary health conditions, including cardiovascular disease, bowel and bladder dysfunction, metabolic disease (with increased obesity and diabetes), and immune dysfunction with increased risk for developing life-threatening infections or sepsis. Many of these conditions develop because SCI disrupts the nervous system, leading to a breakdown of communication between the brain, spinal cord and immune system.
"As a result of SCI, the spinal cord can no longer effectively communicate with the major organ systems," Dr. Popovich says. "This causes different comorbidities or secondary disease processes that affect quality of life and can lead to premature death.
"Patients and physicians have known that these comorbidities exist, but exactly how or why they develop isn't well understood."
Dr. Popovich says that, with the help of the R35 award, he and his team at the College of Medicine are working to understand why those systemic pathologies develop so that healthcare providers can more effectively treat them.
"This is an area of research that many SCI scientists are becoming more interested in. It's helping the research community and physicians begin thinking about SCI as a whole-body disease, rather than just a problem of paralysis."
Dr. Popovich, also executive director of Ohio State's Belford Center for Spinal Cord Injury, says the goal of his R35 is in line with the overall mission of the center, where the research team is using a holistic vision to guide the research that will reduce the onset or impact of secondary complications after SCI.
The R35 award is designed to encourage ambitious, creative science by providing stable funding to outstanding investigators' research programs, offering them the freedom to pursue longer-term, innovative research. It'll support Dr. Popovich's research with up to $750,000 per year for eight years.
"I was very honored to receive this grant," Dr. Popovich says. "It'll certainly improve the efficiency and the impact of my research, enabling me to consolidate research efforts into one topic area that I've been working on my entire career. We can now, in some ways, attack this problem without the distractions and worries that come with having to maintain many different funding sources. I appreciate the support from the National Institutes of Health and my colleagues."