What is MyHealthTrack?
Patients at the Richard M. Ross Heart Hospital needed a way to track heart-healthy behaviors between clinical visits. Developers at the College of Medicine Research Information Technology partnered with Rose Chumita, a nurse at the Ross Heart Hospital, to develop the MyHealthTrack mobile app where people could effortlessly track exercise, blood pressure and other activities after they left the doctor's office.

RIT designed both screens for a mobile app and a provider-facing dashboard, showing how the data flowed through the patient-facing app into the provider's view of the patient.
RIT's Approach to MyHealthTrack
By automatically reading data from external devices and simplifying the interface for manually entering data, RIT created an app that made it easier for patients to live a heart-healthy life.
Integrations with external monitors
Tracking physical activity is of interest to cardiac patients and their doctors, but can be cumbersome to do manually. RIT worked with FitBit and the medical center to bridge firewalls between the two data centers, so that patients using FitBits can send that data automatically to MyHealthTrack. Similarly, RIT integrated MyHealthTrack with Omron blood pressure monitors.
Seamless data entry
For data that patients entered manually, like sodium intake, RIT wanted to simplify the MyHealthTrack design to support daily use. Working with nurses to understand the technological preferences of cardiac patients, RIT built an interface where people could enter data throughout the day and receive occasional alerts if they needed to change behaviors.
Final Deliverable
The app development process was also highlighted by The Ohio State University Wexner Medical Center in their Leading the Way series.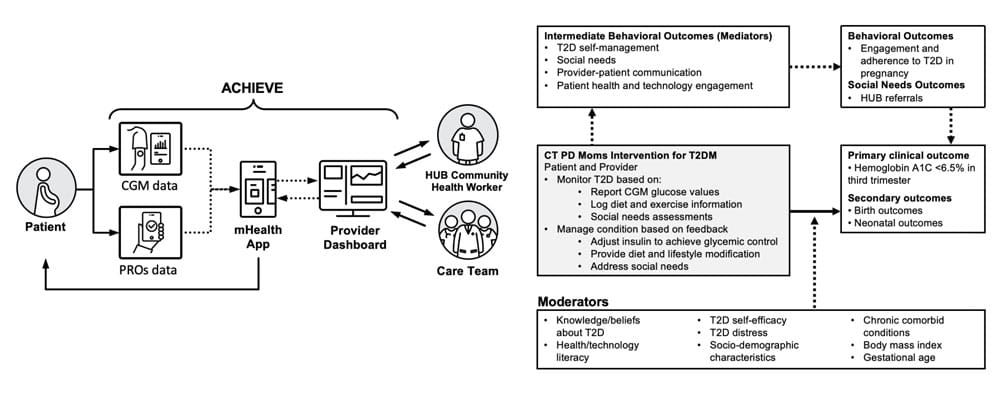 Along with screenshots of the mobile app and provider dashboard, the grant proposal illustrated how patients and providers would use ACHIEVE over the course of the patient's pregnancy.