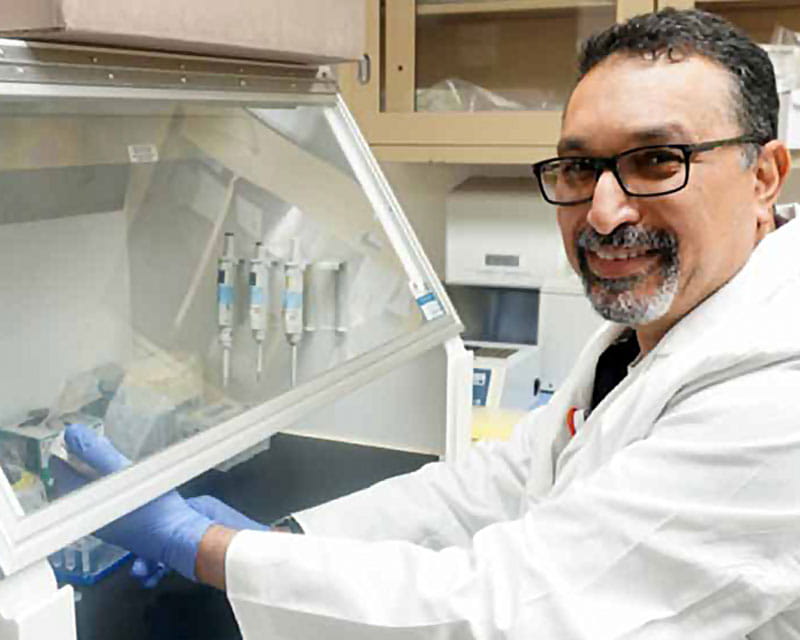 Uveal melanomas are rare, but potentially deadly tumors of the eye are one of several cancers recently linked to mutations in a tumor-suppressor gene called BAP-1. Physician-scientist in the Department of Ophthalmology and Visual Sciences Mohamed Abdel-Rahman, MD, PhD — whose laboratory identified BAP1 tumor predisposition syndrome (BAP-1-TPDS) in 2016 — has been awarded a grant from the National Cancer Institute (NCI) to assess the risk for different cancers in patients who inherit mutation in BAP-1. He hopes to identify any additional cancers associated with genetic alterations in BAP-1, determine the mutations that cause these diseases and develop an assay to test for the disease-causing potential of different genetic alterations in this gene.
"It's exciting work with a huge potential to benefit patients who are at risk for multiple different cancers from this gene, and it could also lead to new research on possible therapeutic agents to prevent or fight these cancers," says Dr. Abdel-Rahman. "There is still so much to learn about these BAP-1 mutations and their potential to cause disease."
Applying new knowledge to improve care
For the past 12 years, Dr. Abdel-Rahman's laboratory has been studying the genetic causes of uveal melanoma and genomic alterations in the tumors. One of his laboratory's most important discoveries is the identification of a BAP-1-TPDS, which has been linked with predisposition to four cancers: uveal (ocular) melanoma, mesothelioma, cutaneous (skin) melanoma and kidney cancer. Other cancers have been reported in patients with germline BAP-1 mutation, but it's not clear whether they're part of BAP-1-TPDS.
Building upon this discovery of BAP-1-TPDS, Dr. Abdel-Rahman is also working to create a multispecialty clinic with colleagues at The Ohio State University Wexner Medical Center and The Ohio State University Comprehensive Cancer Center – Arthur G. James Cancer Hospital and Richard J. Solove Research Institute. This unique clinic will provide individualized and precision-based care to patients who have a mutation in the BAP-1-TPDS and may be at risk for uveal melanoma and other cancers. In addition, the multidisciplinary BAP-1-TPDS clinic will provide patient and family counseling.
"After years of work in the research lab, we're able to translate our findings to help these families who are at risk for multiple cancers by early detection and thereby improve their outcomes and their lives," says Dr. Abdel-Rahman. "That's always been our ultimate goal — to improve diagnosis, care and treatment for uveal melanomas and other potentially related cancers."