Recently appointed genetic counselor oversees program focused on genetics of eye diseases and ocular conditions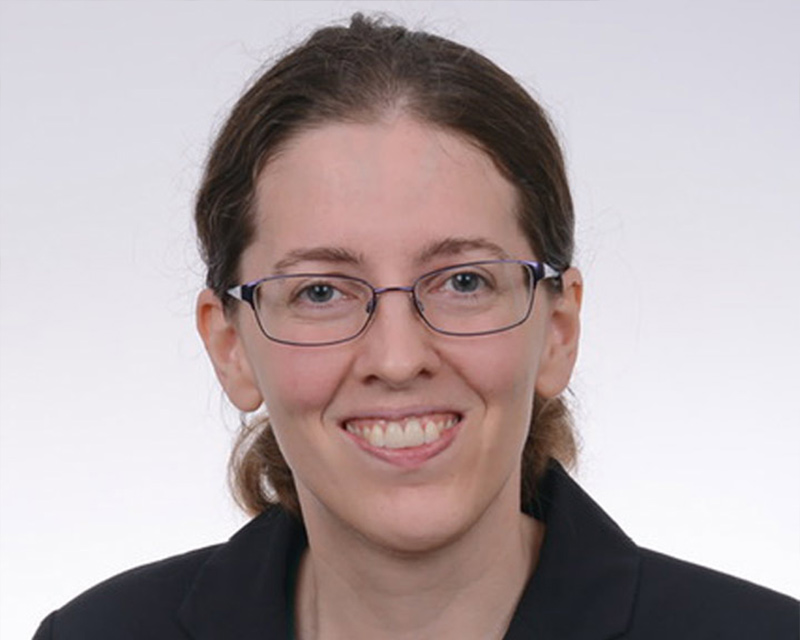 The Genomic Medicine Program at The Ohio State University Wexner Medical Center is expanding to include genetics of eye disease and ocular conditions. In the Department of Ophthalmology and Visual Sciences (DOVS), statistical genetics expert Raymond Gao, PhD, and clinician scientist Sayoko Moroi, MD, PhD, were recently joined by ophthalmic genetic counselor Kara Williams, MS, LGC. Williams oversees the new DOVS program. She also provides genetic counseling and education of genetic test results for patients with inherited retinal dystrophy, glaucoma, corneal dystrophies, keratoconus and other inherited eye diseases and conditions. In addition, she works with Dr. Gao and Dr. Moroi to build the DOVS program in genetics of eye disease and ocular conditions by enrolling patients in genetics research.
Williams is one of a small number of genetic counselors nationally who are committed solely to eye diseases and eye conditions. She completed a master's degree in human genetics at Sarah Lawrence College in New York City and interned at the Retinal Dystrophy Clinic, Duke University Eye Center.
The combination of clinical practice and research is a strength of the DOVS program, according to Williams. The team of Williams, statistical geneticist Dr. Gao and clinician-scientist Dr. Moroi will build precision-based medicine for the eye with the initial steps of understanding the genetic architecture of a patient's eye disease and ocular conditions. After these initial steps, translational research can be designed to improve vision outcomes by developing innovative treatments based on a patient's genetic makeup. Such tailored treatments are expected to improve vision outcomes by shifting from the trial-and-error treatment approach to novel molecular treatments based on the genetic causes of ocular disease.
Genetic research for eye conditions
An important aspect of research for the new program in genetics of eye disease and ocular conditions is building a de-identified database with samples from patients who have eye diseases and conditions. Each participant's profile will also include demographic information, ocular diagnoses/phenotypes, systemic diagnoses, medications, and ophthalmic imaging and testing.
For patients with glaucoma and corneal dystrophies, current clinical genetic testing reveals a molecular cause of the disorder only about 10% of the time. "If we don't find a genetic cause for their disease, then we ask patients if they'd like to be part of the research. We inform them that they can help us find other genetic causes for their conditions," Williams says. "If patients are willing to be tested and to be part of genetic research, then they contribute greatly to increasing genetic discoveries about their condition. The more genetic testing we do, the more we learn about the molecular causes so potential innovative treatments can be developed down the road."
Williams adds that genetic testing for about 60% to 75% of patients with inherited retinal dystrophies reveals a genetic variant that might be the cause of the condition. Although the number is significant, she and her physician colleagues see the future direction to tailor treatments based on specific genetic variants.
Other related research has been initiated by Dr. Gao, who is determining polygenic risk scores for intraocular pressure (IOP) and for glaucoma. This line of research focuses on ocular conditions that have multiple genetic variants whose cumulative effects can be aggregated into a single risk score.
He published a study of half a million people in 2019 (Gao XR, Huang H, Kim H. Polygenic risk score is associated with intraocular pressure and improves glaucoma prediction in the UK Biobank cohort. Translational Vision Science & Technology 2019), describing a significant association between the polygenic risk score and IOP, which is the major treatable risk factor for glaucoma.
Ophthalmic genetic counseling and testing
Williams currently is scheduling patients with glaucoma, corneal dystrophy and inherited retinal dystrophy for genetic counseling sessions. Because of the COVID-19 pandemic, sessions are conducted remotely. Eventually, both telehealth and in-person clinic appointments will be offered to patients.
The counseling session includes creating a three-generation family pedigree and discussing ocular disease risk for the individual and immediate relatives. During genetic counseling, Williams explains the benefits and limits of genetic testing and makes a recommendation.
She notes, for example, that a lot of retinal dystrophies look similar clinically. "Genetic testing can be very important in distinguishing which type of dystrophy a person has."
In addition, once a pathogenic variant in a gene is identified, it's often possible to identify a clinical trial offering gene therapy in which a patient may be eligible to enroll.
"Currently, there is one treatment that involves an intravitreal injection of a gene with good early visual outcomes," Williams says. She cites the initial gene therapy, Luxturna, as an example of a proven treatment approved by the Food and Drug Administration for confirmed biallelic RPE65 mutation-associated retinal dystrophy, a type of inherited retinal dystrophy. Physicians can offer this gene-based therapy to alter the course of this blinding disease.
At the Ohio State Wexner Medical Center, "We're looking at the whole patient and everything going on with them so we can tailor treatment for that patient," Williams says. "We also want to identify family members at risk, because prevention of blinding eye conditions is part of our mission of 'restore, preserve and enhance vision to improve lives'. Our team is excited to push forward precision medicine to make discoveries, to deliver better care, and to improve our patients' lives."
For patients: Learn more about genetic testing for eye diseases