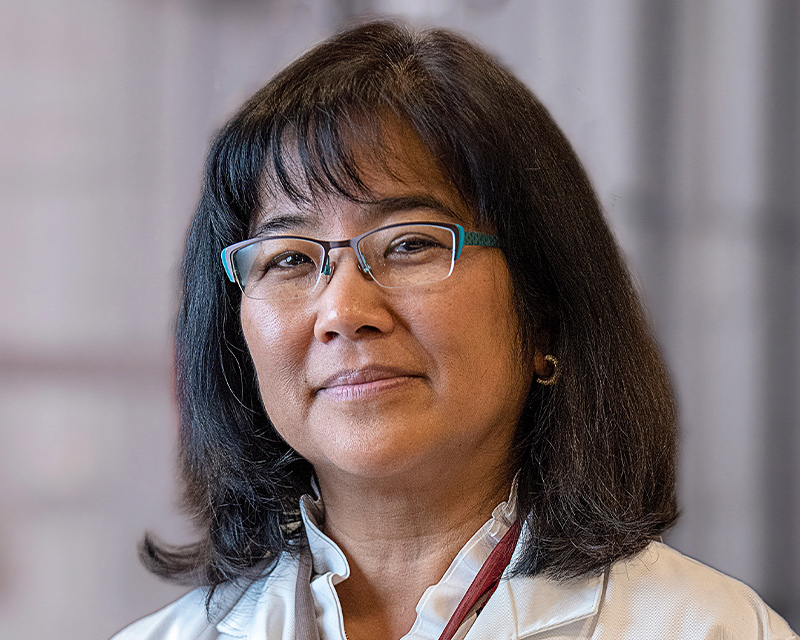 Researchers at Ohio State are harnessing the power of genetics to shift from "event-based" clinical care to a precision-medicine approach. This shift holds promise to reduce and even prevent glaucoma-related blindness. Sayoko Moroi, MD, PhD, a glaucoma specialist and chair of the Department of Ophthalmology and Visual Sciences at the Ohio State Wexner Medical Center, is collaborating with a team of scientists and clinicians to determine which patients are most susceptible to glaucoma-related blindness and how best to treat them.
The need for glaucoma research
Glaucoma is a major cause of blindness in the United States and worldwide. Globally, glaucoma-related blindness in one eye is reported to be as high as 42%, Dr. Moroi says.
"With new advances in medical therapy, one study reported a reduction of blindness in one eye from 28% to 14% between 1965 through 2000 in a specific U.S. region. While this is progress, we need to do better," she adds.
While new treatments are available to slow the progression of glaucoma, they can be cost-prohibitive and still don't offer a cure.
"As clinicians, we use a trial-and-error approach to treating patients with glaucoma," Dr. Moroi says. "At this point, the only treatment that has shown to be effective in slowing down the advancement of glaucoma is lowering eye pressure."
Studying the genetic components of eye pressure
Despite the knowledge that eye pressure is a clinical risk factor for glaucoma, the challenge remains that eye pressure can fluctuate wildly in an individual patient and vary from one individual to another. Ophthalmologists don't fully understand why.
"It's challenging to sample enough eye pressures in an individual to capture enough data to identify those people at risk for glaucoma," Dr. Moroi explains. "Pressure screening is not a good way to identify patients at risk because of the variability in a person and between individuals."
That's where genetics comes in. Raymond Gao, PhD, an associate professor in the Department of Ophthalmology and Visual Sciences, Department of Biomedical Informatics and Division of Human Genetics at The Ohio State University, is studying the genetic architecture of eye pressure and developing genetic risk prediction models. Dr. Moroi expects these discoveries to offer new opportunities for eye pressure assessment.
"The application of genetic risk models is being applied with the goal to improve outcomes for a variety of conditions, such as obesity, heart disease, type 2 diabetes and breast cancer," she says. "Dr. Gao and I hypothesize that a combination of genes that have already been linked to eye pressure will also predict individuals who will have pressure spikes versus those who have a more flat pressure profile.
"In our research, we're moving beyond clinical risk factors of glaucoma, such as eye pressure, older age and a thin cornea, to include these genetic models that may improve our ability to diagnose patients earlier and to know which patients have a risk for large pressure fluctuations and who we need to treat more aggressively to flatten their eye pressure profile," Dr. Moroi explains.
Gathering accurate eye pressure data
Currently, ophthalmologists assess eye pressure by gathering data during office hours, typically between 8 a.m. and 5 p.m. However, a patient's eye pressure can fluctuate throughout the day, and physicians aren't capturing the data outside of office hours.
Dr. Moroi and her colleagues are using a portion of her National Institutes of Health (NIH) grant to study the measure of the factors that determine eye pressure and fluctuation. Eye pressure can be determined by the eye's fluid production, fluid drainage and blood pressure.
"We can measure these factors by measuring the inflow of fluid, drainage of fluid and venous pressure of the eye," she says. "In individuals, we can parse out the relative contributions of inflow, outflow and blood pressure factors that determine the eye pressure and eye pressure fluctuation. The measurement of these basic factors of eye pressure is called aqueous humor dynamics."
Her team will study 200 patients from Ohio State, the Mayo Clinic and the University of Nebraska, who have either glaucoma or ocular hypertension, which is high pressure without signs of nerve damage.
"We have excellent clinical team members at those sites. We will build upon our database of these same measures in individuals who have healthy eyes without glaucoma," Dr. Moroi says.
Pressure parameters with therapeutic interventions
In addition to studying these basic factors without medication, the research team is looking at these factors under treatment with commonly used glaucoma drugs. Patients will be randomized to the order of treatment starting timolol treatment for one week, then the patient will wash out the therapy and switch to latanoprost treatment for one week. The other group of patients will start with a one-week latanoprost treatment, wash it out and switch to a one-week timolol treatment.
Under each treated condition, they will measure the inflow and outflow of fluid and the eye pressure and venous pressure to see if there's a pattern of individual physiological factors that relate to being a "poor responder" or "super responder" to therapy.
Utilizing at-home eye pressure measurement technology
The second part of this study involves training participants to use a new technology called iCare HOME. This is an instrument that allows patients to measure their own eye pressure without the use of eye drops. They are taught how to use the technology at home in between study visits.
"There's a huge added value to understanding eye pressure fluctuation in a real-world environment," Dr. Moroi says.
After collecting blood samples from each of the research subjects, the research team will look at the variation within genes, known as single nucleotide polymorphisms, or SNPs, linked to eye pressure. They will determine if a certain genetic architecture relates to eye pressure fluctuations and glaucoma drug responses.
"That will take at least another five years, since we are just embarking upon this study now, but we are very excited about studying genetics and glaucoma pharmacology," Dr. Moroi says. "We hope the study will guide us to improve upon our current clinical approach so that we can improve glaucoma outcomes. We hope it will take the guesswork out of deciding which therapy to use for patients. Additionally, we expect that this combined genetic and clinical risk approach will result in time-saving measures for patients and doctors, so that patients don't have to return to the office for unnecessary office visits for eye pressure checks."
Researching fluid drainage of the eye
Dr. Moroi is also working on a research study related to fluid drainage in the eye. She collaborates with colleagues at the Food and Drug Administration (FDA) and New York University to adapt an imaging system for the retina and apply it to the eye drainage system around the cornea. Her goal is to map an individual's eye fluid drainage system so ophthalmologists can determine the right surgical approach to treating drainage issues.
To develop this imaging of the drainage pathway, she is working with engineering colleagues at the University of Michigan to study the tissue mechanics of the white tissue around the cornea, called the perilimbal sclera. The drainage vessels of the eye reside in this tissue. This project is funded by a National Science Foundation (NSF) grant.
Many new surgical techniques to correct drainage issues place small implants into what she calls the eye's "shower drainage system," so fluid can drain into the Schlemm's canal. Dr. Moroi's hypothesis is that premature degeneration collapses the downstream drain pathways and leads to glaucoma.
"This surgical approach into the Schlemm's canal drain works from the major assumption that the 'shower drain' further down in the eye is open," Dr. Moroi says. "We currently don't have a good way to see or image that important drainage area. We're doing guesswork to determine if a patient will have a good outcome."
She believes that if she can develop an imaging system as a preoperative assessment, ophthalmologists can stop guessing and determine which surgery will be most beneficial for the patient.
"We call this 'precision medicine' based on targeting glaucoma surgery from the individual's drainage pathways," Dr. Moroi says. "As we delve further in our understanding, we may be able to flip that understanding to regenerative medicine, where we can take molecules and perhaps regenerate drainage pathways and support the sclera to foster a rejuvenated drainage pathway."