iCare HOME tonometers enable IOP variation assessment in weeks instead of months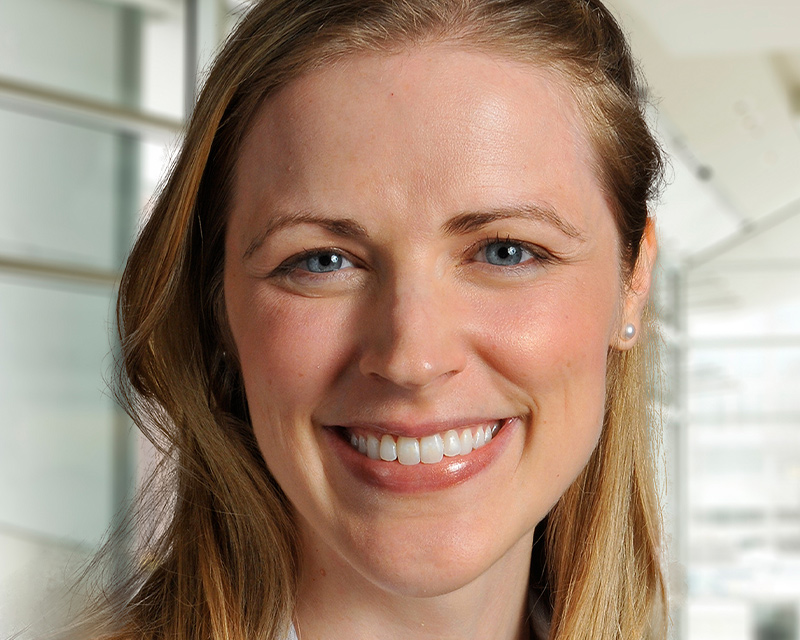 Select glaucoma patients at The Ohio State University Wexner Medical Center now have the ability to gather more intraocular pressure (IOP) data at home with an iCare HOME tonometer. Approved by the Food and Drug Administration in 2017, the hand-held device uses a tiny, disposable probe that makes momentary, painless contact with the corneal surface. The patient uses this instrument to record IOPs several times daily and even during the night.
The Ohio State Havener Eye Institute is among the first in central Ohio to provide this remote physiological monitoring technology to patients.
"This very valuable tool helps clinicians more efficiently develop target IOPs, assess efficacy of glaucoma treatment strategies and have patient-centered discussions regarding treatment options," says Andrea Sawchyn, MD, director of the Glaucoma Division at the Ohio State Wexner Medical Center. "Because we can have information in a week or two rather than slowly gathering this data over office visits spanning six to 12 months, we can more quickly assess the patient's individual IOP variation."
The device is an alternative to: 1) an eight-hour day in the ophthalmology clinic to assess the patient's diurnal curve and 2) slowly assessing the diurnal curve through office visits spanning several months at alternating times of day. Instead, patients can do the readings in their own home four to five times a day: first thing in the morning, at lunch time and dinner time, before bedtime, and in the middle of the night, should they happen to wake up to capture some nocturnal IOP data.
The Eye Institute loans out the tonometers, much like a library lending system. Device rental and interpretation of data are billed to the patient's insurance plan when using a 16-day monitoring period.
After the patient returns the tonometer to the Eye Institute, an ophthalmic technician downloads the recorded IOP readings for physician review. Patients also have the option to upload the data to a secure network via a smartphone.
How iCare HOME impacts treatment
"A patient may come into the office, and the pressure may seem fine. For example, I recently had a patient whose maximum pressure in the office appeared to be 16 after several visits with her referring optometrist, but using home tonometry, her Tmax was 23," Dr. Sawchyn says. She asked the patient to continue to use iCare HOME to obtain more data to better characterize her diurnal curve and even some nocturnal IOP data.
"With this data, we eliminated months of trial and error identifying an appropriate target IOP for this patient," Dr. Sawchyn says.
In addition to substantially decreasing the amount of time needed to set appropriate goal IOPs, data from the device helps ophthalmologists evaluate how well a selected treatment strategy is working.
Dr. Sawchyn says the iCare HOME data also may provide convincing evidence to patients whose eye pressures are out of control but who are still reluctant to pursue aggressive treatment such as surgery. "Visualizing the data can sometimes help patients better evaluate the best treatment options moving forward," Dr. Sawchyn explains. She emphasizes the importance at the Ohio State Wexner Medical Center of patient-centered care that's tailored to a patient's own physical and psychosocial needs.
Which patients benefit?
This remote technology is most helpful for patients with normal tension glaucoma based on IOP data collected during office hours, Dr. Sawchyn says. She notes that it can be difficult to know these patients' true maximum IOP, and iCare HOME provides a more efficient method for determining that data point.
Other patient populations who can benefit from iCare HOME include:
Working professionals who find it difficult to come to an office for pressure checks during normal business hours
Patients frequently traveling nationally or internationally
Patients in rural areas who don't have easy access to a local optometrist or ophthalmologist
Patients who are anxious about taking the next step in their glaucoma management
Patients who are not candidates include those with poor central vision, poor uncorrected visual acuity, severe dry eyes, severe corneal disease, constricted visual fields, or mechanical difficulties with using the device, such as arthritis.
Dr. Sawchyn concludes, "While glaucoma management remains a blend of art and science, the iCare HOME empowers eye specialists with reliable data to refine patient-centered glaucoma care."
For more information, call 614-293-8760.