Why to Wear a Mask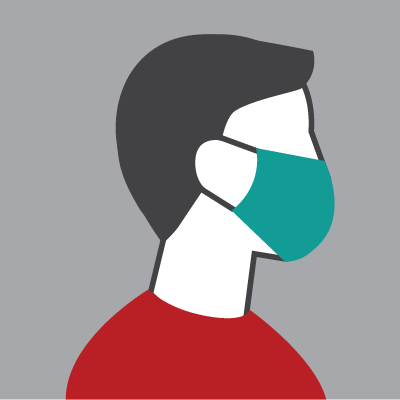 Studies have shown that a significant portion of people with coronavirus lack symptoms and that even those who eventually develop symptoms can transmit the virus to others before showing symptoms.
In other words, we can never be 100% certain that we don't have the virus. This is why wearing a mask is an important safety step we can take to protect others.
Because the virus can spread between people interacting in close proximity—speaking, coughing or sneezing—the CDC recommends wearing cloth face coverings where social distancing measures are difficult to maintain.
The cloth face coverings recommended aren't surgical masks or N-95 respirators, which remain critical supplies that should be reserved for health care workers and other medical first responders. Here are directions for making your own cloth mask.
How to Wear a Mask
Wash your hands well before putting the mask on and after taking it off.
Also wash your hands if you touch your mask to adjust it. Use soap and water or alcohol- based hand sanitizer.
Fit elastic bands behind your ears, or tie the top ties at the middle of your head and the bottom ties around the back of your neck. If applicable, pinch the wire at the top of the mask edge around the top of your nose to make a snug fit.
Pull the bottom of the mask down over your chin. Be sure the mask covers your nose and mouth.
Try to avoid touching the mask to prevent spreading germs to or from the mask. Before you remove your mask, wash your hands well.
Remove the mask without touching the front of the mask.
You can include your face covering with your regular laundry or wash by hand using a solution of 5 tablespoons (1/3 cup) bleach per gallon of room temperature water. Soak for five minutes and rinse thoroughly. Allow to dry completely.
Donning of Isolation Masks: Non-Clinical Staff
Doffing of Isolation Masks: Non-Clinical Staff