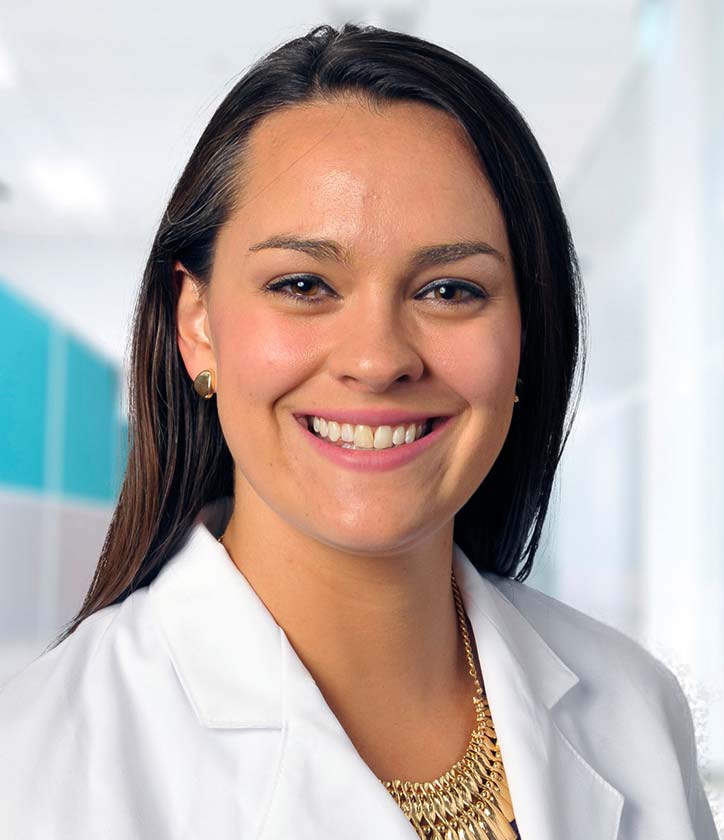 Briefly tell us who you are.

I'm Ashley Larrimore. I'm an emergency physician at The Ohio State University Wexner Medical Center, the medical director for the Center for EMS, as well as the medical director
for Newark Fire Department and Whitehall Division of Fire, and an assistant medical director for MedFlight and Clinton Township Fire Department. I'm also a board certified
EMS physician.

Where did you do your training?

I completed my undergrad and medical school at George Washington University in Washington, D.C., which was eight years total. I did a three-year emergency medicine residency in my home
state at the University of Massachusetts before moving on to a one year emergency medical services fellowship at the University of Cincinnati.

What made you interested in becoming an emergency medicine physician with a subspecialty in EMS?

I never really had an interest in emergency medicine or EMS growing up. I thought I wanted to go into pediatrics and then do a fellowship in hematology/oncology. During med school, I liked
everything but loved nothing, but I did know I liked taking care of the really sick patients and I liked doing procedures. When I did my emergency medicine rotation during my fourth year of med
school, I felt at home, so I decided to apply to emergency medicine instead of pediatrics. At my residency we flew as flight physicians with UMass Memorial Lifeflight, which I loved, and then I did an EMS elective as a second year. I thought it was a lot of fun and it was such a different experience practicing medicine in the field than in the hospital, so I decided to do an extra year of training in it.

What exactly is an EMS physician/medical director and what do you do?
An EMS physician is a doctor who is a specialist in prehospital medicine (think of it like a cardiologist – they are internal medicine doctors who have extra training in all things having to do with the heart). EMS physicians are specialty trained in the clinical aspects, medical oversight, quality management and special operations of EMS systems. EMS was officially recognized as a subspecialty of emergency medicine in 2012, although there have been doctors doing EMS for years before this.

A medical director is the physician who is responsible for the oversight of an EMS agency. They do not have to be an EMS physician – as a matter of fact, most medical directors are not. Many medical directors are emergency medicine physicians but there are also doctors from many other specialties. Medical directors are the ones ultimately responsible for the clinical care of the patient – we need to make sure the prehospital team has good protocols to operate under and that they are meeting standards of care.

Do you work at both Ohio State hospitals?

Yes, I split my time clinically about 50-50 between Ohio State Wexner Medical Center University Hospital and East Hospital. They are really different hospitals with different patient populations, so the variety is nice. At University Hospital I spend more time in a supervisory role to the residents, and at East I still supervise residents and APPs, but I also get to see some patients on my own and do my own procedures, which is a lot of fun.

Do you teach at the College of Medicine? What is your role with the residency program?
I do not teach at the College of Medicine in any formal role. As attendings in the ED, we do teach medical students when they are working with us on clinical shifts, but I do not teach formal lectures or anything of that sort.

In the emergency medicine residency my role is similar – my main job is supervising and teaching the residents while they are on shift. We also do more formal teaching on their weekly Wednesday
conference days that all of the residents attend. I am also in charge of their EMS rotation that they complete during their second year, so I spend some time giving them lectures on EMS and going over EMS case reviews with them.

What do you enjoy outside of work/hobbies?
I like doing almost any type of exercise except running. That translates in my non-work free time into biking, hiking and indoor climbing (when I can find someone to go with me). I also love to read
and usually am reading several books at once. If I'm working normal business hours or I'm not working at all that day, I love to experiment with cooking.

Do you have any pets?
We have two: a fawn pug named Obi and a little black rescue cat named Kylo Ren. We really like "Star Wars" in our family.

What is your favorite part of your job?
Honestly, I really enjoy the people. There are so many smart, motivated and talented men and women working in EMS in our area – everyone from the leadership down to the street medics/EMTs. I'm always so impressed by what they are doing every day and by the care they are able to provide in environments that can be really challenging.

What is one memory that has really resonated with you?
When I was a resident, one of my first solo flight physician flights was to a tiny hospital in western Massachusetts. I was about a month into my second year (we don't fly alone as interns), and we had a call for a really sick, unstable patient. I got to the hospital and the doctor caring for the patient, who was clearly much more seasoned than me, said, "Oh, I am so relieved to see you. This patient is really complicated and I know you guys can help him." In that moment I remember having a brief, "You want me to put him in the back of this helicopter with just me and the nurse for 30 minutes?! If you can't care for him how can I?!" before the flight nurse and I sprang into action. It's still one of the hardest and scariest flights I've done, but it was so rewarding to get that patient safely to the hospital and in better condition than when we got him. Thank God for an awesome, experienced nurse that day!
Read more stories