We are committed to helping every person with multiple sclerosis (MS) manage complex symptoms and make lifestyle changes that can improve their day-to-day living, which is why we offer a dedicated MS Quality of Life Clinic. After your first visit with your MS doctor, you may be referred to this clinic for additional targeted care.
Finding the issues that matter to you
You may wonder what we mean when we say "Quality of Life." While the exact definition depends in large part on what is important to you, it's generally defined as the degree to which a person is healthy, comfortable and able to participate in and enjoy activities and events. There are five areas that may impact how you feel about your own situation and well-being: Your physical health and function Your mental health and outlook Your social support and relationships Your economic and work situation Your religious or spiritual life
MS can affect each of these categories in different ways, and some categories may be more important to you than others. Depending on your personal goals, the team of specialists in the Quality of Life Clinic can help you make changes that lead to improvement in one or more areas.
You're at the center of everything we do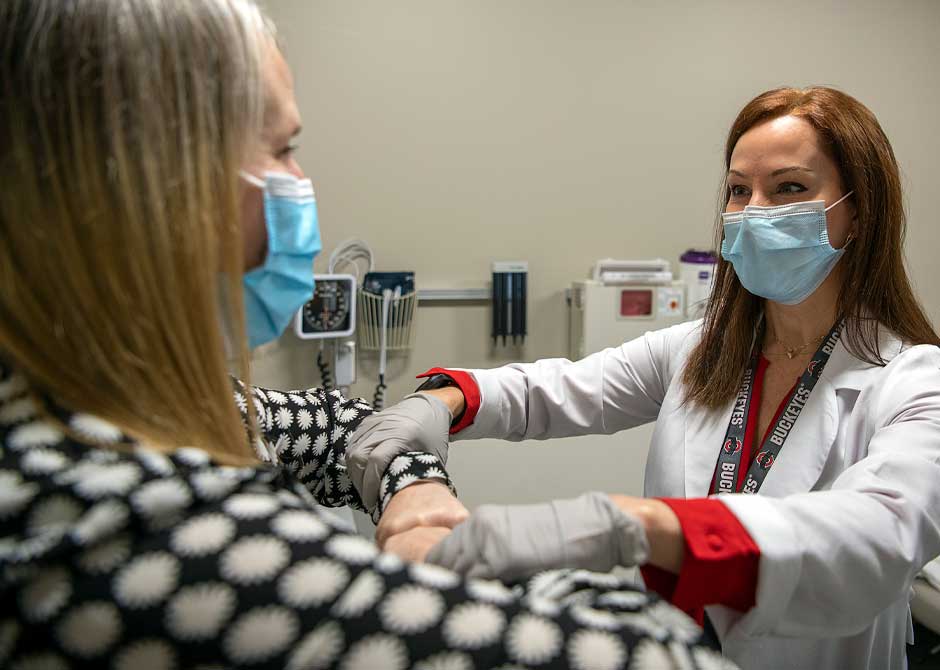 We are here to support you as a whole person.
When you come to this clinic, we'll use several screening tools to help us understand the impact MS has on your quality of life. We'll assess your overall health, fatigue levels, pain, sexual satisfaction, bladder control, bowel control, vision, perceived deficits, mental health and available social support. We'll explore diet and exercise, and we'll also share important MS education and information about disease-modifying therapies. If you have additional questions or concerns about your diagnosis or current care, this first visit is a great time to ask.
Your visit to the Quality of Life Clinic might also include testing, such as magnetic resonance imaging (MRI), optical coherence tomography (OCT), bladder scans and blood tests.
Once we determine the impact MS has on your daily life, we'll work together to identify your personal goals, as well as develop our shared goals in long-term disease management.
Creating an MS care plan
Knowing your own starting point is an important first step and allows our entire MS team to develop a more effective plan for the future. For complex, persistent or worsening MS symptoms, we may refer you to our MS Multidisciplinary Symptom Clinic, which is another clinic that streamlines care by coordinating multiple appointments on the same day with a full range of medical experts, all with MS experience and all with access to your pertinent medical history. This can include a pharmacist, psychologist, neuropsychologist, pain specialist, urologist, and physical, occupational or speech therapists, among others.
Depending on additional challenges that impact your quality of life, we can also recommend specialized services or refer you to any other expert at The Ohio State University Wexner Medical Center. As examples, this could include a wheelchair fitting through Outpatient Rehabilitation Assistive Technology, help with community resources from a social worker or a detailed sleep study at Ohio State's Sleep Disorders Center. There are no two plans alike, just as there are no two patients alike.
At the end of your first visit to the MS Quality of Life Clinic, you'll leave with a welcome packet that includes more information about your disease, available resources and important contact information. We also hope you'll leave feeling more empowered and optimistic about your life.
To improve and maintain your quality of life long- term requires follow-up. We'll want to see you back in our clinic every three to six months so we can check progress, rescreen you for new symptoms or issues and adjust your care as needed. We consider this an ongoing process of three steps: Reflect. Refine. Repeat.
Quality of Life Clinic Leaders
Your overall experience in the MS Quality of Life Clinic is managed by our lead physician, Tirisham Gyang, MD, and lead advanced practice provider, Kristi Epstein, APRN-CNP, but every aspect of your treatment plan is shared with your primary MS neurologist and other specialists involved in your health care.
Learn more about MS