Psychology Education and Training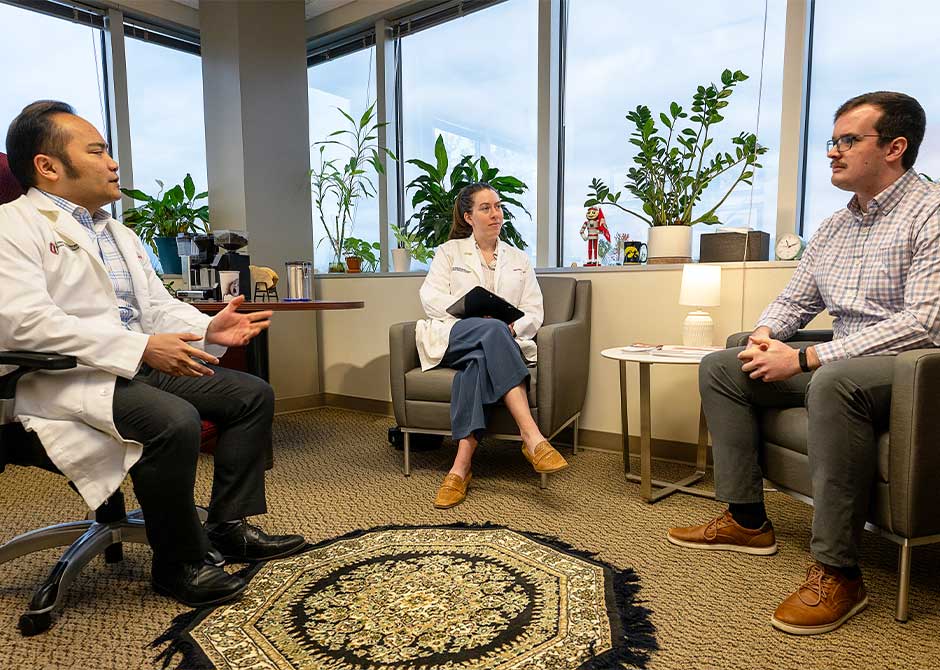 The OSU Wexner Medical Center Neuropsychology Faculty is actively involved in the education of psychology doctoral trainees, predoctoral interns, and postdoctoral fellows. All of our training programs are developed and implemented in consideration of the guidelines outlined in:
Houston Conference Guidelines Criteria
Commission for the Recognition of Specialties and Proficiencies in Professional Psychology of the American Psychological Association
Association of Postdoctoral Programs in Clinical Neuropsychology (APPCN)
Neuropsychology Externship
The externship program offers neuropsychology practicum positions each year for predoctoral psychology graduate students from a range of institutions in the area, such as The Ohio State University and Ohio University. This practicum experience provides an opportunity to learn more in-depth information about different types of neuropsychological syndromes, and common referrals include the assessment of cognitive concerns secondary to neurodegenerative diseases, major medical illnesses or developmental disorders. The experience focuses on the enhancement of skills pertaining to case conceptualization, test interpretation and communication of test results through written reports and oral presentations, with training structured according to the students' experience level.
Neuropsychology Internship
Selected individuals who match for The Ohio State University APA-accredited predoctoral internship rotate in the neuropsychology clinic. Interns in this setting are trained regarding the utility of outpatient neuropsychological assessment in an academic medical center and learn how to administer and interpret standard neuropsychological tests, conduct diagnostic interviews with psychologically/medically complex adults, and write informative clinical reports with tailored recommendations. Click here for more information about the The Ohio State University Psychology Internship Program.
Neuropsychology Fellowship
The postdoctoral fellowship program is a member of the APPCN and offers one a 2-year training position in adult clinical neuropsychology. Clinical experiences include 3-4 full neuropsychological assessments per week. The fellow will utilize both hands-on neuropsychological testing and the use of a technician or predoctoral student for neuropsychological testing. Fellows have opportunities to provide supervision and training to doctoral students, interns, psychometrists, and research assistants. Fellows will receive a face-to-face clinical supervision on every case by the Neuropsychology faculty. Assessment is primarily outpatient, although inpatient experience is available as well. Fellow have opportunities to rotate in the following rotations, educational opportunities, and research experiences:
General Adult Neuropsychology Clinic: Fellows in this rotation will gain breadth in their differential diagnosis skills. Referrals are received from a range of departments, including Internal Medicine, Family and Community Medicine, Neurology, Psychiatry, Transplant Medicine, Cardiology and other specialties. Under the supervision of an attending, fellows are expected to select and complete neuropsychological batteries to address referral questions, and to deliver this information to the referring physician and the patient. This rotation is ideal for individuals with specialty neuropsychology training who would benefit from a broader understanding of neurocognitive dynamics across common medical conditions and demographics.
Movement Disorder Clinic: The medical team at the Center for Neuromodulation of The Ohio State University's Wexner Medical Center is nationally recognized for their work in deep brain stimulation and focused ultrasound ablation treatment for conditions such as essential tremor and Parkinson's disease. Our neuropsychology team provides pre and post-surgical cognitive and psychological evaluations to help identify candidates for surgery and monitor functioning over time. Fellows are involved in a range of screening and comprehensive assessment opportunities. This rotation includes a strong emphasis in multidisciplinary consultation with other OSUMC providers including neurosurgeons, neurologists, radiologists, nursing, and research staff.
Geriatric Clinic: Fellows in this rotation will gain experience in providing neuropsychological assessment of older persons (i.e., >65 years of age) presenting to our outpatient neuropsychology clinic with cognitive concerns. This rotation will improve the fellow's knowledge of common cognitive concerns among the elderly, including neurodegenerative disorders (e.g., Alzheimer's disease, Lewy body dementia, vascular dementia), metabolic disturbance, chronic health conditions, polypharmacy and mood disorders.
Epilepsy Clinic: Ohio State's Comprehensive Epilepsy Center is designated a level 4 epilepsy center, the highest rating of the National Association of Epilepsy Centers, for the advanced level of our medical and surgical epilepsy care. On this rotation, fellows will perform clinical assessments of patients with seizure disorders, most of whom are undergoing comprehensive evaluation for epilepsy surgery. Assessment results for surgical candidates are presented by the staff neuropsychologist at a weekly, multidisciplinary patient management conference.
Minor Rotations: Fellows are provided with additional opportunities to complete minor rotations and gain experience in the delivery of neuropsychological services via telehealth, forensic and independent medical examinations, intraoperative assessment as part of a research protocol for high-intensity focused ultrasound treatment of epilepsy, clinic administration, and billing, and collaboration with behavioral neurology and consultation-liaison psychiatry.
Educational Opportunities: Fellows participate in weekly neuropsychology didactics, bimonthly fact-finding sessions, and seminars on current topics in neuropsychology, as well as having access to all grand rounds and/or case conferences for Psychiatry, Neurology, Neuro-modulation, and Neuro-oncology at The OSU College of Medicine. During the 2nd year of the program, fellows are expected to attend a 2-month course with the OSUMC medical residents students (M1) that reviews neuroanatomy, neuroimaging, psychopharmacology, neurodevelopmental and neurodegenerative pathology, acquired brain injury, and other clinical syndromes.
Research Mentoring: Research mentoring and professional development will be provided throughout the fellowship program. At the start of each training year, fellows will meet with the faculty and identify research goals depending on interest and need. Fellows are expected to produce at least one scholarly project per year during their two-year term and will receive supervision and assistance to find a project that meets their interests.
Geropsychology Externship
This externship program is designed for advanced graduate students who have a well-developed foundation in psychotherapy and a strong interest in developing expertise in serving older adult clients. Students matched to this practicum will have at least 50% clinical contact with older adults to provide evidence-based interventions for geropsychology-relevant clinical issues (e.g., depression, anxiety, adjustment to chronic illnesses, the stress of caregiving, grief and loss). Supervised experience for the trainee will also include seminar attendance, interdisciplinary team participation, and relevant readings in clinical geropsychology. The training provided in this elective adheres to the following guidelines outlined Competencies for Practice in Professional Geropsychology.
Neuropsychology Internship with Geropsychology Emphasis
The psychology intern in the Neuropsychology Internship Track with a Geropsychology Emphasis will primarily rotate through the Geriatric Clinic. Additionally, supervised experience for the intern pursuing a Geropsychology emphasis will include seminar attendance, interdisciplinary team participation, and relevant readings in clinical gerontology and geriatrics. Specifically, the intern will attend the weekly Psychiatry Internship Seminar Series and Neuropsychology Didactics, covering topics such as normal versus abnormal aging, delirium, dementia, late-life depression, culturally responsive CBT among older adults, capacity assessment, guardianship evaluation, and insomnia. There are additional didactic opportunities on current topics in geriatrics and gerontology available through the participation in grand rounds and/or case conferences for the Department of Neurology at The Ohio State University College of Medicine, and our interprofessional affiliations at the College of Nursing, College of Social Work, and Department of Psychology. This training component adheres to the following guidelines outlined Competencies for Practice in Professional Geropsychology.
Medical Education and Training
The OSU Wexner Medical Center Neuropsychology Faculty is also involved in the education and training of medical students and residents in neurology and neuropsychiatry. This includes introduction and exposure to important concepts and processes involved in neuropsychological assessment, integration and interpretation of data, and comprehensive report writing as well as neurocognition, psychometrics, and brain-behavior relationships.