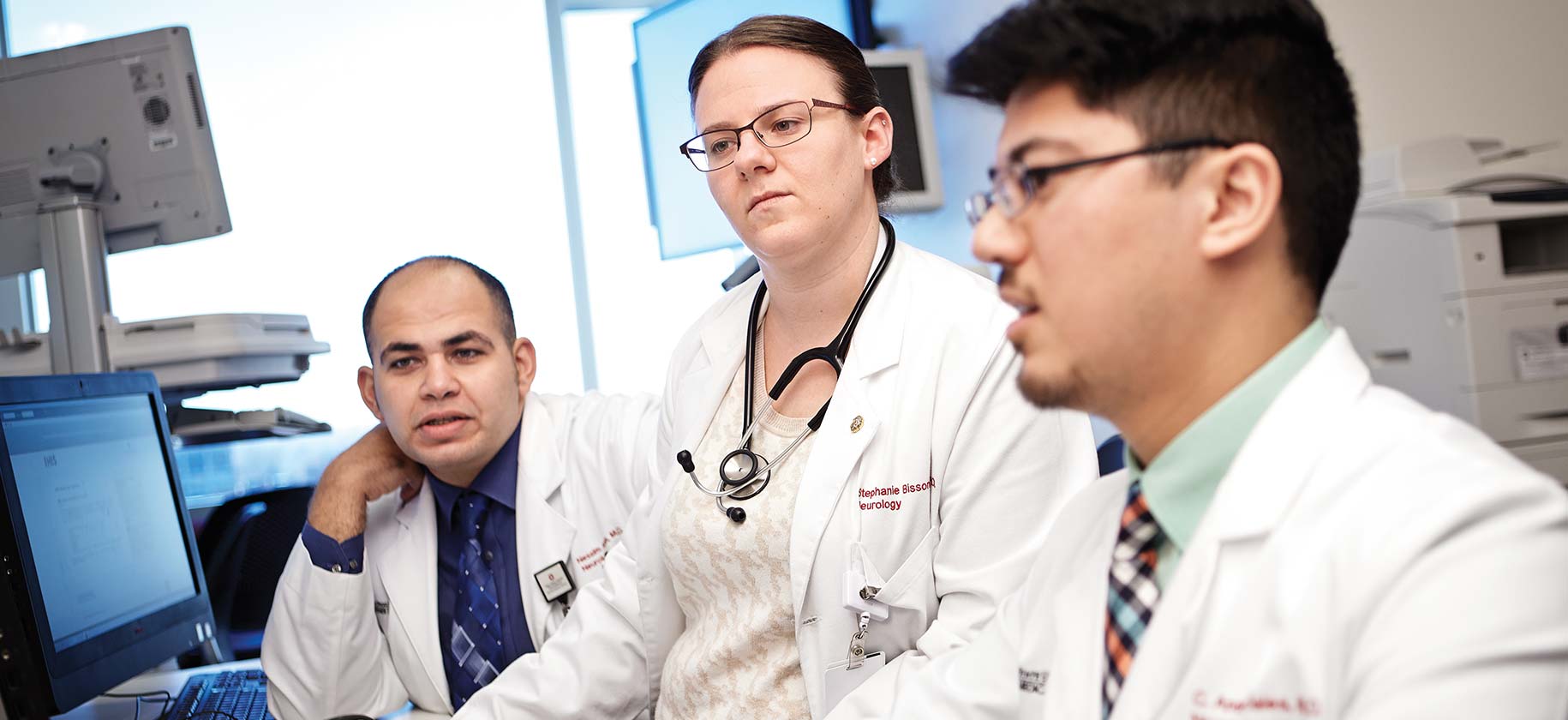 In our world-class hospitals and research facilities, you will be exposed to a wide range of pathologies.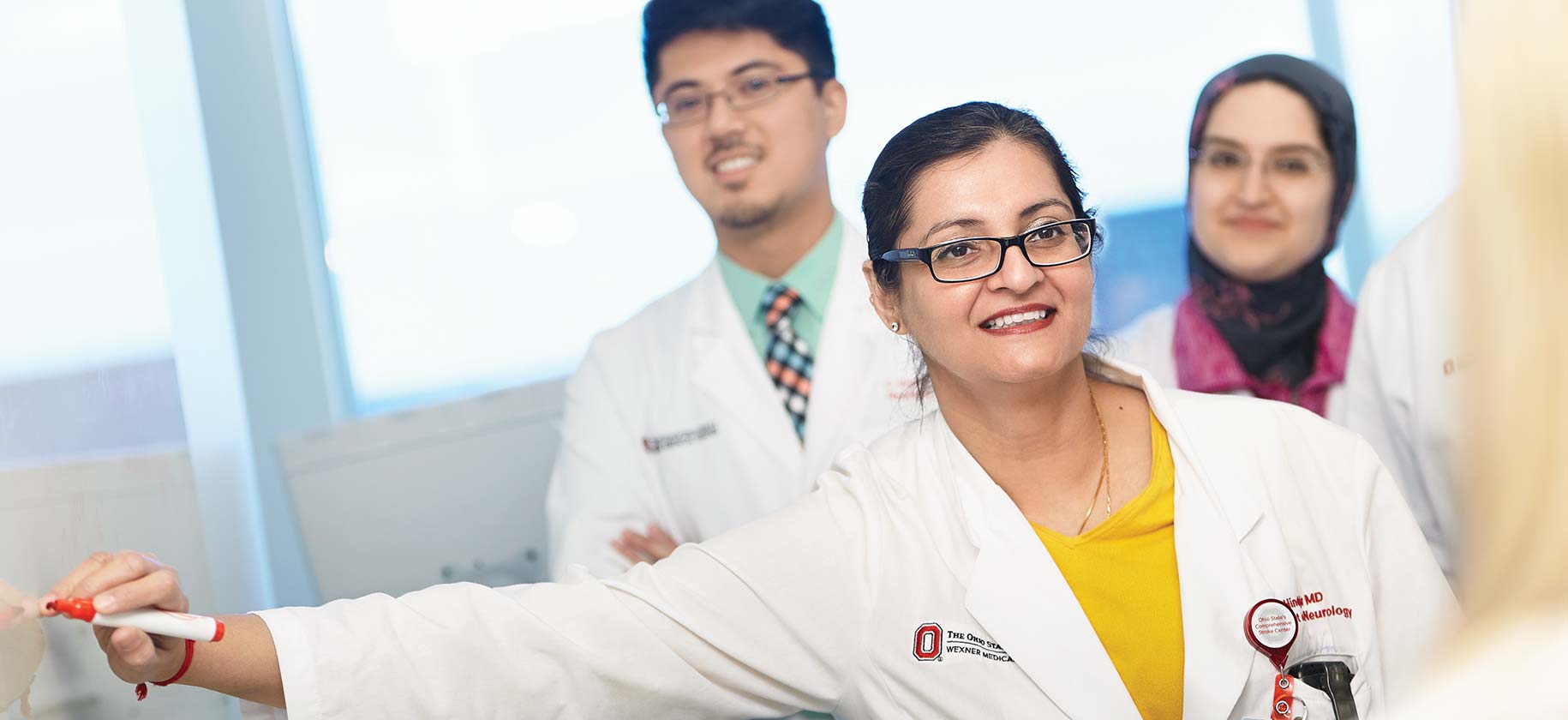 Our diverse curriculum includes clinical exposure, a comprehensive didactic program, research mentoring and extensive teaching opportunities.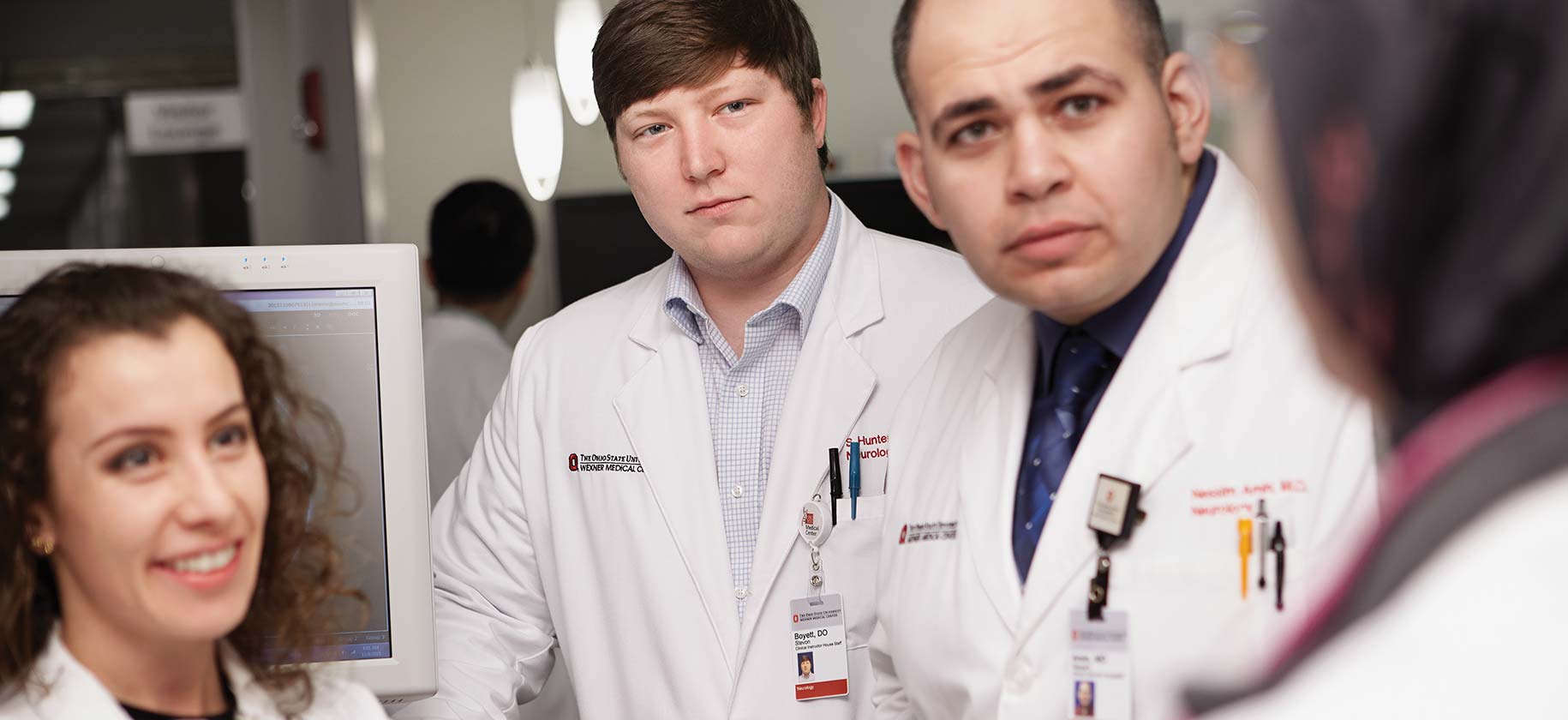 Our mission is to promote the graduation and success of professional, well-rounded and knowledgeable physicians who will excel in the practice of Neurology.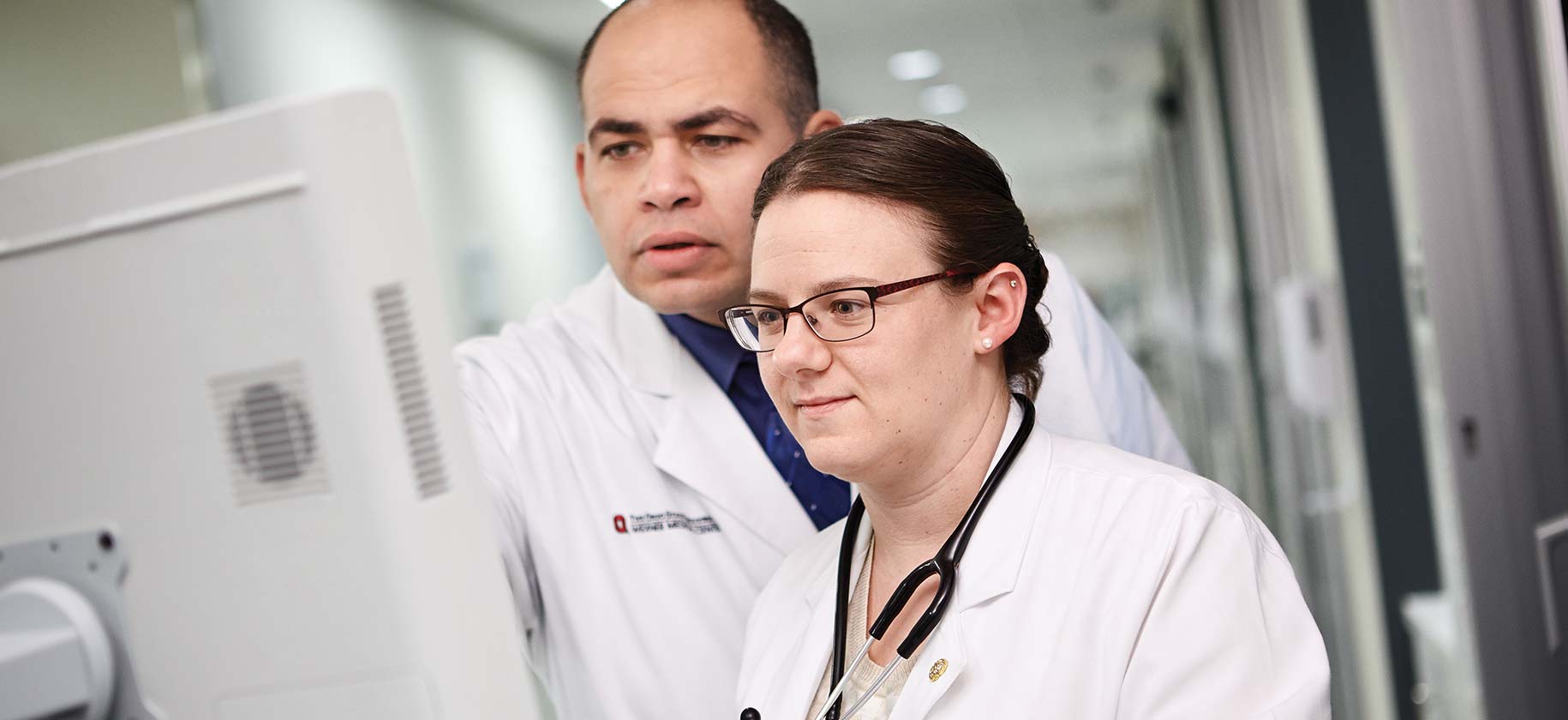 The Ohio State University Wexner Medical Center has a large staff of neurologists, representing the full range of neurological subspecialties.
The Department of Neurology at the Ohio State University has a long history of a dedicated commitment to education. The missions of the residency are to help residents develop the highest level of clinical and diagnostic skill in neurology, gain exposure to academic research opportunities, engage in teaching opportunities, foster enthusiasm and passion at work, function well in a team environment, and model compassionate patient care, while maintaining resident life balance with a focus on wellness. An ultimate aim is to launch highly successful careers for our trainees and to graduate residents that make a positive impact on patient care and advance the field of neurology.
Our program has a full complement of faculty in the broad range of subspecialties, including nationally recognized leaders. Faculty are represented in cognitive, epilepsy, general neurology, headache, movement disorders, neurocritical care, neurohospitalist, neuro-immunology, neuromuscular, neuro-otology, neurovascular, pain management, sleep and sports neurology and including a strong representation of neuroscientists. Both the faculty and our residents are highly engaged in teaching and have received numerous awards recognizing that.
Our program has state-of-the-art facilities, including a dedicated Brain and Spine Hospital and a vast exposure to subspecialty clinics and procedural studies. Starting in the PGY-2 year, our residents also experience a weekly continuity clinic with a variety of general neurology and subspecialty cases. The patients are followed for the duration of residency. Attendings from multiple different subspecialties staff the clinic. Continuity Clinic takes place at the brand new Brain and Spine Hospital Neurological Multi-Specialty Care Clinic. This clinic is on the 12th floor of the Brain and Spine Hospital, easily accessible for both the residents and their patients. The continuity clinic allows residents to manage and treat their own patients so that they are fully prepared to treat all types of general neurology and subspecialty patients after residency.
In regards to exposure to scholarship, all of our residents are assigned a faculty mentor to help navigate the residency experience, as well as provide a link to opportunities for scholarship and guidance through that process.
Wellness is of utmost importance in our program. Residents have monthly social gatherings and the program sponsors quarterly wellness retreats. There is a commitment to our residents' educational experience and culture with an emphasis on the balance between service and education.
In additional to clinical exposure our educational curriculum is robust for preparing our residents for a career in neurology:
1 hour of daily protected time for morning didactics Monday through Friday (grand rounds on Tuesdays at that time).
Full course of introductory lectures on neurologic emergencies at the beginning of each academic year.
Introductory neuroanatomy early in the year.
All major neurologic subspecialties annually have dedicated block time for full formal lecture coverage of the subspecialty.
On each subspecialty block of didactics, Wednesdays are dedicated for morning report sessions, case conferences, chairman rounds, or algorithm case sessions with the program director.
Weekly there is a didactic dedicated for board review alternating with a didactic dedicated to neurodiagnostic case learning (neuroimaging, EMG, EEG, pathology).
There also are 3 dedicated weeks of contiguous didactics dedicated to board review on an annual basis and two additional annual board review courses provided internally by our program faculty.
The program also helps fund adjunctive educational opportunities outside of the program.
The chair is organizing high level subspecialty symposiums for each of the major subspecialties in neurology at our university (with outside faculty that are thought leaders in their respective fields invited to participate).
Additional measures to balance service and education:
Our residents rotate through a night float system to cover the call needs of the program. Our residents do not take call in pediatric neurology with those 3 months of the curriculum dedicated to more of a formative learning experience. Our collaborative partner, Nationwide Children's Hospital, is a top tier pediatric program nationally, providing an excellent educational opportunity. Significant faculty and senior resident support is provided at the beginning of the PGY2 year to successfully transition residents. This includes a curriculum that starts with a dedicated section on neurologic emergencies and delaying PGY2 exposure to night float until late in the year, allowing for a smooth and comfortable transition into neurology residency.
A note about intern year:
Our PGY1 interns match categorically at the Ohio State University and receive training through an outstanding internal medicine program. Additionally, we maintain connection with our interns by having them rotate in our outpatient neurology clinic during one month of their internship, as well as having them gain exposure to the neurocritical care unit. This helps them to gain comfort in evaluating higher level acuity patients in neurology. Our interns also will be coming to our quarterly wellness retreats to have contact with the neurology program prior to starting their PGY2 year.
Conclusion:
Our goal is to create the best educational experience possible, train the most capable clinician neurologists, and to allow our residents to have the highest of satisfaction throughout this exciting training time. Additionally, our aim is to help facilitate our trainees to realize their vision and goals for their career, related to fellowship opportunities, developing academic careers, or transitioning to successful clinical practice.
As an example, in the past three years, our resident graduates have moved on to fellowships with a wide range of opportunities and placements here at the Ohio State University. Other fellowship placements have included programs such as Yale, Boston University, the University of Michigan, Stanford, Duke, and the Cleveland Clinic, among others. We are very proud of our residents, their accomplishments, and the successful careers that they are launching. We enjoy continuing to collaborate with them after they graduate as they make an impact on the field of neurology.
J. Chad Hoyle, MD
Residency Director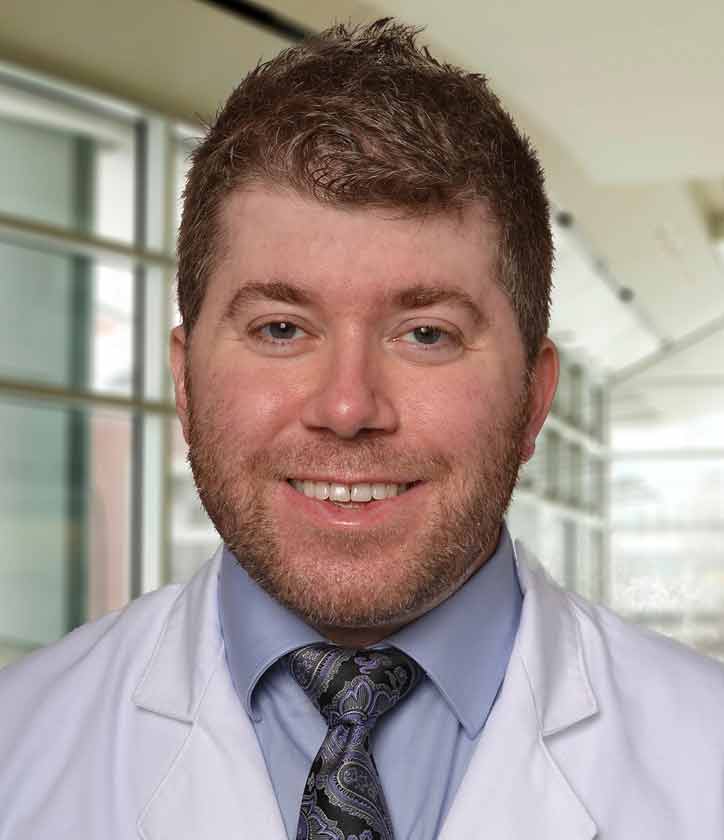 Kevin Weber, MD
Associate Residency Director