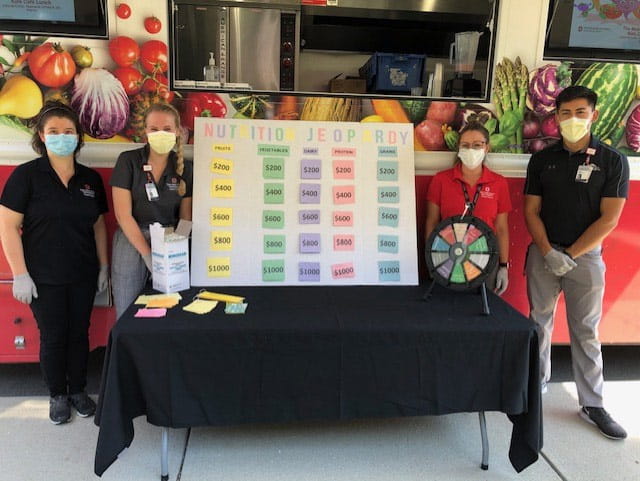 The James Mobile Education Kitchen (MEK) team of Katie McCurdy, Stephanie Urrutia and Jim Warner have been sharing food and nutrition knowledge in fun and unique ways at the Columbus' south side Reeb Avenue Community Center. The MEK team visits the center on Mondays and Fridays offering games and snacks to community members arriving at lunch time to pick up their daily meals supplied by the Mid-Ohio Food Collective. The community members are encouraged to participate in a nutrition game and answer a nutrition-based question for a strawberry parfait or freshly made smoothie. The response has been great and the MEK team as well as a rotating cast of Medical Dietetic students engage with the community to offer a snack, welcome respite and a kind word from our group.
Medical Dietetic student Emma Austing developed a "Nutrition Jeopardy" interactive game for the community which provides a few moments of levity as well as the opportunity to impart some nutrition information. Emma showcased her creativity and knowledge with the new game in late June and it quickly became a crowd favorite. Some participants were overheard beginning a discussion with each other about which question they had answered from the game. These types of activities in our underserved communities have been a great opportunity for our students to speak directly to the most vulnerable members of our community and gain a true sense of empathy for those we all serve.
The MEK will continue to visit the Reeb Avenue Community Center through July.
Pictured Christin Gales, Emma Austing, Lilia Chapman, Tony Bolanos-Cruz
For more information about the MEK, visit https://cancer.osu.edu/for-patients-and-caregivers/support-for-patients-and-caregivers/managing-life-with-cancer/nutrition-education/mobile-education-kitchen