What is dermaplaning?
Dermaplaning is cosmetic therapy that gently removes the top layer of your skin to exfoliate dead skin cells and unwanted facial hair. The doctor uses a surgical blade to skim away the dead skin and fine hairs that can give your skin an uneven appearance. Dermaplaning reveals fresher skin underneath and can help stimulate the growth of new collagen for healthier-looking skin. After a dermaplaning treatment, you'll have a smoother, more radiant complexion.
Board certified plastic surgeons at The Ohio State University Wexner Medical Center perform a full range of skin-beautifying cosmetic procedures. These include nonsurgical skin rejuvenation and expert skin care consultation and treatments, such as light therapy, injectables and topical treatments using high-quality, medical-grade products.
Benefits of dermaplaning
Over time — and especially without proper skin care — layers of dead skin cells, scales and blemishes begin to build up on the surface of your skin. Skin loses its youthful luster as it develops a rough, uneven and dull appearance. As you age, you may notice more spots and blemishes. You may have unwanted hair growth, including vellus hairs — the fine, lightly colored hairs sometimes referred to as "peach fuzz."
Your Ohio State plastic surgeon uses a razor-fine blade to shave skin surfaces. The treatment exfoliates dead, dry or scaly skin and stimulates skin cell turnover and skin regeneration. This gives you newer, brighter skin that has a rosy glow.
By removing microscopic bacteria and clearing pores, dermaplaning can prevent skin breakouts caused by clogged pores and unhealthy skin surfaces.
Other benefits include a smoother facial surface which absorbs quality skin-nourishing and hydrating products and gives facial cosmetics a more natural look.
Dermaplaning treats these and other common skin problems:
Dry, dull skin
Fine lines
Rough skin surfaces
Skin spots and blemishes
Unwanted facial hairs
Poor skin tone
Acne and other blemishes
Sun damaged skin
What to expect if you have dermaplane treatment
How to prepare for dermaplaning
Before dermaplaning, you'll need to stop use of any exfoliating products or home treatments. Avoid sun exposure in the week leading up to your appointment. Let your doctor know of any changes in your condition. If you have any open wounds or lesions on your face, you'll need to reschedule and wait until skin is healed. Follow other preparation and care instructions as directed by your doctor.
During your treatment
You'll have your dermaplane treatment in your doctor's office at one of Ohio State's convenient locations in Columbus or surrounding areas. Your face will be cleansed and prepared before your treatment.
You'll recline in a comfortable chair while the doctor uses a surgical blade to scrape small sections at a time, removing just the top layer of skin. It's a gentle process that shouldn't cause you any discomfort.
After dermaplaning treatment
After your dermaplane treatment, your skin will be red for a while. Your skin may feel irritated or itchy. These effects should go away in a day or two, depending on the extent of your procedure.
It's best to wait for a day or so before applying makeup or other cosmetics to freshly treated skin. This gives your skin time to recover without irritating products. Facial hairs will grow back. If you're bothered by unwanted facial hair, ask your doctor about laser treatments that can offer long-term relief.
Dermaplaning results
The day after your dermaplaning treatment, you should begin to see improvements in the way your skin looks and feels. You'll have a smoother surface with a healthy appearance. Makeup and skin care products will glide on easily and smoothly.
Ask your doctor about safe, mild skin cleansers and other skin products to use at home. To protect the new skin surface, treat it gently and avoid harsh or exfoliating ingredients, such as retinol, glycolic acid, benzoyl peroxide or astringents.
Your doctor can recommend safe skin care products, including a high-quality sunscreen. Avoid sun exposure and excessive heat, such as saunas after your treatment.
Hair removal from dermaplaning is temporary, and facial hairs will eventually grow back. You can ask your doctor about laser treatments options to permanently remove unwanted hair growth.
To achieve your ideal results, you can choose to get additional treatments. Your doctor will advise you on the amount of time between treatments, which should be at least a month or longer to avoid skin irritation.
Risks of dermaplaning
When performed by the board certified plastic surgeons at the Ohio State Wexner Medical Center, dermaplaning is a safe procedure for most people. However, those with certain medical or skin conditions should ask about more suitable options.
Dermaplaning may not be right for you if you have these or other conditions:
Keratosis pilaris (tiny bumps on skin)
Cystic acne (large, painful breakouts)
Possible complications of dermaplaning include:
Redness and skin irritation
Temporary skin discoloration
Skin thickening
Our Providers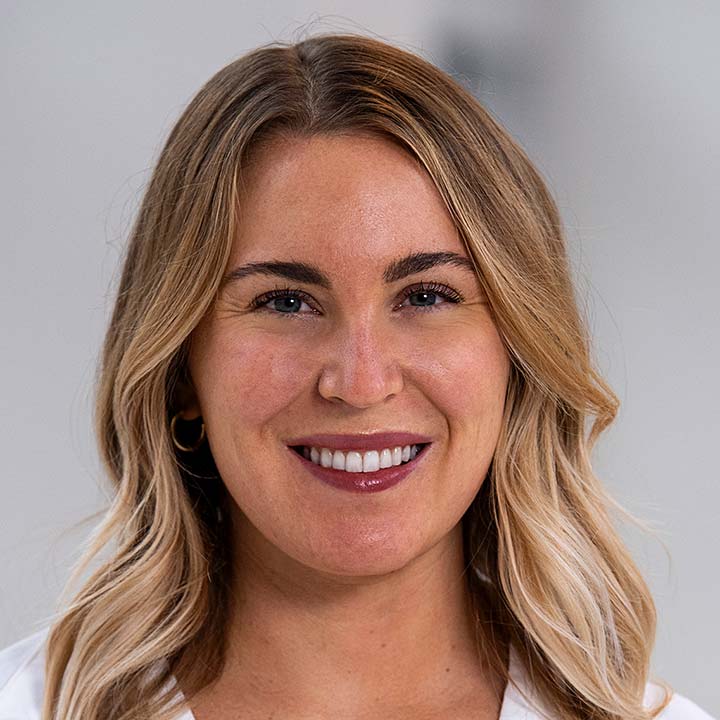 Megan Busellato, PA-C
Plastic Surgery, Physician Assistant