Scheduling services for space and audiovisual services is provided as a complimentary service to all requestors.
There is no charge to use any space scheduled through Events & Video Production. Audiovisual services may incur a charge.
To help identify clients and potential charges for AV services, clients are categorized into two groups: Partners and Customers.
Partners
are entities within the College of Medicine and The Ohio State University Wexner Medical Center that annually fund Events & Video Production, most easily defined by the following Organization (Org) numbers:
25xxx Organization Numbers (College of Medicine)
46xxx Organization Numbers (Health Sciences)
9xxxx Organization Numbers (Hospital System)
These groups are Events & Video Production's primary stakeholders and to whom the majority of the team's services are provided. As contributors to the Events & Video Production budget, these groups are not charged for most services, including event related AV services that take place within the team's hours of operation and equipment checkout services. These groups are charged for staffed, after hours events and video projects.
Customers
are entities requesting service but are not members of a funding partner group, as outlined above. This includes OSU main campus groups and non-OSU groups. These groups are charged for event related AV services and video projects. Equipment checkout is not available to these groups.
All OSU entities requesting AV services are required to provide Organization (Org) and Fund numbers with their request.
If the requestor does not know these numbers, they should contact their unit's fiscal officer prior to submitting a request. All non-OSU entities or OSU entities not paying with department funds will be required to pay by check or cash (
credit card is not accepted
). In any instance that a service is billable, a quote will be provided via email and documented quote approval from the event contact will be required prior to confirmation of service.
Billing Table
The following billing table is provided as a quick visual reference to determine what the audiovisual charges may be based on the service type being requested and the client group category of the requestor.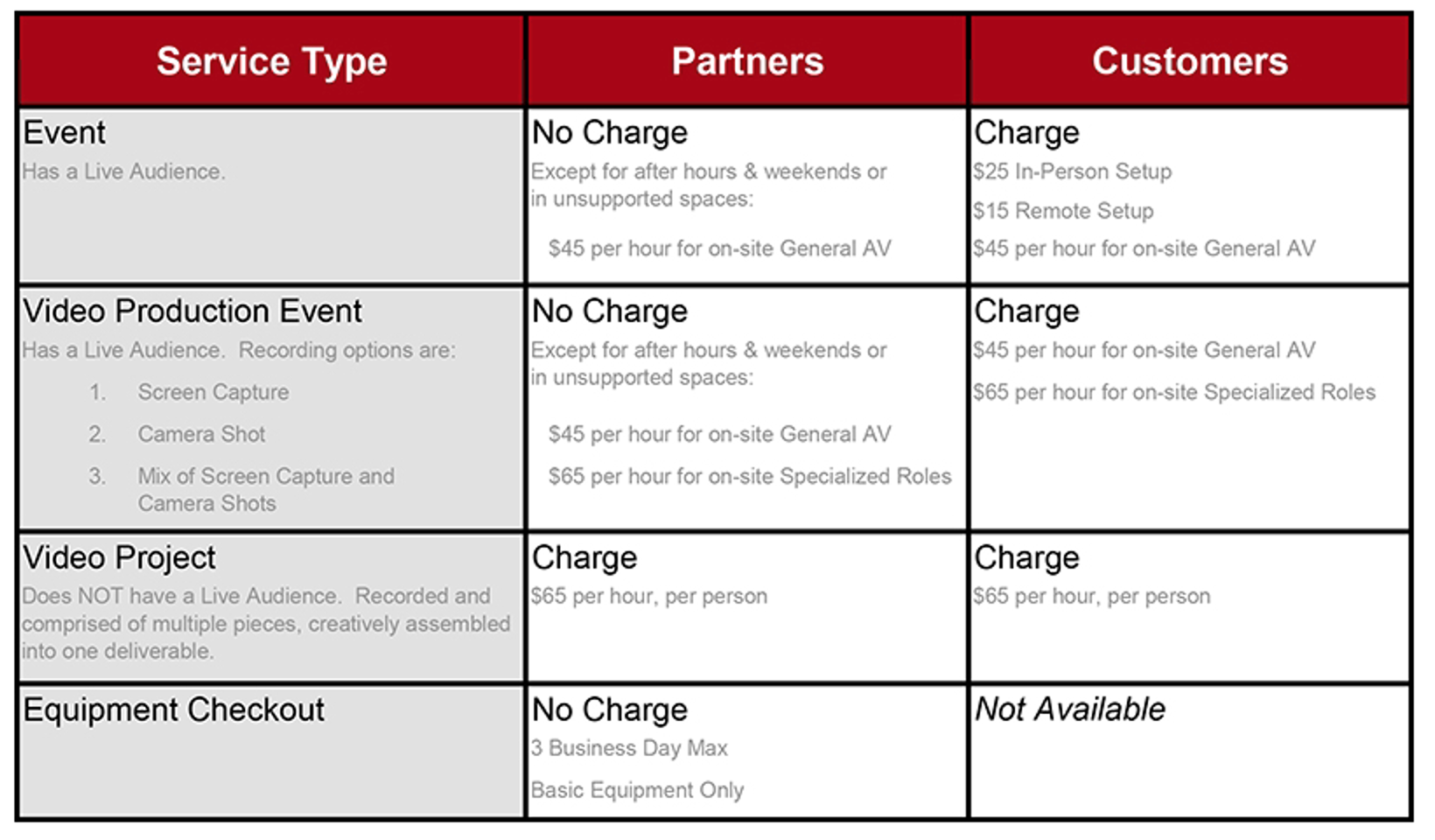 * Events & Video Production does NOT charge for equipment.
Billing Process
- Events & Video Production uses a 1:1:1 billing process, which means that each event or project will receive its own invoice and require its own unique payment. After each billable event or project, Events & Video Production will send a final invoice via email to the event contact with payment instructions based on their payment method. Details regarding payment methods are below.
Paying by eReques
t - For OSU clients that provided an Organization and Fund number, the invoice must be paid through OSU's internal
eRequest
payment system.
Payment Terms: Net 30 Days
Payment Method:
eRequest
Internal Vendor Name: HSL Events & Video Production
Though Events & Video Production prefers clients wait to create an eRequest until they receive an invoice, they understand that some OSU groups require their staff to submit an eRequest prior to receiving services/goods. Since the services Events & Video Production provide can change during the event or project due to a change in needs, they do not process eRequest pre-payments. Events & Video Production will send a final invoice after each billable event. When the client receives an invoice from Events & Video Production, they can either fill out a new eRequest payment or if they have already submitted an eRequest, they just need to verify that the final invoice amount matches the eRequest amount and then email Events & Video Production the eRequest #. Please note that if an eRequest pre-payment is submitted for a series of events, that eRequest can only be applied to the first invoice. The client will receive separate invoices for each instance in the series, each requiring a separate eRequest payment.
Paying by Check or Cash
- Clients paying by check or cash should include the Invoice Number and the Reservation Number on the check or if paying by cash, return a copy of the invoice with payment. Payment criteria of the invoice is as follows:
Payment Terms: Net 30 Days
Payment Method: Check or Cash
Make Checks Payable to: The Ohio State University
Please put the Invoice Reservation Number on check.
A $30 charge will be assessed against the maker of each returned check.
If paying by cash, return a copy of the invoice with payment.
Payment should be sent to
:
Dave Yurkovich
Events & Video Production
160 Prior Hall
376 West 10th Avenue
Columbus, OH, 43210
Splitting Cost for Events Between Departments
- Events & Video Production does not split billing for events between departments. If multiple groups would like to share costs for an event, one group will have to provide their ORG and FUND numbers to Events & Video Production and the other group will have to arrange for reimbursement to the group that provided their ORG and FUND information.
Cancellation Policy for AV Services
- If an event or video project is canceled or established times are changed, please notify the Events & Video Production team as soon as possible so staffing can be adjusted and service can be provided to other clients. Events/video projects during hours of operation with two or more hours of operator time and events/video projects that take place after hours with any amount of operator time have until 12:00p of Wednesday the week before the event or video shoot to cancel or notify Events & Video Production of a time change and not incur a charge. Cancellations or time adjustments after that deadline and No Shows are charged a Late Cancellation Fee of $25.00 per operator hour scheduled.
No Show
instances will be monitored. Repeat occurrences may result in limited support.
Billing Questions
For billing policy questions, please contact Events & Video Production at
events.videoproduction@osumc.edu
Interdepartmental Billing, please contact Michaela Schiavone at
michaela.schiavone@osumc.edu
.