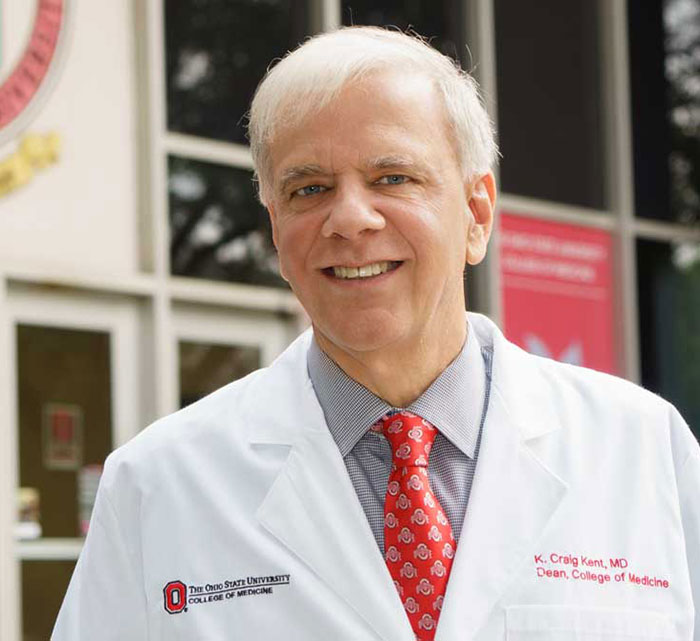 Dean, The Ohio State University College of Medicine
Vice President for Health Sciences
Leslie H. and Abigail S. Wexner Dean's Chair in Medicine

Dr. Kent is a researcher, educator and physician leader, and serves as dean of The Ohio State University College of Medicine, vice president for Health Sciences and the Leslie H. and Abigail S. Wexner Dean's Chair in Medicine. Dr. Kent is an internationally recognized leader in academic medicine.

During Dr. Kent's tenure as dean, Ohio State has grown considerably. The incoming 2018 class of 207 medical students represents one of the most diverse in the country, with 24 percent underrepresented minorities. There has been a significant investment in research with growth of infrastructure and the recruitment of more than 100 new funded researchers over the past two years. He has initiated changes that have positively impacted the culture of both faculty and staff, resulting in new funds flow to support research and education and the creation of multiple venues for faculty recognition.

Ohio State is undergoing a significant expansion with the construction of a new hospital tower, four new ambulatory facilities, a new research tower, a new College of Medicine building as well as the recruitment of net 500 new faculty.

Before his arrival at Ohio State, Dr. Kent served as chair of the Department of Surgery at University of Wisconsin School of Medicine & Public Health, and was chief of the Division of Vascular Surgery at Weill Medical College of Cornell University and Columbia College of Physician Surgeons. He has been a funded researcher for more than 25 years, investigating molecular mechanisms underlying vascular disease with the goal of developing new treatments utilizing innovative methods of drug delivery.

Dr. Kent has authored more than 325 articles and 65 book chapters, and has served on the editorial boards of multiple medical journals. He has lectured nationally and internationally with more than 50 named visiting professorships and keynote presentations. He is chair of the American Board of Surgery, and has actively participated in a number of national organizations, serving as past president of the Society for Vascular Surgery and the Society of Surgical Chairs.

Dr. Kent earned his medical degree from the University of California, San Francisco where he also completed his surgical residency. He then completed a research and clinical fellowship in vascular surgery at Brigham and Women's Hospital.