A new College of Medicine complex is designed with the student in mind, enabling interactive learning, collaboration with other health science learners and a contemporary educational experience.
Where great minds become leading health care providers
The renovation and expansion of Hamilton Hall will enable training of the most compassionate and brightest physicians who are thoroughly prepared to serve the diverse and changing needs of patients and communities. The innovative design integrates learning, studying and health and wellness spaces so medical students can have the optimal education experience. New, small- and medium-sized classrooms, fitted with state-of-the-art technology, will enable hands-on, interactive learning and discussion groups. Medical students will have collaborative interprofessional learning experiences with students from other health science disciplines (e.g., nursing, therapy, pharmacy, etc.), so they can become better prepared to face challenges as a health care team during their residency. Also included are small group and individual study spaces, a 300-person capacity atrium, a large courtyard with a green space, a 125-seat grand reading room and a student lounge and workout facility. The building will be the home of the new Interdisciplinary Health Sciences Center and the College of Medicine.
Hamilton Hall at a Glance
225,000

sq. ft. inter-professional learning facility

33

state-of-the-art classrooms

6,000

sq. ft. student forum

125 seat

grand reading room

75

person technology center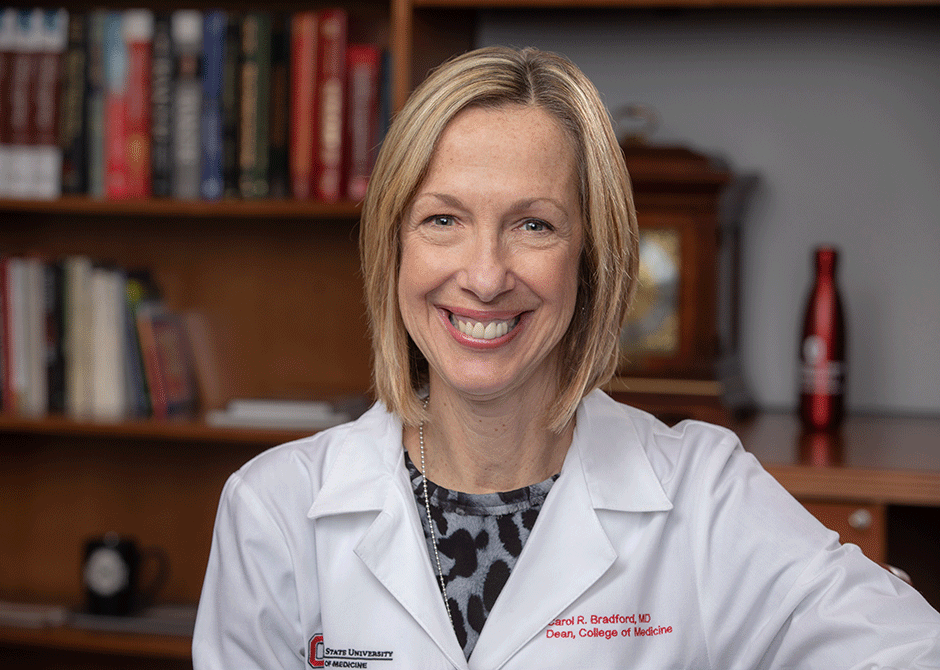 "This renovation is more than an upgrade. We are building state-of-the-art classrooms where students can work together and learn with cutting-edge tools. This will help us prepare Ohio State students with the skills they will need to practice 21st century medicine."
Carol R. Bradford, MD, MS, FACS
Dean, The Ohio State University College of Medicine
Vice President for Health Sciences, The Ohio State University Wexner Medical Center
Leslie H. and Abigail S. Wexner Dean's Chair in Medicine
Professor of Otolaryngology – Head and Neck Surgery
Training for the 21st century physician
Today's physicians need modern tools and technology to provide innovative clinical care and breakthrough discoveries. In addition, faculty need flexible teaching spaces to optimize the learning experience so students learn more efficiently and collaboratively. Hamilton Hall will be outfitted with the latest education technology for instruction and collaboration, including the 120,000-square-foot renovation of the original building and the 100,000-square-foot new classroom building and anatomy wing. The new space will be designed with flexible learning spaces that support different pedagogical approaches with 33 interdisciplinary, state-of-the-art classroom buildings. Technological advancements include an electronic health record learning environment, digital and virtual anatomy resources integrated into laboratories, web conferencing capabilities and wireless access throughout indoor and outdoor spaces. The renovated building and additions will be steps away from many of Ohio State's hospitals including The Ohio State University Wexner Medical Center and The Ohio University Comprehensive Cancer Center – Arthur G. James Cancer Hospital and Richard J. Solove Research Institute.
The Interdisciplinary Health Sciences Center at Hamilton Hall has three phases:
Phase 1 – January 2022
Anatomy wing opens – Includes six new, state-of-the-art Anatomy labs designed for medical students, continuing education, graduate students, undergraduates and flexible lab space.
Phase 2 – June 2023
Classroom wing opens – Includes anatomy lab for optometry and dental students, optometry classrooms and labs, two flexible, 150-person inter-professional classrooms, 14 small- and medium-sized classrooms.
Phase 3 – January 2024
Hamilton Hall opens – Includes new computer lab and testing center, 17 small- and medium-sized classrooms, flexible study/gathering space, wellness center, reading room, café, atrium/forum, student lounge, student locker space and administrative offices.
Timelapse of building progress
Exterior framing and steel fireproofing on the upper levels of the Interdisciplinary Health Sciences Center are ongoing while preparations are underway for the limestone and brick masonry that will begin in the coming weeks. Renovation of the 120,000-square-foot Hamilton Hall and construction of a new 100,000-square-foot building began in November 2019. The project will provide upgraded and flexible facilities to create a collaborative campus for interprofessional education throughout the health sciences.
More about the new Hamilton Hall
More about the new Hamilton Hall
How You Can Help

More Information/Contact