Our mission
Our mission is to create, support and foster a culture of inclusive excellence for all individuals regardless of age, race, gender, culture, socioeconomic status, ethnicity, sexual orientation, disability or gender identity.
Who we are
We are a community of physicians, researchers, trainees, physicists, technologists, nurses, administrators and staff members dedicated to providing a culture of diversity, inclusiveness, and engagement to address long standing inequities in healthcare. We aspire to advance our workforce by building a diverse team of people, incorporating collaborative spirit, personal and professional development, mentorship and support. Our goals are to cultivate a work environment where every individual is encouraged to achieve their professional goals, where we employ best practices for hiring, training, retaining and developing diverse faculty, staff and trainees with the ultimate goal of optimizing patient care, enhancing education and promoting research.

OUR OBJECTIVES:
To analyze and understand our current workplace culture
Identify barriers and inequities in our workforce and to patient care
Develop a plan to overcome these barriers and create an equitable and inclusive work environment
Structure of IDEA-RAD: We are a team of over 30 people working towards the mission of IDEA-RAD. There are 4 taskforces reporting to the chair of IDEA-RAD, each with representation from diverse individuals who are committed to diversity.
Vice Chair - Zarine Shah

Zarine Shah serves as the Vice Chair of Diversity, Equity and Inclusion. She oversees and works with the taskforce co-chairs to promote the mission of IDEA-RAD. Dr. Shah also serves as a liaison between the Department of Radiology and leadership at the medical center, and with other diversity leaders at the COM and medical center to coordinate resources and exchange ideas.
Our people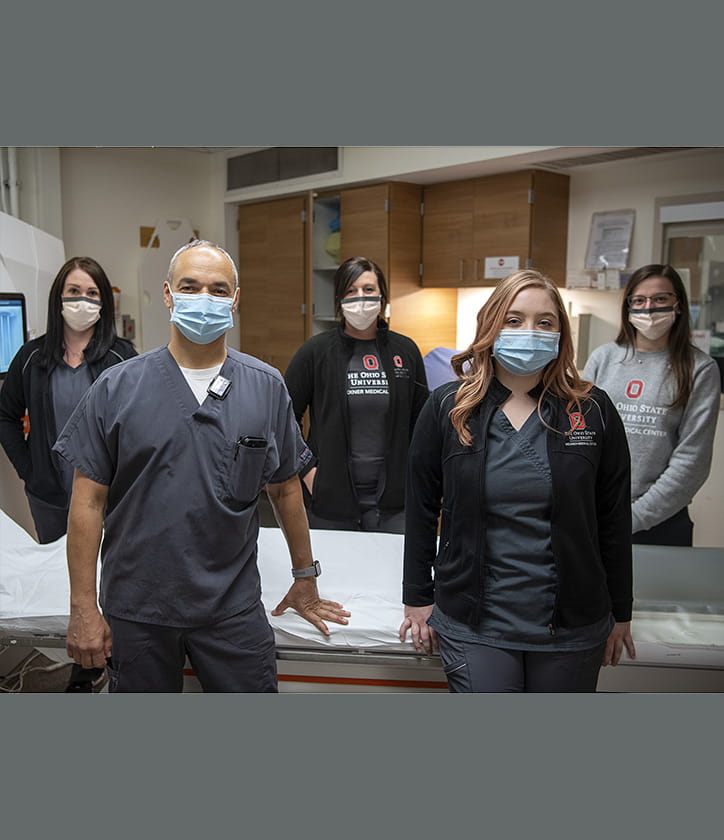 Our culture
We are a community of physicians, trainees, physicists, technologists, nurses, administrators and other staff members dedicated to nurture a culture of diversity, inclusiveness and engagement and to address long standing inequities in healthcare.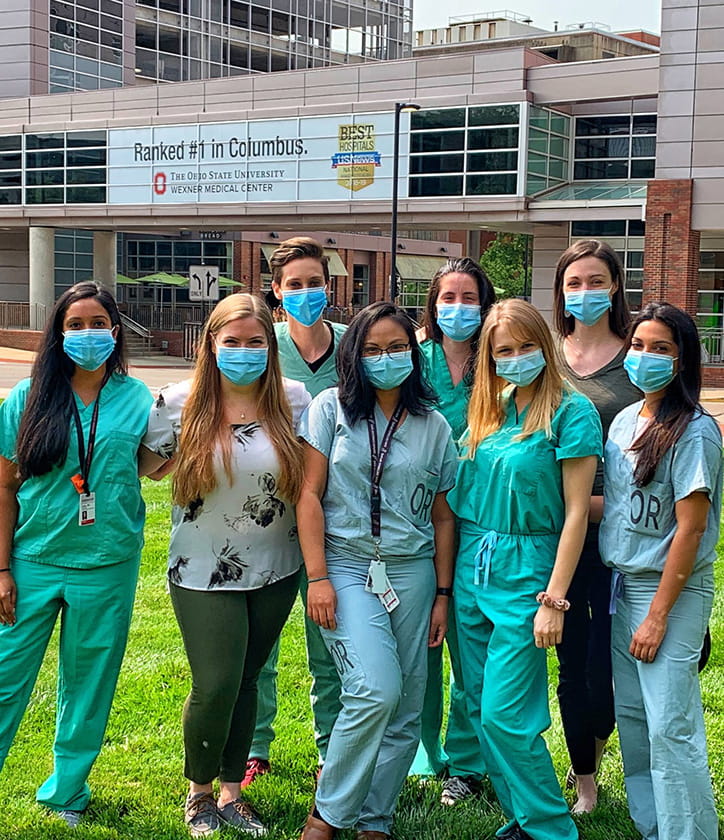 Women in Medicine
Women radiology residents, fellows and faculty stand strong together during Women in Medicine month in September.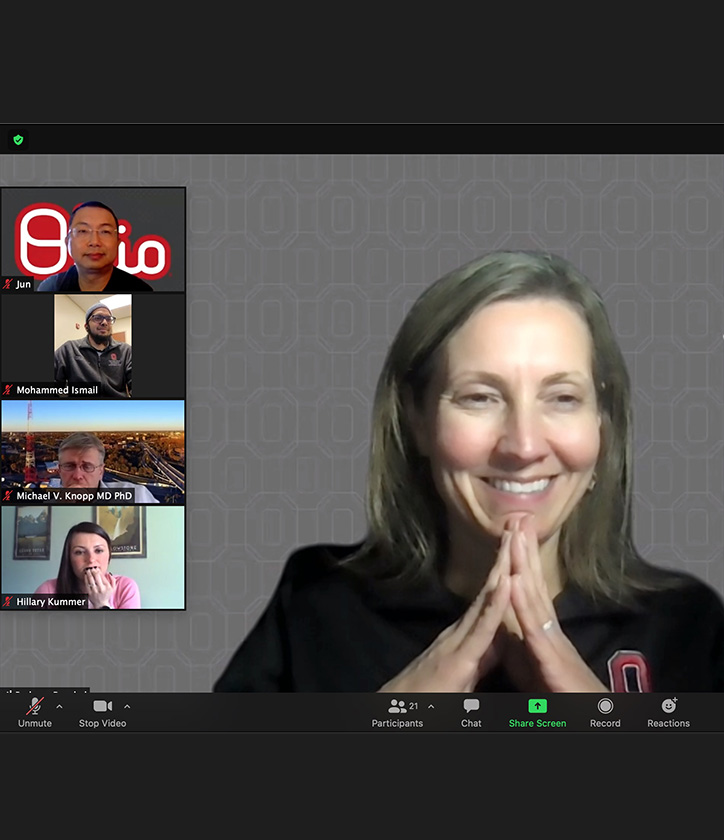 Reducing implicit bias
Our first implicit bias interactive session in April 2021 presented by Dr. Bethany Panchal, educating on unconscious biases in healthcare and strategies to reduce implicit bias.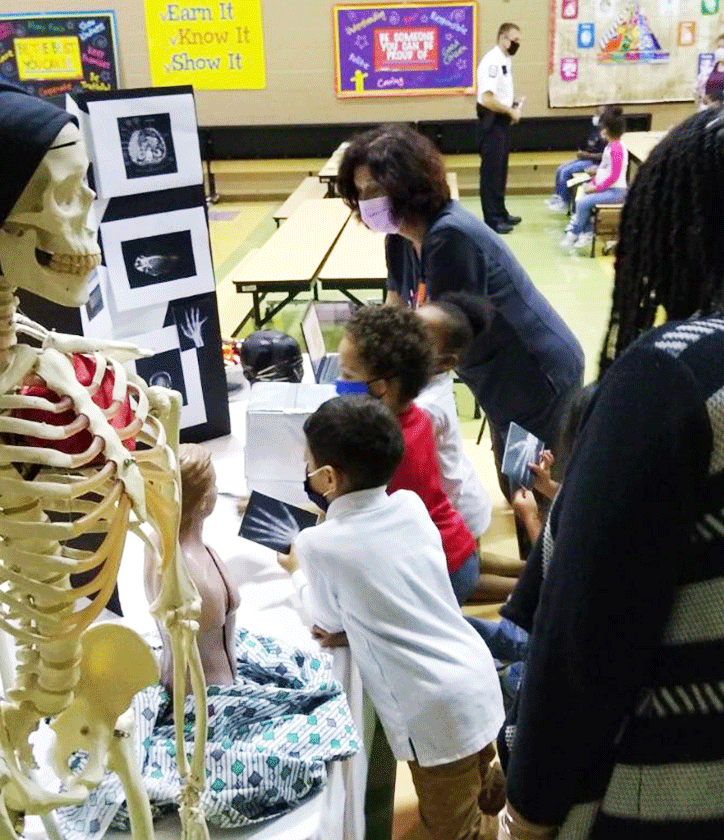 Community involvement
Our MRI technologist, Sandy, at a radiology career day event at an elementary school.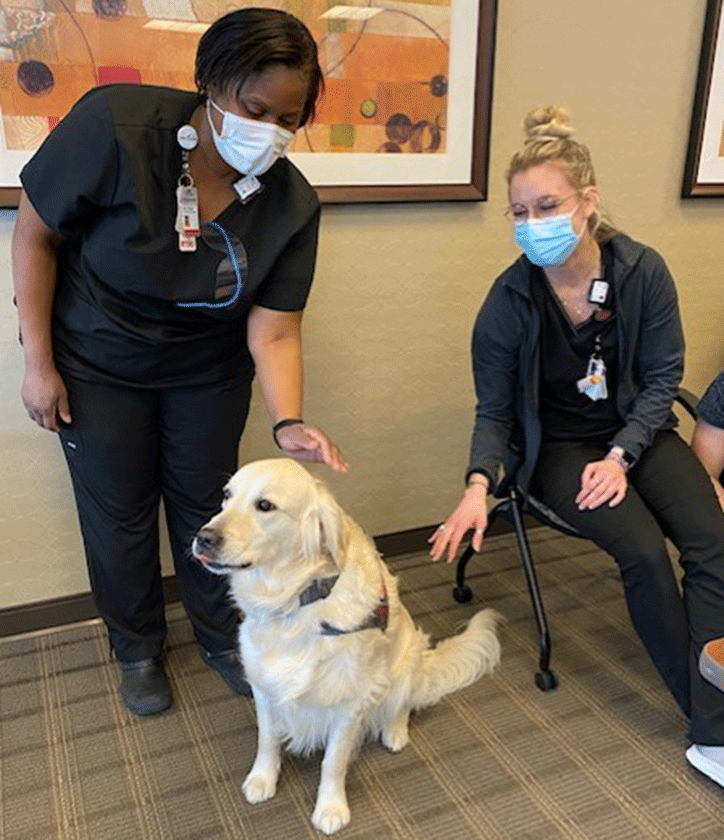 Staff wellness
Buckeye paws, at the Stefanie Spielman Comprehensive Breast Center, focusing on technologist and staff wellness.
Diversity in radiology matters
Radiology is the 9th largest medical specialty in the United States, but ranks 17th in female representation, 18th for black, 19th for Hispanic and 18th in underrespresented in Medicine among the 20 largest training programs. Radiologists are increasingly spending more time with patients, performing image-guided procedures, and discussing imaging studies. Cultivating a diverse radiology workforce is critical to creating a positive environment for our patients, trainees, coworkers and staff members by understanding diverse experiences and promoting cultural competency.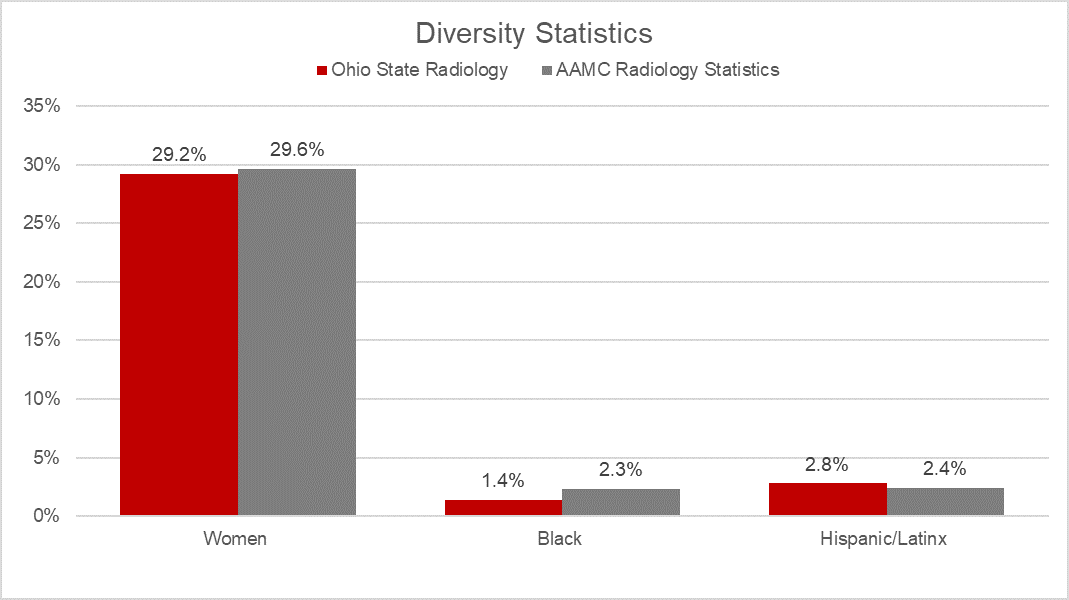 Events and Additional Resources
Upcoming Events
Advocates and Allies program held on Wednesday, June 23 from 7:30- 9 am, and will be facilitated by Leon McDougle, MD Chief Diversity Officer for The Ohio State University Wexner Medical Center Associate Dean for Diversity and Inclusion, Director, MEDPATH Premedical Postbaccalaureate Program, Professor of Family Medicine

The goal of this session is to initiate dialogue among the male faculty in our department about their role as allies for their female colleagues and those from underrepresented groups. This particular session was developed with a focus on gender equity, and is supported by the Women's Place at Ohio State.
Past events
Implicit Bias training sessions:
The events taskforce has organized 4 virtual training workshops on implicit biases in healthcare. These are 1.5 hour sessions that were interactive and lead by facilitators who have been trained to educate about unconscious biases in healthcare as well as teach strategies to reduce implicit biases in interactions with patients and others in health care settings.
Facilitators for the Implicit Bias workshops:
Bethany Panchal – Family and Community Medicine
Monica Lichi (Physical Medicine & Rehabilitation) and Cheryl Bardales (Geriatrics and Interprofessional Aging Studies)
Additional Resources
Diversity, Inclusion, and Representation: It Is Time to Act. Lightfoote JB, Deville C, Ma LD, Winkfield KM, Macura KJ. . J Am Coll Radiol. 2016 Dec;13(12 Pt A):1421-1425. doi: 10.1016/j.jacr.2016.08.008. Epub 2016 Oct 25.
Improving diversity, inclusion, and representation in radiology and radiation oncology part 1: why these matter. Lightfoote JB, Fielding JR, Deville C, Gunderman RB, Morgan GN, Pandharipande PV, Duerinckx AJ, Wynn RB, Macura KJ. J Am Coll Radiol. 2014 Jul;11(7):673-80.
You're Biased! Deal With It. Maxfield CM, Thorpe MP, Koontz NA, Grimm LJ. 2021 Jan;18(1 Pt B):161-165.
BEING AN ACTIVE BYSTANDER STRATEGIES FOR CHALLENGING THE EMERGENCE OF BIAS