Our mission
Our mission is to create, support and foster a culture of inclusive excellence for all individuals regardless of age, race, gender, culture, socioeconomic status, ethnicity, sexual orientation, disability or gender identity.
Who we are
We are a community of physicians, researchers, trainees, physicists, technologists, nurses, administrators and staff members dedicated to providing a culture of diversity, inclusiveness, and engagement to address long standing inequities in healthcare. We aspire to advance our workforce by building a diverse team of people, incorporating collaborative spirit, personal and professional development, mentorship and support. Our goals are to cultivate a work environment where every individual is encouraged to achieve their professional goals, where we employ best practices for hiring, training, retaining and developing diverse faculty, staff and trainees with the ultimate goal of optimizing patient care, enhancing education and promoting research.
OUR OBJECTIVES
To analyze and understand our current workplace culture
Identify barriers and inequities in our workforce and to patient care
Develop a plan to overcome these barriers and create an equitable and inclusive work environment
Structure of IDEA-RAD: We are a team of over 30 people working towards the mission of IDEA-RAD. There are 4 taskforces reporting to the chair of IDEA-RAD, each with representation from diverse individuals who are committed to diversity.
Vice Chair: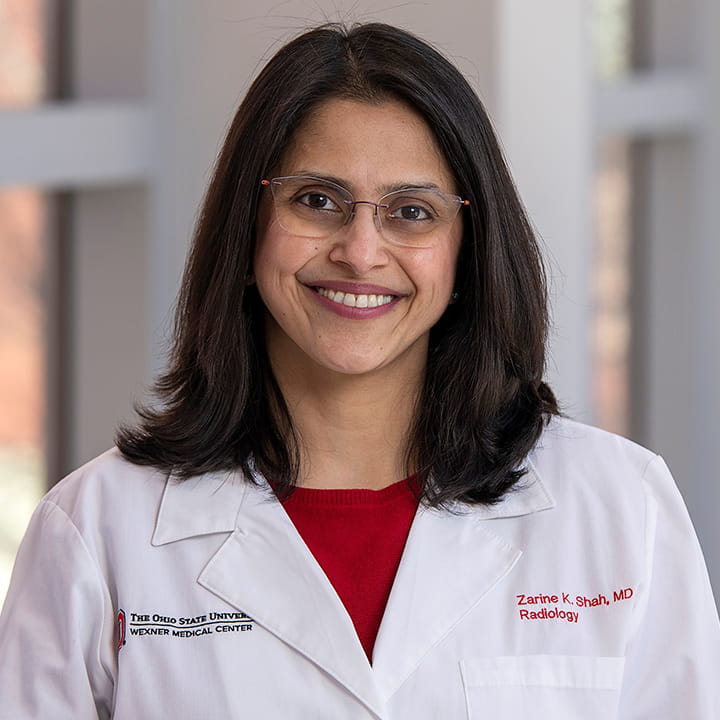 Zarine Shah, MD
Zarine Shah serves as the Vice Chair of Diversity, Equity and Inclusion. She oversees and works with the taskforce co-chairs to promote the mission of IDEA-RAD. Dr. Shah also serves as a liaison between the Department of Radiology and leadership at the medical center, and with other diversity leaders at the COM and medical center to coordinate resources and exchange ideas.
IDEA-RAD Highlights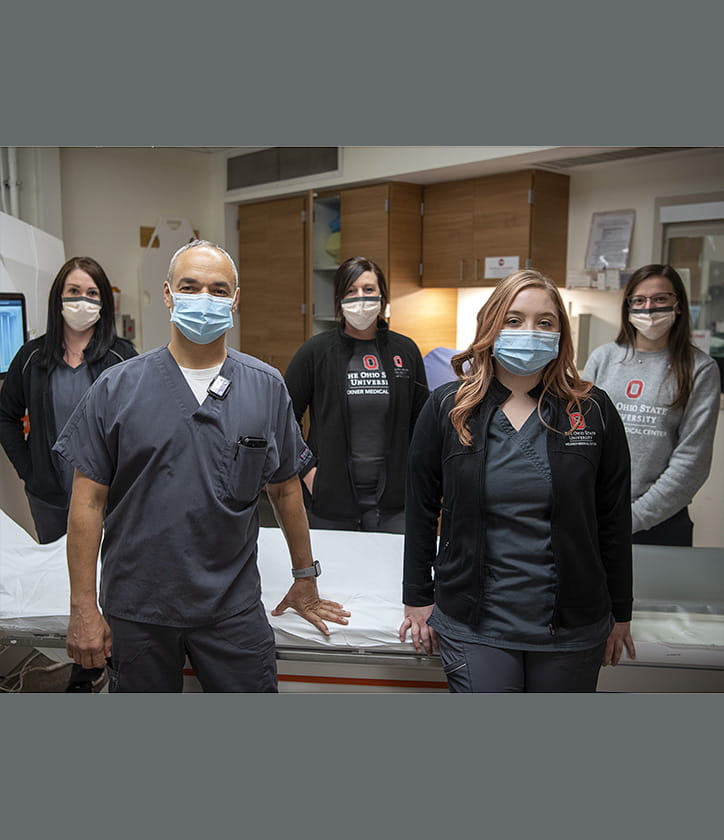 Our culture
We are a community of physicians, trainees, physicists, technologists, nurses, administrators and other staff members dedicated to nurture a culture of diversity, inclusiveness and engagement and to address long standing inequities in healthcare.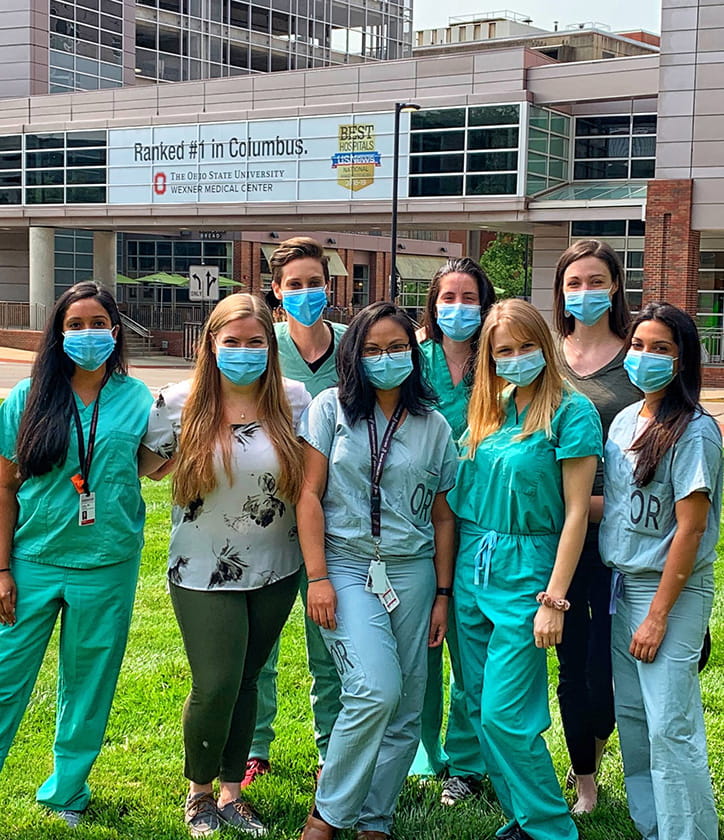 Women in Medicine
Women radiology residents, fellows and faculty stand strong together during Women in Medicine month in September.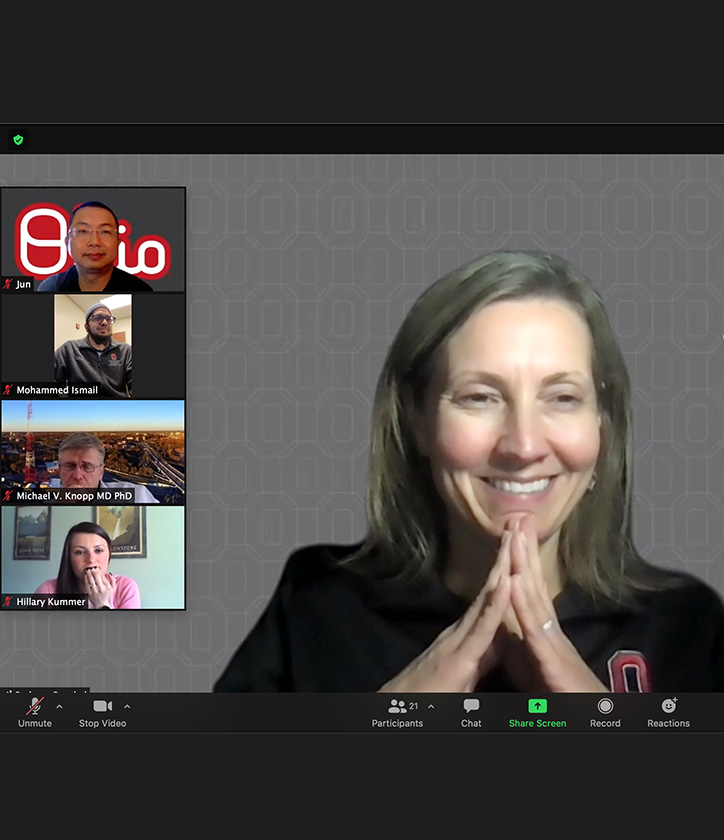 Reducing implicit bias
Our first implicit bias interactive session in April 2021 presented by Dr. Bethany Panchal, educating on unconscious biases in healthcare and strategies to reduce implicit bias.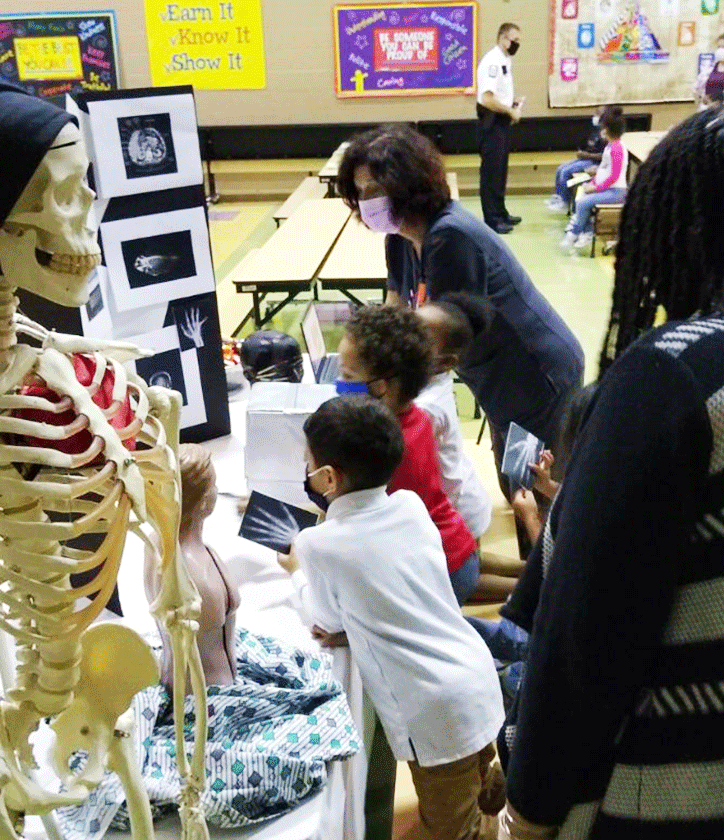 Community involvement
Our MRI technologist, Sandy, at a radiology career day event at an elementary school.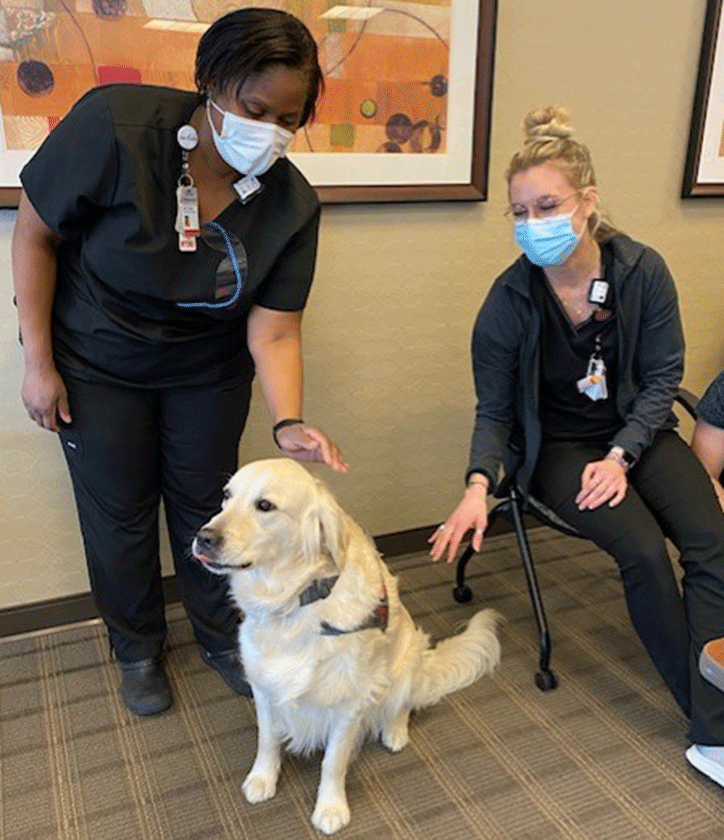 Staff wellness
Buckeye paws, at the Stefanie Spielman Comprehensive Breast Center, focusing on technologist and staff wellness.
Advocates and Allies program
Advocates and Allies program was held in June 2021, and was facilitated by Leon McDougle, for male faculty members aimed at recognizing and mitigating the effects of gender discrimination.
Diversity in radiology matters
Radiology is the 9th largest medical specialty in the United States, but ranks 17th in female representation, 18th for black, 19th for Hispanic and 18th in underrespresented in Medicine among the 20 largest training programs. Radiologists are increasingly spending more time with patients, performing image-guided procedures, and discussing imaging studies. Cultivating a diverse radiology workforce is critical to creating a positive environment for our patients, trainees, coworkers and staff members by understanding diverse experiences and promoting cultural competency.
Events
Past events
Care of the Transgender Patient
Was held on Nov. 23, 2021, cohosted by IDEA-RAD and Nationwide Children's Hospital (NCH) Radiology Department with approximately 80 registrants from OSU radiology and NCH radiology. The talk was a two part session which included a didactic lecture presented by Dr. Andrew Keaster (Internal Medicine Physician and Co-founder of Ohio State's Transgender Primary Care Clinic) followed by an audio patient experience facilitated by Dr. Leah Braswell (Pediatric Intervention Radiologist at Nationwide Children's Hospital). Following is a video and transcript to the event:
Choosing Diagnostic Radiology/Intervention Radiology as a Career and Subspecialty Pathway Options:
Was held on November 10, 2021. Radiology career event for OSU medial students co-sponsored by IDEA-RAD, OSU Women in Radiology and OSU Radiology Interest Group. The event was an overview of all radiology subspecialties by an all women radiology panel moderated by Dr. Zarine Shah followed by Q&A session. Approximately 58 medical students attended the event. Following is the recording and transcript to the event:
Watch here
November 10 DRIG transcript (PDF)
HEADS UP:
Our former Ohio State resident, Priyanka Dube, presented on Radiology as career to high school student as a part of the Health Education and Development Services for Underprivileged Populations (HEADS UP) program, which is a student organization at The Ohio State University College of Medicine. HEADS UP focuses on teaching underprivileged youth about the medical field through various programming at an annual summer camp and events throughout the academic year. Attached is the presentation (4:20-18:40 mins):
Advocates and Allies program:
Was held on Wednesday, June 23 from 7:30- 9 am, and was facilitated by Leon McDougle, MD Chief Diversity Officer for The Ohio State University Wexner Medical Center Associate Dean for Diversity and Inclusion, Director, MEDPATH Premedical Postbaccalaureate Program, Professor of Family Medicine
The goal of this session was to initiate dialogue among the male faculty in our department about their role as allies for their female colleagues and those from underrepresented groups. This particular session was developed with a focus on gender equity, and was supported by the Women's Place at Ohio State.
Implicit Bias training sessions:
The events taskforce has organized 4 virtual training workshops on implicit biases in healthcare. These are 1.5 hour sessions that were interactive and lead by facilitators who have been trained to educate about unconscious biases in healthcare as well as teach strategies to reduce implicit biases in interactions with patients and others in health care settings.
Facilitators for the Implicit Bias workshops:
Bethany Panchal – Family and Community Medicine
Monica Lichi (Physical Medicine & Rehabilitation) and Cheryl Bardales (Geriatrics and Interprofessional Aging Studies)
URiM scholarships for visiting medical students
We are excited to offer 2 URiM scholarships to visiting students seeking a Radiology elective experience. These scholarships, in the amount of $2,500, are intended to help defray the cost of travel and lodging for your visiting student experience. (Note the Department of Radiology is not responsible for making any travel or lodging arrangements.) Please review eligibility requirements here as well as the syllabi for Diagnostic and Interventional Radiology medical student experiences. Please reach out to Matt Lang, our Student Education Manager, at matthew.lang@osumc.edu with any questions.
Additional Resources
Diversity, Inclusion, and Representation: It Is Time to Act. Lightfoote JB, Deville C, Ma LD, Winkfield KM, Macura KJ. . J Am Coll Radiol. 2016 Dec;13(12 Pt A):1421-1425. doi: 10.1016/j.jacr.2016.08.008. Epub 2016 Oct 25.
Improving diversity, inclusion, and representation in radiology and radiation oncology part 1: why these matter. Lightfoote JB, Fielding JR, Deville C, Gunderman RB, Morgan GN, Pandharipande PV, Duerinckx AJ, Wynn RB, Macura KJ. J Am Coll Radiol. 2014 Jul;11(7):673-80.
You're Biased! Deal With It. Maxfield CM, Thorpe MP, Koontz NA, Grimm LJ. 2021 Jan;18(1 Pt B):161-165.
BEING AN ACTIVE BYSTANDER STRATEGIES FOR CHALLENGING THE EMERGENCE OF BIAS
Health Equity and Anti-Racism Report 2021. The publication demonstrate part of the efforts by the Ohio State University to correct systems of inequity and heal the damage caused by injustice. It introduces a few of the programs that have long been part of Ohio State's legacy of caring for its neighbors, and highlighting areas for improvement and sustainable impact.
Current and past newsletters