Record research funding propels College of Medicine in U.S. News & World Report rankings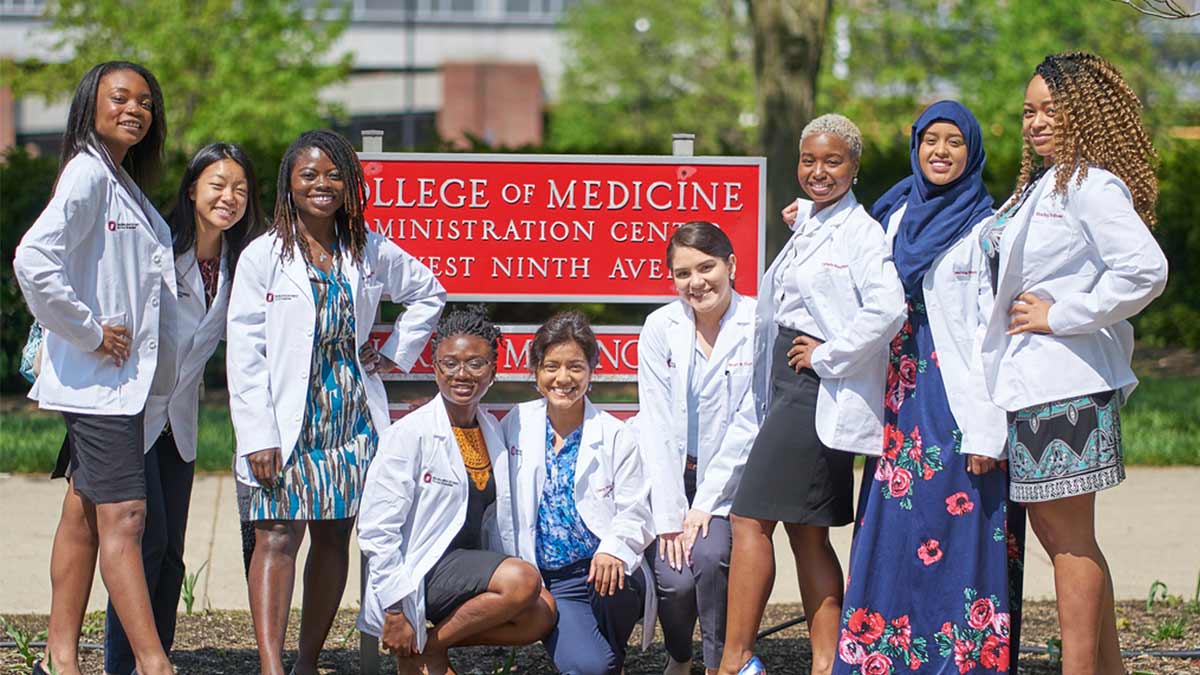 Foundational new research programs and record research funding across a spectrum of scientific disciplines have elevated The Ohio State University College of Medicine in the 2024 U.S. News & World Report medical school rankings for research. The Ohio State College of Medicine ranked ninth Best Public Medical School for research and is overall 28th Best Medical School for research in the country, an increase of two positions from 2023.

In addition, U.S. News has named us the 13th most diverse medical school, one of the highest rankings among the top research schools in the country. We're the 40th best medical school in primary care, retaining the standing for best medical school in primary care in Ohio. Two medical school specialties were ranked: Pediatrics at No. 10 and Surgery at No. 16.

The rise in rankings reflects deliberate strategic planning and remarkable efforts in advancing innovative educational programs, life-changing biomedical research and extraordinary and compassionate care.

"We are uniquely positioned for collaboration and team science," says Carol R. Bradford, MD, dean of the College of Medicine and vice president for Health Sciences at The Ohio State University Wexner Medical Center. "We have a sharp vision for the future of health care and the drive to improve lives in the state, the nation and the world. While much of the work is focused on translational science, we also have some of the best scientists in the world exploring key foundational scientific areas."

Education
With 28 clinical and basic science departments, learners train in state-of-the-art facilities to emerge thoroughly prepared to serve the diverse and changing needs of patients and communities. Due to a growing physician shortage nationwide, the United States continues to face health care disparities, not only because of socioeconomic status, race, ethnicity, age, gender identity and disability, but due to geographic location as well. With the goal of preparing more physicians to practice medicine in smaller communities and rural settings, the college is launching a new Community Medicine MD Track in partnership with Bon Secours Mercy Health, to educate 15 additional medical students each year. The effort is part of the Healthy State Alliance, a partnership between The Ohio State University Wexner Medical Center and Mercy Health to tackle Ohio's most critical health needs.
"The Community Medicine MD Track provides a new option for medical student applicants who are interested in practicing medicine in a community setting," Dr. Bradford says. "In addition to educating medical students to provide high-quality, safe and compassionate patient care, there will be an emphasis on developing students to be engaged leaders in the communities where they serve."

Research
The Ohio State College of Medicine research funding grew to $367.7 million during fiscal year 2022, bolstered by multimillion dollar grants to study traumatic brain injury, gene therapy, maternal and pediatric medication safety and many other areas. Research funding totals for the college are up a significant 22% from the $301.3 million awarded during fiscal year 2021, setting a new funding record. The National Institutes of Health awarded more than $200 million in grants, contracts and subcontracts. The remaining funding came from other government agencies, non-profit foundations and industry contracts.

"Let it be known that if you are a creative scientist – whether a clinician, a basic scientist, an informatician or a graduate student – Ohio State is the place for you," Dr. Bradford says. "We are growing an ecosystem of team science that collaborates with partners in our community to create impact. It is a fun and creative place to be."

Clinical care
Ohio State continues to provide innovative and exceptional patient-centered care, holds one of the largest first-in-human clinical trial portfolios in gene therapy and is one of the only institutions in the country with most of its gene therapy trials delivering targeted gene therapy to the midbrain. In addition, two renowned surgeons who pioneered a minimally invasive surgical technique to remove skull-based tumors practice at Ohio State.

"Patients come from all over the world to seek treatment for some of the rarest and most dangerous head and neck tumors from these brilliant surgeons," Dr. Bradford says.

Commitment to expansion
The Ohio State University has committed to lead Ohio in health care expansion with a $3 billion capital investment in education, research and patient care. We're transforming the way medical care is taught, advanced and delivered. This includes a new College of Medicine facility, an 820-plus bed inpatient tower, four new outpatient care centers and the Pelotonia Research Center, which will be one of the most advanced research facilities in the world, equipped with the spaces, technologies and resources needed for researchers to work across disciplines to accelerate new discoveries.

"The Pelotonia Research Center will support our goal of increasing collaborations with industry, government and community partners to accelerate biomedical discoveries and their translation into new treatments and therapies for our patients," Dr. Bradford says. "Research is absolutely critical to transforming the health of our communities."