Adapting sports performance technology to enhance patient recovery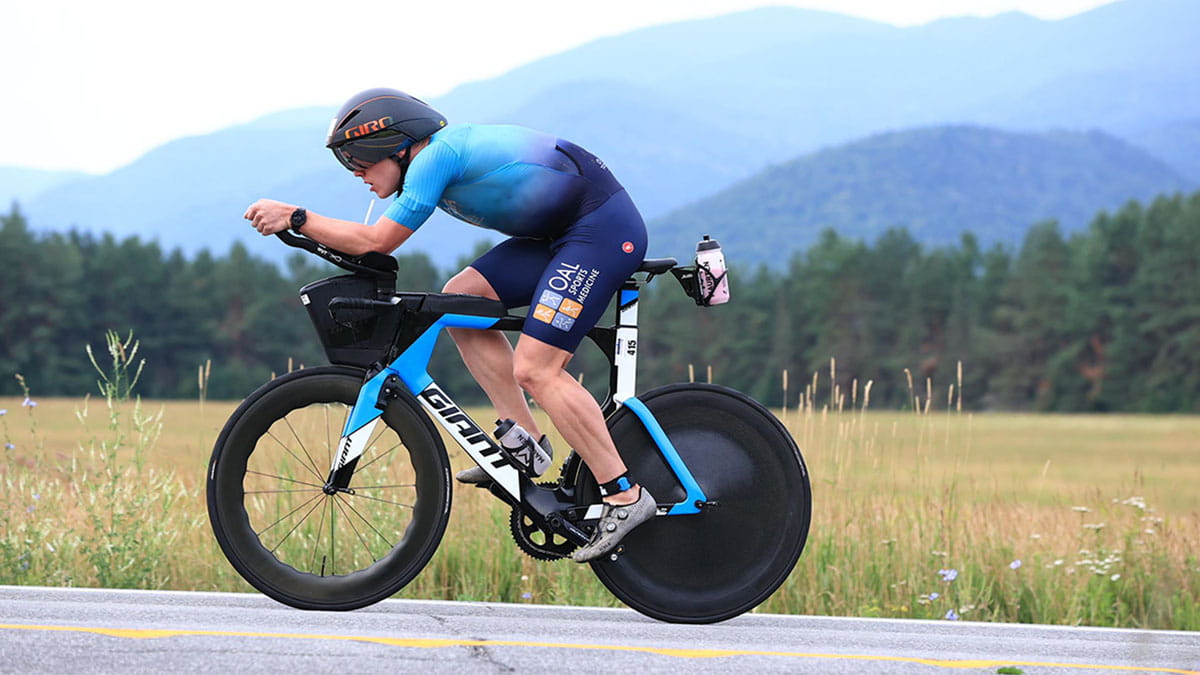 Matthew Marquardt wants to work at the intersection of innovation and technology to advance medicine and improve patient outcomes. As a second-year medical student at The Ohio State University College of Medicine, he has already started to lay the groundwork to accomplish those goals. As a high-performing high school and college swimmer and now a long-distance triathlete, he's already put much effort into understanding his own physiology to best support his overall health and performance. Now as a medical student, he's had the opportunity to deepen his knowledge of the human body and begin to apply it to others.
His journey as a student and an athlete has required a delicate balance of ensuring his body has the right nutrients, fuel, rest and recovery time to maintain his grueling academic, training and competition schedules. His disciplined and scientific approach to training is paying dividends. In July 2022, Marquardt was the No. 1 American finisher at Ironman Lake Placid in his second ever Ironman race with a time of 8:25:01. He ranked first among more than 2,200 amateurs — by a margin of 49 minutes — and placed fourth among the professionals.
Marquardt credits his training and success to his understanding of the human body and the use of leading-edge technology. One tool he uses is a continuous glucose monitor (CGM), which helps inform caloric and nutritional intake to properly fuel his body for training and competition, along with ensuring rapid recovery post-exertion. He also wears a device that monitors sleep, health rate variability (HRV), respiratory rate and skin temperature to gain insight into his body's physiology with the goal of optimizing his performance. Leveraging insights from this device, he adjusts his sleep to enhance his recovery and shares the data with his coach, who adjusts training loads to prevent overuse injuries. This led to Marquardt making another connection — recovery from illness and surgery could be optimized using similar techniques. His reasoning was this — since recovery from illness and surgery requires a balance of nutrition, rest and rehabilitation, why not treat patients more like athletes?
"This is when I began to wonder how my knowledge of sports nutrition, performance and recovery could be applied to enhance patient recovery and outcomes," Marquardt says.
A few research projects over the summer have opened the door to new discovery and the preliminary formation of a plan to evaluate whether monitoring glucose in cancer patients could serve as an indicator of when a patient's body is optimized for treatment or needs longer rest and repair.
Marquardt is working with David Cohn, MD, professor of Obstetrics and Gynecology at the Ohio State College of Medicine and chief medical officer at The Arthur G. James Cancer Hospital and Richard J. Solove Research Institute, on initial steps to secure funding and complete an Institutional Review Board application. They hope to gather data to support development of future research studies to determine how chemotherapy impacts fluctuations in blood sugar. "We first need to determine if cancer patients can manage a glucose monitor," Dr. Cohn says, "and confirm that there is a signal correlating glucose levels to patient-reported outcomes."
This data could be used to determine when a patient is at an ideal place to start or continue chemotherapy or if they need more rest and recovery. Much like an athlete whose performance will suffer if their training load is too high, the thinking goes that if a patient hasn't recovered from a previous round of chemotherapy before their next treatment, their body won't be ready to manage the additional stress, and they won't experience the best possible outcome. Marquardt's work has garnered praise from college leaders. Carmen Quatman, MD, PhD, associate professor of Orthopaedics at the Ohio State College of Medicine, says Marquardt worked this past summer on exploring strategies to improve readiness of medical students for surgical training and collaborated with peers to build a curriculum for first- and second-year students to have earlier experiences and exposure to surgical skills.
Dr. Quatman says Marquardt's disciplined approach to health and triathlon training translates into his efforts to build better strategies for his peers and health care in general.
"Matthew is an energetic change agent," Dr. Quatman says. "He is great at finding gaps and needs and strategizing ways to fix them."
Marquardt dreams of becoming a neurosurgeon or a head-and-neck surgeon. He believes the intense focus and diligence required to complete eight-hour triathlons will transfer well to surgical training.
"Surgery is like a sport," Marquardt says. "You hone your skills through training and practice to build the endurance necessary to focus and perform under pressure, but with surgery I have the opportunity to improve or save a patient's life."